Posted on Wednesday, 20th March 2013 by admin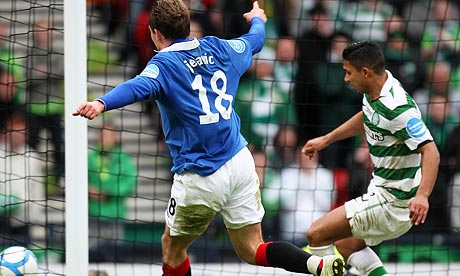 Since I was prematurely born in Rutherglen Maternity Hospital in 1985, Celtic have had a flawless record on my birthday. On the day I was born, we beat Hearts 3-2 at Celtic Park. In 1988 and 1993, Rangers were disposed of in Govan and at Parkhead, respectively. Ten years later, a memorable 2-0 win at Anfield was recorded as we marched to the semi's of the UEFA Cup in the wonderful 'Seville' season. Things weren't rosy at the club in 2010, as the terrible 'Mowbray' season inflicted some of the worst results in our reent history but at least we did win on my birthday again, as St Johnstone went down 3-0 at Parkhead.
A year later, Celtic seemed screw the nut again. Diddies such as N'Guemo and Robbie Keane weren't seen in the hoops again, we were playing some of the best football since Strachan's first season and what's more, Neil Lennon seemed to eradicate the malaise within the support – people were happy going to see Celtic again. Including me, one of the hardest men to please in life unless there's a buffet around.
Sadly, on March 20th 2011, the 100% record was flushed down the toilet at a venue more unsettling than Victorias on Sauchiehall Street – Hampden Park.
Going into the game, Celtic were red hot favourites. Rangers weren't expected to get anything other than their pants pulled down by half time. This probably worked against us. When everyone expects us to just turn up to win, things never quite work out as well as we'd imagined.
We had a great run against our rivals before the final. Unbeaten in four, including knocking them out in the Scottish Cup two weeks earlier. Gary Hooper was rampant, Kris Commons had been banging them in and looking like the best £300k signing since a certain Slovakian in 1998 and in Beram Kayal, Celtic were equipped with an actual midfield dynamo not seen since the Martin O'Neill days when Paul Lambert would be capable of mixing the rough with the smooth.
Rangers, on the other hand, weren't any great shakes. They'd been knocked out of the Europa League by a very ordinary PSV side, had been toiling in the league and relying on mistakes by St Mirren and Kilmarnock players to see them by games they would normally be expected to win by four or five goals. They'd also signed El Hadji-Diouf who was hampering them more than helping them.
After a very dull opening, the match was sparked into life when Steven Davis dispossessed Joe Ledley and scuffed in a shot from 20 yards which somehow evaded Fraser Forster at his near post to give them the lead.  It was extremely poor goalkeeping, and the Fraser Forster of later seasons is likely to have used moments like that as his motivation to better himself and build on his game, which he has done, in fairness.
Ledley made amends for his error when he headed home a deflected Izaguirre cross to make it 1-1 less than ten minutes later and scunner the bluenoses.
The momentum was with Rangers, however. They created the better chances and applied more pressure to our goal and looked like the team who were 'up for it'. You could never tell they had been toiling in recent weeks heading into the final. Celtic's attitude wasn't right, even when Ledley scored, they seemed to divert back into their shell and the occasion looked like it was getting to them.
Mark Wilson, usually so comfortable at right back, was being terrorised by Gregg Wylde, currently plying his trade at Bury. Emilio Izaguirre, perhaps the best left back we had at the club in a long long time, was being hassled and troubled by Kyle Lafferty. Read that sentence back again without a hard drink. Smith's tactics of crowding the midfield and lofting the ball into corners for his wide men to chase was working and our  very own Gaffer was unable to counter this.
It was no surprise that Rangers took the lead in extra time when a jaded looking Mulgrew was caught out by a quick Weiss freekick and Jelavic's effort rebounded in off the post. The goal itself seemed to take half an hour to go in and there was probably time for a fan to run from the back of Hampden and knock it off the line if they tried their best to save the game!
There was still time for a little bit of drama when Izaguirre was red carded for hacking down Weiss and El Hadji Diouf turned into a parody of himself yet again for theatrics towards the end of the game.
Sadly, the game was finished at 2-1 and we didn't  have it in us to mount a comeback. Celtic, once more at Hampden, let the fans down and question marks hung over Lennon's ability to win games when it mattered on the big occasion.
After the match, me and my granda and many other Celtic fans were subjected to ridiculous treatment from the police, who wouldn't let us get access to the street my mum lives at near the stadium, for 50 minutes, even though no Rangers fans were in the vicinity. Quite ridiculous. Of course, no one recorded this and set up a sympathy group for us lot being the victims of over the top policing. In the end, I complained to the Aikenhead Road station, who sent me a letter a few weeks later apologising for the disruption. In hindsight, I should have went on and on about how oppressed and hassled I was. I might have fitted in with more of the support instead of being viewed as an 'outsider'.
So, with my birthday already in the gutter thanks to the team, I headed off to my folks for a Chinese and some 'cake'. I'm rubbish with birthday cake presentations. I hit a massive beamer. I start looking for a corner to sit in and get it over and done with. I've never spoken to any professional about it. Maybe I should. Maybe I should just man up. Even though I was a cowering whimpering mess, I still wasn't as meek as the team at Hampden hours earlier.
Thankfully, we went onto have better success at Hampden that season when we won the Scottish Cup in 2011 against Motherwell. Since then however, it's been as bleak as Bomber Brown's breath in the morning.
Here's hoping the next 'On This Day' on this date is better next time around.
Related posts:
Tags: Birthday Ruined, Hampden = ARRGGHHH, On This Day
Posted in Blogs, Celtic, On This Day | Comments (4)
4 Responses to "ON THIS DAY: HAUNTED HAMPDEN"
Jim Fay Says:
March 20th, 2013 at 7:25 pm

Happy Birthday.Block 102.

[Reply]

Sean Says:
March 20th, 2013 at 11:03 pm

N'Guemo and Keane were 'diddies'? No chance, both played well in a tough time for the club.

Snide, thinly vieled comments about the GB as well, not needed tbh. You may disagree with their stance on certain things but its beyond reasonable doubt that they're given special attention by the police..

Anyway, its all about differing opinions, one of the reasons I like this site happy birthday

[Reply]

Celtico102 Says:
March 21st, 2013 at 11:06 am

Good piece block102. Where would we be if we didn't have some monkey on our back???
That's why it's all the more sweeter when we kick it off.
As far as your run in with the polis tell me a fan who has never come across this, I agree with your point totally. Wonder how some of today's bhoys would have survived in the "JUNGLE"?? Happy Birthday hail hail

[Reply]
Leave a Reply