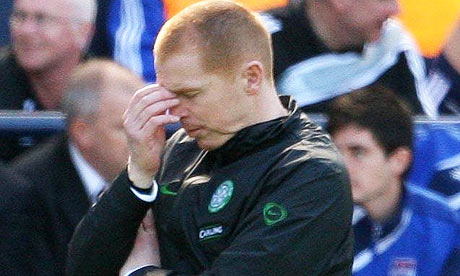 It was a Saturday in April 2010, The day that the nightmare happened
We were odds on to win the cup, United were 6/1
The bairds bar was bouncing and the tickets were scarce
Cup finalists elect we would be. We had a few drinks and sang a few songs
then headed off to play Ross County…
It was a beautiful Saturday afternoon and despite the utter humiliation of watching Tony Mowbray's Celtic career crash and burn in front of us, we still had a chance of finishing the season with a trophy. Neil Lennon was the caretaker and Celtic were Scottish Cup semi finalists, it was the furthest Celtic had been in the competition since winning it in 2007. Division 1 Ross County were the opponents, they'd had a decent season in the second tier and their cup run was the icing on their seasonal cake.
They were just happy to be there. Although, even the most pessimistic Ross County fan would admit that having watched this dismal Celtic side all season, they had 'a wee sneaky' for their team at Hampden. Neil Lennon's first trip to Hampden was on Grand National Saturday and to put it into Horse Racing terms. Celtic were leading up to the second last fence. Dundee United, Raith Rovers and Ross County were gaining ground all the time just waiting on a slip up, but Celtic were fighting on to the lead, they were the best team, maybe not the most confident or on form, but just two fences left for glory…
Celtic were beginning to come back to the field, Ross County had started the semi final brilliantly, Celtic's temporary Jockey Neil Lennon made a change, taking the ineffectual N'Guemo off and putting Crosas on. Battered Celtic with the whip a few times as a reminder. Coming up to the fence…
Bang.
"Its Craig going through….they've got their goal. Ross County have the lead"
The Celtic horse came crashing down, it wasn't over yet, the horse was stumbling, the jockey had rode the horse all wrongly, the tactics were abysmal. The jockey battered and pushed and pushed but there was no second wind. The horse came to a crashing fall.
"They've only gone and scored again"
Six words that should fill Neil Lennon with dread. Ian Crocker could hardly believe what he was commentating. I was the Celtic fan who told his father to 'put that remote down and sit there' when St.Mirren were tearing the Celtic 'defence' to shreds only days after crumbling to a 9 man Rangers. I made us watch it. Surely that was as bad as it was going to get? I remarked at the end of the game 'Ross County will fancy us now, we're there for the taking.'
I'd had a few weeks to think it over, surely not. Neil Lennon had enjoyed only wins so far in his short temporary stint as Celtic gaffer and surely, despite his first managerial trip to Hampden, it would be another routine win for a team playing with so little confidence, the 'so little confidence' Neil Lennon had instilled into them was noticeable. Lennon wasn't my choice for the job. A place on the new regime as number 3 or 4 was as much Neil Lennon should have expected to get as reward for his efforts. But nevertheless he took his team to Hampden and in his mind, a trophy delivered would go a long way to getting him the full time post at Celtic Park.
Was Ross County a sign of things to come? Celtic were terrible, third best in a two team game, they didn't win any first second third or fourth balls. Samaras did his usual absolutely terrible game, but his refusal to do a Robbie Keane or an Aiden McGeady and hide for 90 minutes saw him take the blame for the defeat. Fortune flattered to deceive like he did so much in his Celtic career. Even Artur Boruc could do nothing to prevent Ross County running out thoroughly and utterly deserving winners.
Celtic have saved their worst performances for Hampden under Neil Lennon. The CIS Cup Final 2011 where Neil Lennon and his Celtic side bottled it. Were we really going to beat Rangers to a trophy? Was Neil Lennon really going to defeat Walter Smith in a final? Celtic then lost to Kilmarnock in the same final 12 months later. Samaras who had been excellent the week previous at Tannadice was inexplicably dropped from the team to play Kilmarnock. Lennon's team had no width, they didn't have the urgency Samaras brings when he's on the ball going at full flight. And then of course Hearts in the semi final, where Ki hit more woodwork than Jesus and his stepda Joseph combined. Although Celtic were harshly dealt with by the penalty decision in the last minute, then the non-giving of a penalty for the same offence in the Hearts box 2 minutes later, Celtic were very poor that day and couldn't really complain with not winning the game.
I'm just briefly going over the other games, as they are parts of the 'Lennon V Hampden' collection. But you get the picture. No matter how well Celtic seem to be playing under Neil Lennon they crumble at Hampden, like they did that day in 2010.
So how did I get over it? Well I went and backed the 16/1 Don't Push It, who backed into 9/1 romped the National giving at least a few Irishmen joy on that fateful Saturday. A carry out was bought because St Pats former pupils were taking on Dumbarton Academy former pupils. First time in 10 years a clash such like this had happened in Dumbarton. Even a national win, a st.pats win, and a bottle of Vodka couldn't stop me from sitting rich and drunk 10 hours later in a house party remarking "Ross County beat us the day"
I don't condone Alcoholism or gambling. They don't get you over Celtic embarrassments. IF we lose on Sunday, I'll tell you next week how crack deals with the problem.