Well, what a day of drama it has been.
First up was a journalist at the BBC who tweeted what many of us knew two days ago; that no bid had been received from a club in China, for Sevco's striker Alfredo Morelos.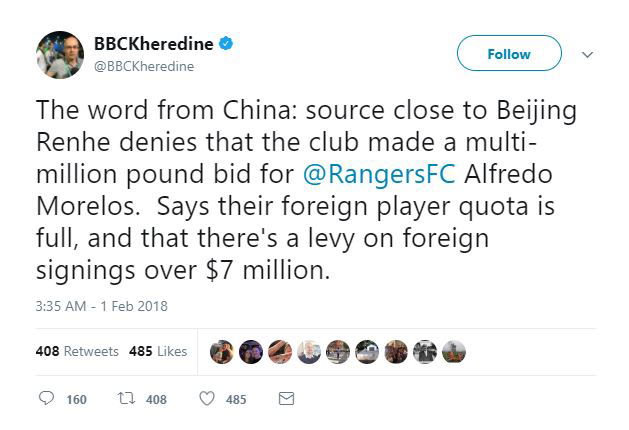 That story was so obviously nonsensical that the journalist's assertion that it was fictitious came as no surprise to people at all.
His tweet was accurate in every respect.
Then, this afternoon, the same individual sent out this one.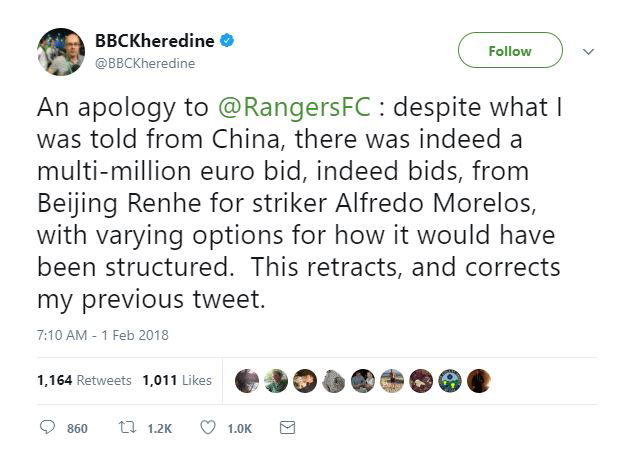 I was ready to respond to it when the news reached us that Stewart Regan had resigned.
That man has so damaged the game here that he immediately became the bigger story, but there was no way I was leaving the BBC's retraction alone. Because it reeks. The very wording of it – a grovelling apology to the club – reads like someone who's caved under pressure.
It retracts every word of the tweet that came before it, even though that tweet contained verifiable facts.
What is going on here?
It is impossible to take that second tweet seriously, although the implications of it are deadly serious.
Everyone who looks into this matter in the smallest detail knows that there was no such bid from any club playing in the Chinese leagues.
I will be asked to defend that assertion; I can do so with ease.
That I am so able to stand that comment up – you can be the judge of how well, but I am not uncertain – should embarrass whoever it was at the BBC who sanctioned their journalist sending out such a diabolical missive, akin to bowing the knee and kissing the ring of the Ibrox PR head.
I am going to demonstrate how farcical that apology is, and when I've done so I hope that will shine a harsh light on what's happened this afternoon.
Let's start at the beginning, with the initial story.
The initial story said that Chinese club scouts had been impressed by the player in Florida, during the "friendly cup competition" that took place.
That competition amounted to Sevco playing two games.
One was against a Corinthians reserve team.
The other was against an Atletico Minerio side that subbed its entire first team squad at half time.
We know no scouts watched this guy in SPL matches; those things are recorded, and that story would certainly have broken in the media. That story would have been unsupportable. So the first fiction they invented is that Florida is when he caught their eye.
Does anyone believe that for even a second?
That Chinese Super League clubs sent their scouts to watch two friendly matches and on the basis of those games – against basically Under 21 teams – they sanctioned a multi-million pound move with huge wages?
Whilst you ponder that, ponder how many national leagues, including the EPL, were being played during the winter months, with no break. Wouldn't their scouts have been better off watching players there, in competitive environments?
Eight clubs took part in the so-called Florida Cup.
This was hardly a gathering of glamour sides.
Three were from Brazil, and none took the "tournament" particularly seriously; they were Fluminese, Corinthians and Atletico Minerio. There was one club from Ecuador; Barcelona SC. Colombia was represented by Atletico Nacional. Sevco, PSV Eindhoven and Legia Warsaw represented Europe.
As I said, each side played a mere two matches.
Scouting footballers is extensive, especially where big money is involved. It takes a little bit longer than 180 minutes.
Let's forget Florida and imagine that he was scouted prior to that, and somehow that fact escaped everyone's attention.
At which point in the recent past did Morelos get on the radar of clubs in China? Before his move to Ibrox? He was playing in Finland. Is that a league which is heavily scouted by their people? Was it during his time in Scotland? They must have got very lucky – or very unlucky – in missing those ten games in a row he went without a goal.
Even here, is there any point in pretending that the very idea of this isn't ridiculous?
But that doesn't mean that it didn't happen.
So let's move forward.
About a fortnight ago, I highlighted the number of stories in the media and elsewhere about Sevco players being wanted by clubs in England. I said the quoted prices were ridiculous; even more ridiculous were the figures Sevco was allegedly "holding out for."
At the time, Morelos was said to be interesting Bristol City.
The Sun said that they had offered £2 million but that Sevco were "reluctant" to sell at that price. Reluctant, but not wholly opposed. It was a well-known fact that an offer just £1 million higher from any club and Sevco would have had something to discuss with the player and his agent.
Within days, Murty had told the media that the player was worth more.
He was actually the one who started talking silly money, and I wrote at the time that this was a new policy of the club's, and that it was notable that their fans were singing from the same song sheet … it was as if someone influential inside Ibrox had made it a point of policy.
It also looked very much like Sevco was trying to drum up an auction for the player, something which they had tried and failed to do with Tavernier and Windass earlier in the month. It was as successful as those bids had been; whatever interest there was dried up.
That backfired when the player, making it clear that talk of a £10 million fee had already turned his head, told a Colombian TV station that he wanted to move in the summer. The race was on for Sevco to drum up as much interest in him as they could.
Everyone who takes an interest in these matters was wholly aware that Sevco, skint and in dire need of emergency funds, were increasing, rather than cutting, the wage bill. They had tried to sell Windass and failed. They had attempted to drum up interest in Tavernier and failed. Their efforts to offload Alves to Italy ended without success. Their deal for Murphy almost collapsed entirely because of the terms and payment schedule. The deal for Docherty of Hamilton dragged on and on. Low-ball bids for other players were tossed aside with contempt.
The need for funds was more acute than ever heading into the last week.
Then Dave King came over to Scotland.
He took in a couple of games. He's also alleged to have met with several SPL chairmen. I know the names of two of them. But on 25 January he also paid a visit to an organisation you might not expect; he went to visit BBC Scotland. Which is unusual as the broadcaster is involved in a long-running stand-off with the club. A Sevco website had urged them to come together and sort it out, and curiously enough King then paid them a visit.
I mention that because it might be important to what happened today.
Three days ago, Celtic completed the on-loan signing of Charley Musonda from Chelsea. The media had made much of Sevco's brilliance in securing a number of players from England's second tier on loan deals lasting four months.
Here was a footballer from a top flight team, with bags of ability and a growing reputation who'd spent a year on loan in Spain, moving to our club for the rest of the season and the whole of the next one. It was far and away the most exciting piece of business a Scottish team had done in this transfer window, and in signing him we made the Ibrox operation look like a pale shadow of ours, and their business exactly what it was; desperate scrambling in the bargain bin for "Rangers minded" players whilst we focussed simply on pure, natural talent.
The contrast was too striking to ignore.
The story would have been on the back pages of every newspaper in Scotland the following day, but that night a story broke that would wipe our positive coverage to one side. It started in The Daily Express, with a story about a club in China offering £6 million for Morelos.
That story smelled like a dead fish from the minute I read it. It contained this wonderful line; "Boss Graeme Murty said at the weekend that Morelos would only go if they were offered a barrowload of cash – that could now happen."
The article named the club; Guangzhou.
The whole thing had clearly been steered from the direction of Ibrox. But whoever had done so had failed, as ever, to get their homework done. The Scottish media took its own cue from the Express story, and amplified what was already clearly nonsense; before the shockwaves had even died down The Record had upped this offer to £7 million. It would later reach £8 million, but not before the story itself was holed below the waterline.
It turned out that Guangzhou couldn't have bought Morelos even if they wanted to. Chinese Super League clubs are limited to a maximum of four foreign players next season … and they already had their full quota. An Internet Bampot – and hats off to @timomouse, AKA Richard Wilson – had already pointed this out to the dribbling hacks.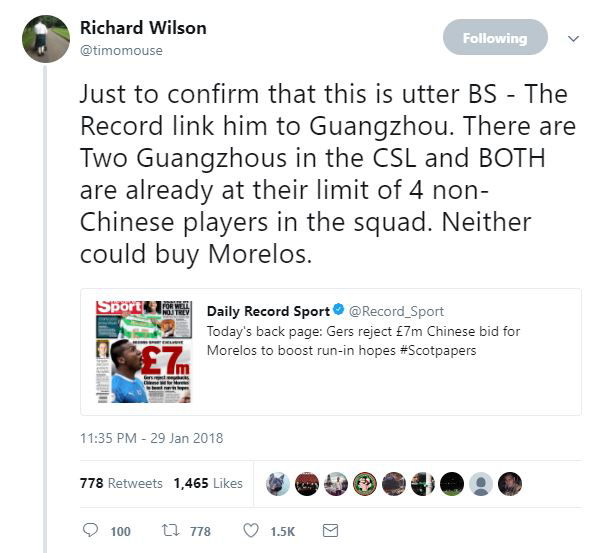 You can see, clearly, what happened next and the evolution of this bullshit story to a whole new level of farce; in one tweet Sky Sports News names one club.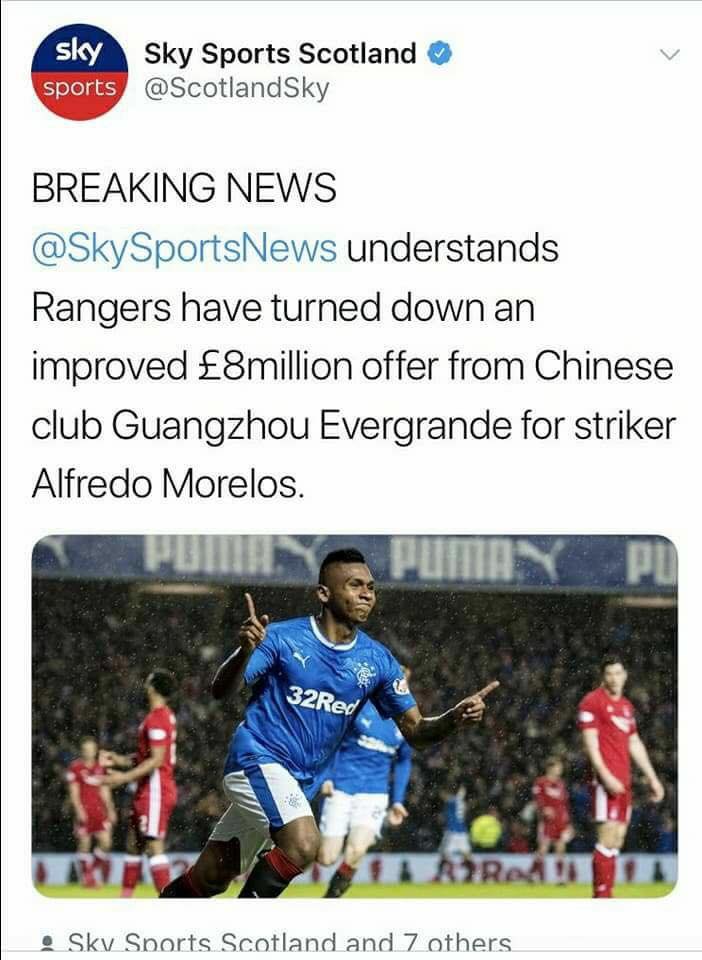 In the next tweet, they and the rest of the hack pack were desperately scrambling to name another.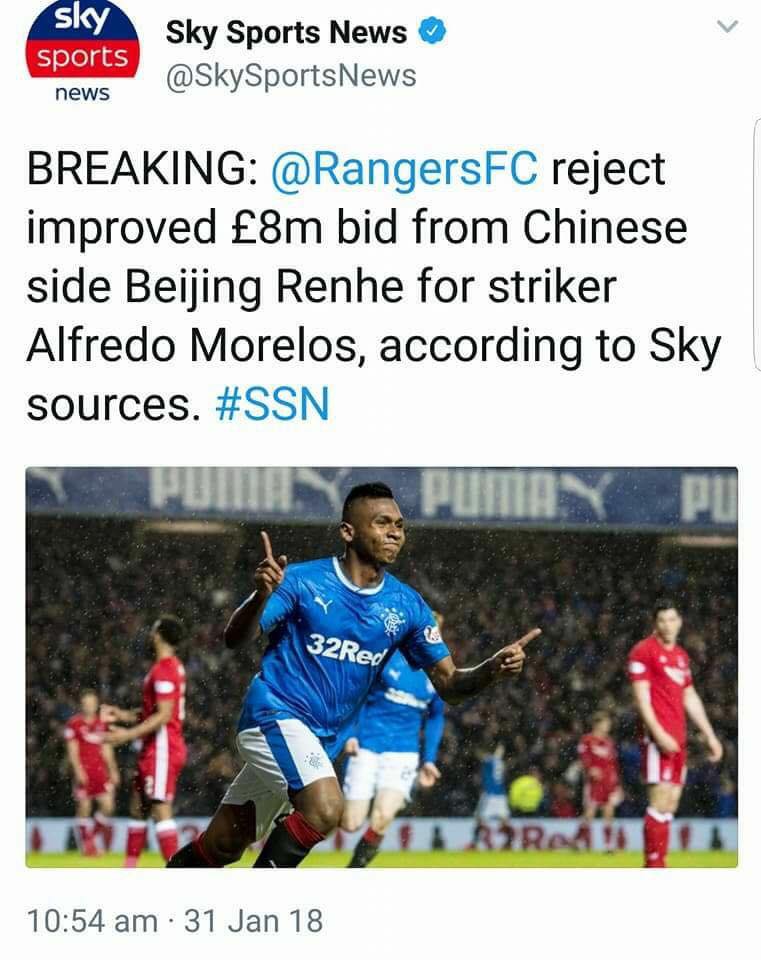 It was a humiliating moment. Worse was to come before the day was even out.
The club the press was naming was Beijing Renhe.
By now the reputed fee had climbed further into the stratosphere and those stories about £60,000 a week wages were already in print and online. The not-so-subtle jump from one club to another had apparently only ramped up the level of stupidity amongst hacks way too credulous for their own good.
The "clarification" was to be brought to a shuddering halt within hours.
You see, Beijing Renhe are not exactly a massive club or one that could afford such largesse.
In fact, they had just finished a promotion campaign from the second tier.
Transfermrkt.com had valued their entire playing squad at less than the deal with Morelos was supposed to have been worth. On top of that, the hacks and their PR friends had overlooked one gigantic, awesome, flaw; the reason for the four foreigners rule in the first place was to dissuade clubs from losing focus on their youth academy footballers.
Because of that, they had, as our BBC journalist pointed out, and as this article from The Bleachers Report makes abundantly clear, imposed a 100% "levy" on all foreign purchases, with said funds to be deposited in the youth fund.
Loosely translated, Beijing Renhe buying Morelos at £7 million would have ended up costing them £14 million, to no additional benefit whatsoever.
Remember, that sum of money is for a footballer scouted, in the best case scenario, between the Finnish league, the SPL and a Mickey Mouse friendly competition lasting two games in Florida.
Who's kidding who now?
And yet it was to get worse.
Before the day was out, Beijing Renhe had completed the signing of the Argentine midfielder Augusto Fernández. He is their fourth non-domestic player. Odd that they should sign a midfielder instead of a striker. Odd that the deal should be done whilst the press was still talking about Alfredo Morelos.
Some will say that they turned to him after Sevco said no.
But see, that doesn't quite stand up to scrutiny either, because as this article quite clearly demonstrates and leaves no room for such an interpretation at all, that deal had been in the pipe for a while.
That article is from 26 January, days before the Sevco story even emerged.
It is clear that it predates that by a while.
This deal was being put together weeks ago.
So who are Beijing's three other foreign players?
Because you could argue that perhaps the plan was to sell one of them and replace him with Morelos. You can probably strike that out as well, because all three of their foreign players were signed last season and all three are regulars in the team.
The first is their club record signing, Jaime Ayoví, from Ecuador. The 29-year-old scored 20 times in 29 games last year, and is not a player you could see them wanting to part with. The second is their winger Ayub Masika, from Kenya. He scored 8 in 23 from out wide, and previously played in Belgium and is clearly someone on the up and up. He is 25. The third is a Brazilian midfielder Olivio da Rosa, also known as Ivo. He is 31, experienced. He plays in the number 10. He scored 6 times in the last campaign, playing 25 times in the season.
Beijing have just been promoted.
We can surmise that the best time to sell a player is after he's experienced top flight football, as that increases his value.
So the BBC tweet from earlier in the day – that the Morelos move was never on the cards – has now been backed up by not one but two verifiable facts; the "tax" on foreign players and Beijing Renhe having its maximum of four footballers born outside the country.
The denial itself came from within Chinese football; that and the two facts which we can independently verify elevates that from mere supposition to something approaching Holy Writ. That gives the story gravity that is good enough to write on with confidence.
Other things stand up the story, such as the complete absence of the Morelos tale in any of the Chinese sporting dailies.
Which brings us to Graeme Murty.
Last night, in front of the cameras in the aftermath of Sevco's match, Graeme Murty himself cast doubt on the veracity of the story when he told Sky Sports that he doubted whether there was any factual basis in what he was seeing in the media.
"I don't think agents and media and all this kind of stuff helps him because we've got a confused young man who sees astronomical figures thrown at him. And it's nothing to do with the player – he's just confused and sees an opportunity of taking care of his family for a very long time," Murty said, no so subtly suggesting that the media was to blame for all the speculation. "I'm not sure how much of it was substantially there for him …" he said next, which has been properly interpreted as a near-total disavowal of the story on every level.
When the background to this involves a club sanctioning a deal of this magnitude based on friendlies, when the manager of Sevco is casting doubt on the narrative, when the story itself changes minute by minute, when neither of the two clubs named at the centre of it were able to sign the player, when the financial consequences of such a deal elevated it beyond the point of even the most marginal sanity, when Sevco's "holding out" contradicted a financial position where they could not afford to turn down any offer of consequence for any of its players and when a flat-out denial has come from China itself, then I'm sorry, but this story is about as dead as Cecil the Lion.
This has its own hole in the ground, its own gravestone on top of it, the funeral has been held and we were all moving on to something else.
And then the journalist who lowered the coffin into the grave denied that a death had even happened.
And he apologised to Sevco.
First up, why's he apologising to Sevco?
Did anyone apologise to Celtic over the rash of stories about Dembele or Tierney?
Did Sky Sports issue one after saying, on Christmas Day, that he was going to Brighton?
They didn't apologise to either team.
So I ask again; why's he apologising to Sevco?
This, as Murty was at pains to say last night, was a media story. It was something that happened separate from the club, wasn't it? The only way you apologise to the club is if this story originated there and it looked like you were calling them liars.
Is that what his earlier tweet did? Called someone a liar?
Because journalists do write stories, they do sometimes get facts wrong … but his tweet contained three assertions, including the denial from China. The other two assertions are 100% accurate. Based on those accuracies, I would have expected the BBC to stand behind their man, and for him to hold firm.
The way his apology reads, someone from inside Ibrox called the BBC and demanded that he retract it. Who would have done that? Why would they have accepted it? And what evidence that runs counter to everything I've written here was offered in mitigation?
I ask again; what's the apology for and who's it directed to?
The BBC has a fractious relationship with the Ibrox club; this is not in the slightest doubt.
The only way that changes is if either the club or the Corporation backs down. For the club to back down they would have to allow Chris McLaughlin back inside the ground. For the Corporation to back down they would have to accept his continuing exile.
Or maybe there's a middle ground. We'll know if the BBC is back at Ibrox before this season ends and if McLaughlin is in his seat in the stand. We'll know who caved … or maybe we will. Because King wasn't up there the other day because he likes the building or because he wants to buy office space there. He was there to cut a deal of some sort.
So my question is this; has the BBC caved in here? Have they wormed their way back to Ibrox with a promise to moderate their coverage? Will McLaughlin be allowed back, but on a very tight leash? Or has the Corporation now sacrificed not only his credibility but that of Kheredine Idessane just so they can again plant someone's backside in an Ibrox commentary box?
In showing the Ibrox club such sycophancy over the past 12 months, they have already pissed all over their senior correspondent. Did they today force one of their other journalists into an act of public self-flagellation for what looks like doing his job?
When enough of his story stood up to stand it up, it cannot look other than him being publicly and humiliatingly sold out by his bosses, just to appease Ibrox.
This is a day of disgrace at Pacific Quay either way. This damages the BBC in the eyes of everyone; Sevco fans now have further reason to believe their journalism is biased. The rest of us cannot agree that it's even journalism. Shame on everyone involved in pushing this obvious fraud, for keeping alive something that's clearly dead, for continuing to degrade their whole profession and how it is perceived in the eyes of the license-fee paying public.
Join the best Celtic Facebook Group there is right here.
Like our Facebook page and comment on and share the articles by clicking here. 
You can also follow us on Twitter at @The_Celtic_Blog