I'm going to take a look later at the transfer window, in some detail, of course, but for now let's take a peek at Sevco's ridiculous and suicidal Morelos story, which refuses to die although everyone at Ibrox now sincerely wishes that it would.
That story originated at Ibrox. We all know it did.
Nobody in China was sending scouts to watch The Mickey Mouse Trophy over in Florida; that much was apparent right from the start. Even Level 5 knew no-one would buy into the idea that Super League clubs had scouted the SPL, so they come up with something they thought fitted better, but in fact was even more ridiculous.
We can probably say with some confidence that no-one over there had even heard of Alfredo Morelos until this week. We can say with total certainty that nobody over there is even remotely interested in a player who has scored 11 goals in Scotland's top flight but has already endured a ten game spell where he didn't find the net once.
The initial story named Guangzhou Evergrande; sadly, whoever put that out there for the media to lick up did not do their homework on it. They already had a full quota of four foreign players for their next campaign, which is the maximum the league allows. When that was pointed out to the hacks the story evolved into one involving the club from Beijing.
Unfortunately, they reached their four foreigners quota yesterday, whilst this story was still doing the rounds of the newsrooms and sparking bizarre debates about whether Sevco should cash in at once or hold out until the summer and "get even more."
This story has been exploded completely today; finally a journalist did what all of them should have when this was being rammed into their inboxes. He spoke to people in China, who actually know the facts here, or lack thereof. And what do you know?
The whole thing has collapsed like a house of cards.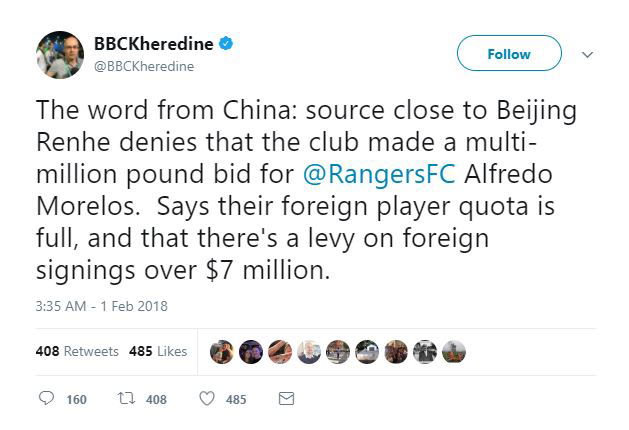 Now, I know the media's motives for running with this reeking bag of manure in the first place; they will do anything to placate the Ibrox mob and when this story was foisted on them they never even questioned it, although it was patently absurd.
What is harder to work out is what Sevco thought they were doing. It was obvious to the readers of this blog from a very early stage that talking about stupid valuations for a player like this was a Very Bad Idea. The second they started with it, it was easy to see there would be trouble coming down the pipe. Within days, Morelos told a TV station in Colombia that he wanted to leave the club at the end of the season because he thought he was ready for the EPL. Delusional, yes, but inspired by the club's own ridiculous decision to over-hype his value.
Now, at that point the club should have dampened down the media speculation about this guy. Instead, for reasons that make sense only to Dave King – who I believe was the ultimate architect of these two days of nonsense – they ramped it up instead with their little game of Chinese Whispers. And the media, of course, amplified an already dangerous story.
It was them who started pushing the price tag up. If they were steered towards writing about how much the player might earn then whoever did that is a complete imbecile who's Ibrox parking place ought to be taken away from him before he accidently burns the stadium down. What exactly was the point of that? What did he think would happen?
What's happened, of course, is that the player now believes the club has stood in his way of putting him and his family on easy street. He now believes it's Sevco who are denying him the financial security a young man like him craves.
It's not for nothing that Celtic's stated policy is not to stand in the way of any player who wants to take advantage of the wealth on offer in England; I might not like it, I might wish it worked in a different way, but the idea that we have a "moral responsibility" to our players in this way is a nice way to cover what, in fact, is hard-headed pragmatism; if we can bring in a big fee for a footballer who wants to go that's better than having him unhappy in the dressing room.
Sevco's dilemma – one entirely of their own making, by the way, and for which I have not one iota of sympathy for them – is that there is no actual interest in this guy, from China or from anywhere else and he has read the papers and believes that it was real and that they rejected the offers. Why should he not? Even if someone pulled him aside and told him now that it was a game of smoke and mirrors designed to convince their fans that they were ambitious and forward thinking instead of scrambling about skint, or that it was a campaign to knock Musonda and our other signings off the back pages – and it's partly about both, of course – why should he believe it?
Because, actually, that sort of stuff is so childish only a completely amateurish organisation would even contemplate it far less try to execute it.
He believes they've screwed him, and as much as they try to roll it back now they are left with the awful consequences of what they've done here, and it doesn't even stop with an unhappy player. He will leave in the summer – that much is now guaranteed – and when the transfer fee ends up much lower than the one they allegedly turned down in this window they will have to square that with their own supporters, many of whom lapped this nonsense up.
This will be haunting them for the rest of the campaign and well into next summer. It a screw-up of monumental proportions. It is yet another piece of evidence that the people running their club and its PR operation are entirely without a clue.
In short, it's nothing the rest of us didn't know already.
Join the best Celtic Facebook Group there is right here.
Like our Facebook page and comment on and share the articles by clicking here. 
You can also follow us on Twitter at @The_Celtic_Blog