A hilarious wee issue is boiling the blood of Sevco fans today; there are, apparently, hundreds of Celtic fan stickers still plastered all over seats and stanchions all over the Broomloan Road stand. It seems that their fans are up in arms for three main reasons.
One tweet manages to articulate them all brilliantly.
First, the place clearly isn't getting properly cleaned, as this tweet reveals.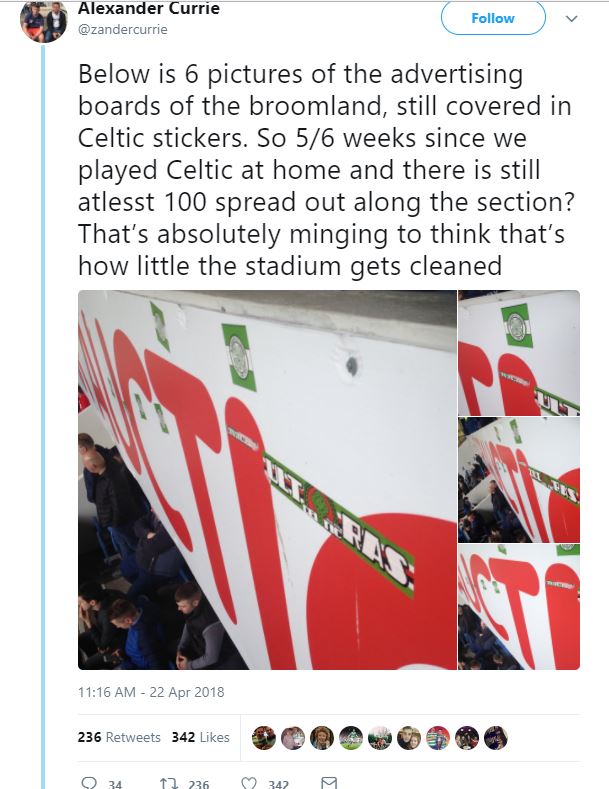 Which is bad enough. It confronts them with the idea that maybe a bunch of other stuff, real stuff, is getting missed.
Which it almost certainly is. Anyone who believed the club when it said it was spending serious money getting the stadium up to sniff was clearly not paying attention to the bloggers.
The place is lucky it's still standing; one wag on Twitter have suggested that perhaps Celtic fan's stickers are the only reason it is.
The second reason it annoys them is the obvious one; it serves as a sickening reminder that we are here, that we are on top, that we came to their ground when they were riding on a wave of euphoria and self-belief and we burst their wee bubble so completely that they fell back to Earth and haven't been able to get up off their arse since.
The very sight of those stickers serves as a reminder that Glasgow's Green and White.
The third reason is perhaps the one that bothers them most.
It comes at a time when their club steadfastly refuses to listen to them on the subject of cutting our ticket allocation for their ground. All the fan groups are unified in wanting this done; they are increasingly depressed at the sight of so many of our supporters, mocking them relentlessly.
But their club is motivated by the money and nothing more; they have told the fans that they can moan their wee faces off but no dice. This is especially upsetting to the fascistic Union Bears, who are decamped every time the Celtic party rolls into town.
I hope their end is especially resplendent in Celtic stickers. I hope they are glued on so they can never come off, except by removing seats. That would be poetic justice.
You might think this is just another thing for them to moan about, but this is a serious issue for many of their fans, because it taps into their fear of being skint, their inferiority complex and the idea that their club values our cash more than their opinions.
They are right on all counts, of course.
Which is why the story pleases me so much.
Join the best Celtic Facebook Group there is right here.
Like our Facebook page and comment on and share the articles by clicking here.
You can also follow us on Twitter at @The_Celtic_Blog