Brendan Rodgers is certainly loving life at Celtic right now; he has just written another page in our incredible history by doing what neither Stein nor O'Neill was able to. He has secured the famous "double treble" after going through last season's entire domestic campaign unbeaten.
He's brought us more success than we ever could have dreamed, and he's happy at our club because he is one of us and he gets what all this means.
But Brendan is already sick fed up of our media, and who can blame him for that?
He is engaging and bright and enjoys talking to them most of the time, but lately I've noticed that he's become a little spikey. This weekend, at the height of his success, he rounded on them twice and no wonder. He must be tired of the same grubby questions.
He is asked the same ridiculous ones over our players time and time again, about Kieran, about Moussa, about Rogic and others. He always tries to be honest; yes, people will want to buy them. Yes, every player will be allowed to leave if the club receives a good offer and the player expresses the view that he wants to go. I read Jordan Henderson last week, bubbling over Brendan's decision to let him speak to another club when our manager was at Anfield; Henderson took it personally.
Actually, it's part of Brendan's philosophy.
He can handle the questions about players. They are tiresome, but he puts up with them. What he finds increasingly frustrating are those he's asked about his own future in spite of making it abundantly clear where he sees himself.
This weekend, after a particular question was put to him on that score, he let fly with a statement that Graham Spiers found so fascinating that he tweeted it. "I have three years contract left at Celtic," Brendan said. "Three plus seven equals ten."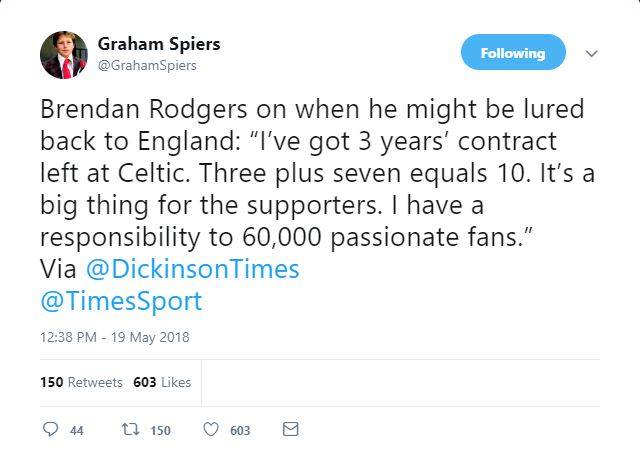 He went on to say that he owed the fans that. But the brutal nature of the reply suggests annoyance at being asked.
He was equally furious to be asked, again, about Steven Gerrard and the "challenge" from Sevco. Sevco has not played a single game under their soon to be new boss. Yet Brendan seems to get asked the question at every press conference. How's he supposed to answer it? He's tried being diplomatic. Yesterday he decided to ditch that approach.
When asked, by someone at The Scotsman, about how he saw the "challenge" from Ibrox next season he brutally slammed the suggestion. ""It's not a conversation, talk about Aberdeen," he said. "Aberdeen were second. Derek has done a brilliant job. Talk about them."
Our manager is a good man. He's a nice guy. But it's difficult to escape the idea that he is not so much weary of our media as he is pissed off with them.
And really, who can blame him for it?