Keith Jackson has put out a bizarre tweet tonight, outlining who and what he thinks will be Steven Gerrard's "biggest problem" next season. Oddly enough, he doesn't reckon it will be Celtic, Brendan Rodgers, lack of finances or any derivation thereof.
He reckons it will be Jim Traynor.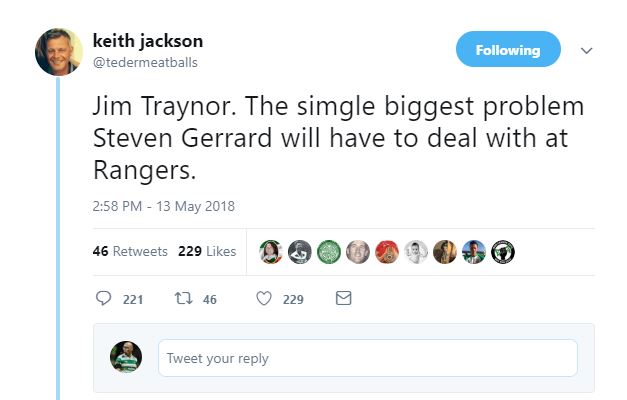 It's not a point wholly without merit, but it's still beyond stupid to place an annoying fat guy at the front of a list of major concerns which would make Donald Trump's lawyers turn white. There are a great number of bigger, more important, things Gerrard will need to deal with and I mentioned only three of them in the previous paragraph.
For all that, I understand exactly what Jackson is getting it, although his tweet does come off an awful lot like the sort a jilted lover would put out. It even contains a spelling mistake, which he thoughtfully corrected in the next tweet as though we all missed the point.
Nevertheless, I find it curious and Sevco fans should find it worrying.
If Gerrard is the hard man they all seem to think he'll deal with a ridiculous blow-hard like Traynor as a matter of course. If that walking lump of lard can order him around he has real problems, and there's no way a dressing room will ever respect him.
In the end, if he has to, he can walk into the boardroom and say "It's either him or me" but that will depend a lot on results, of course.
If he plays that card at the wrong time his own backside will be on the pavement before he can say "I used to be the captain of Liverpool!" and Sky Sports will be announcing his "resignation."
Jackson is, of course, banned from Ibrox after he offered a sliver of criticism up over King some months ago.
It was a fitting end to a relationship that was more like a marriage than one between writer and subject. The Daily Record hack's relationship with Traynor was actually deeper and longer lasting; that was more like a father and son type one.
These are just the sort of "blue on blue" episodes we shall all enjoy. I hope we're seeing the start of the fight rather than the wee tacked on bit at the end where one guy lunges at another knowing there are like 50 people positioned between them.
I'm sure the popcorn will last a little longer.
Join the best Celtic Facebook Group there is right here.
Like our Facebook page and comment on and share the articles by clicking here.
You can also follow us on Twitter at @The_Celtic_Blog