Shame on Scottish charity Show Racism The Red Card, and not for the first time.
Today, they've released a statement criticising Brendan Rodgers and demanding an investigation into Shay Logan's claims that he was racially abused during a match between Celtic and Aberdeen, claims which he did not make at the time and which only came to light in an interview with a reporter from a local Aberdeen paper.
Let me tell you what my history with this organisation is, just so you know where I stand.
Last year, when Scott Sinclair was the subject of racist abuse at Ibrox I emailed them and asked them what their public posture on the issue was, and in particular I wanted to know why they hadn't publicly demanded that the SFA investigate the matter.
They told me they had privately made overtures to the governing body to do just that.
I told them I intended to write that story and they told me to go ahead.
But here's the thing; they never once publicly made that demand.
They issued a brief statement which whilst it condemned those who made the monkey chants was also an exercise in whatabouttery as it tried to equate those people with sins of the past. At no time did they demand that the SFA and the SPFL investigate the issue, not publicly.
Later on in the year, they reached out to a prominent anti-Irish racism campaigner – Phil Mac Giolla Bháin – to get his take on the subject, one close to his heart and about which he has written a brilliant book. No sooner had they made that fact public than the Peepul exploded in hysteria and demanded that the organisation denounce him as a bigot.
They did so, and came very close to provoking legal action.
I said at the time that their behaviour was scandalous.
I said they "showed racism the red carpet."
Earlier this year, when a Sevco fan group which is endorsed by the club marched down a public street having produced a highly inflammatory, sectarian, leaflet I used an article on the subject to ask what Show Racism The Red Card's position on it was.
Their position was silence, and just days later they were tweeting pictures of Sevco players in their t-shirts.
They were contacted over Shay Logan's claims last week.
A statement was released in the name of one of their staff members.
I contacted that staff member, who was actually on annual leave, and so the statement drafted in that person's name was a phoney, although that individual later confirmed to me that the views expressed in it were fully consonant with their own thoughts.
But the story itself was never simply going to die, especially as the Peepul and certain other elements didn't think the issue got the wall-to-wall coverage they were hoping for.
So "fans" around Scotland – and I have a pretty good guess at the club's they represented – got busy and lobbied Show Racism The Red Card about it, and helpfully suggested that they check out Brendan Rodgers' response to it.
And of course, SRTRC did just that, and at the same time did something they've never done before; they actually demanded an SFA inquiry into the claim.
I bet you didn't realise that was catching, eah?
Suddenly everyone wants inquiries.
And on this one, I agree with them.
Let's have an inquiry.
Let's examine the events of that day.
Let's find out whether or not it actually happened.
But whilst we're at it, how about the SPFL and the SFA explain their dead silence on the Sinclair incident, which was captured by the cameras inside the ground and which was proven, and for which someone was charged?
Perhaps SRTRC would like to explain its own failure to demand that inquiry, in public, at the time?
And whilst they're doing that, they better explain why for the second time in a year they've come perilously close to committing libel.
Their statement today suggests that Brendan Rodgers said Logan brought racist chanting on himself.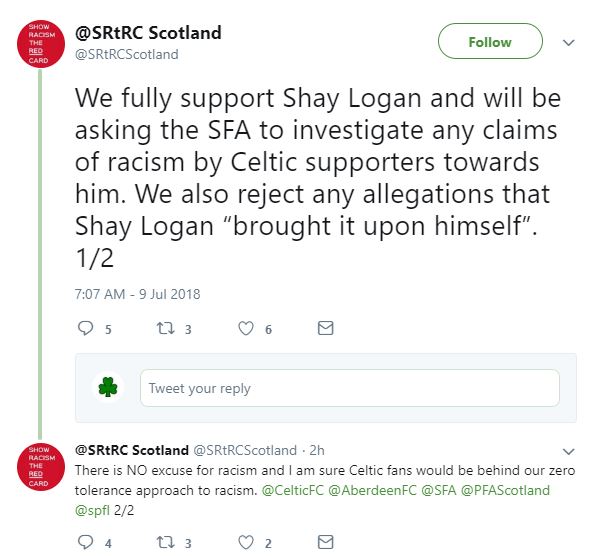 That is grotesque distortion of what our manager said.
First, for all intents and purposes he started by expressing his doubts about the story, so it's not even clear that Rodgers believes it even happened.
What he did say is that Logan's conduct, in approaching our fans to goad them, didn't help him, or the situation.
The not-so-subtle suggestion in that tweet that Brendan suggested he deserved to be racially abused is abhorrent … and libellous.
If a Scottish anti-racism charity accused me of sympathising with racists or supporting their sentiments I would sue them, without reservation.
They are very damned lucky Phil didn't.
Can they afford to be sued?
I am guessing not, so I advise that they tread more carefully in future.
One last thing; their follow up tweet suggested that all Celtic fans would support "our zero tolerance approach to racism."
Let me assure them of something; Celtic fans don't need to be spoon-fed someone else's anti-racist stance. The issue belonged to us and to our club long before Show Racism The Red Card ever came along, and the day we need lectures on the matter, from anyone, least of all them, will be a cold one in Hell.