When a player leaves our club I usually completely zone out to how well, or how badly, he is doing at his new club.
When a player leaves Celtic my interest in his career fades until it's gone.
What do I care what Dembele puts on his Twitter feed? Some mugs might lap it up, but I won't forget the manner of his departure or the sneering press conference he gave on signing for Lyon where he repeated outright lies and boasted on how he engineered the move.
In a similar vein, I have no interest at all in what happens to John McGinn. Is he playing every week as he was promised? I neither known nor care. Will he make it at Aston Villa? Why does it matter? He has his big money, and long may he spend it. Honours aren't going to follow. His Scottish Cup winners medal at Hibs might be the last one he gets in his career.
There are exceptions to this rule of course.
When The King left us, I wanted nothing for him but the best and I could not have been happier to see him holding aloft the European Cup unless he had done it in our club colours. The footage of that night is always juxtaposed in my mind with the image of him walking past the UEFA Cup in Seville, his head down, unable even to look at it.
Not only did I keep track of his career after Celtic Park, but on that night when he came on as a sub and his two assists edged Barcelona past Arsenal, I was jumping around like a madman, delighted for him.
These exceptions are few and far between. One thing unites them; the players in question gave us everything and left the fans with happy memories, and on good terms. At a time when a charlatan like Dembele gave us two years I appreciate players whose hearts break over their departures.
I do believe that Patrick Roberts was in this group.
I know that Celtic wanted to buy him. I know that Roberts wanted to return. He knows the City dream is over, and he does not want to go to a Leicester or some other club where there will be no quest for glory, just a desperate scramble for mid-table ignominy or even survival. Roberts went to City dreaming of honours. He will not settle for less.
Celtic is still the best he's going to get, and nobody has to sell the club to him, nor him to the fans. He is a top class talent who's going to be continuously overlooked. Girona are not going to be any better for him than sitting in the City reserve team would be.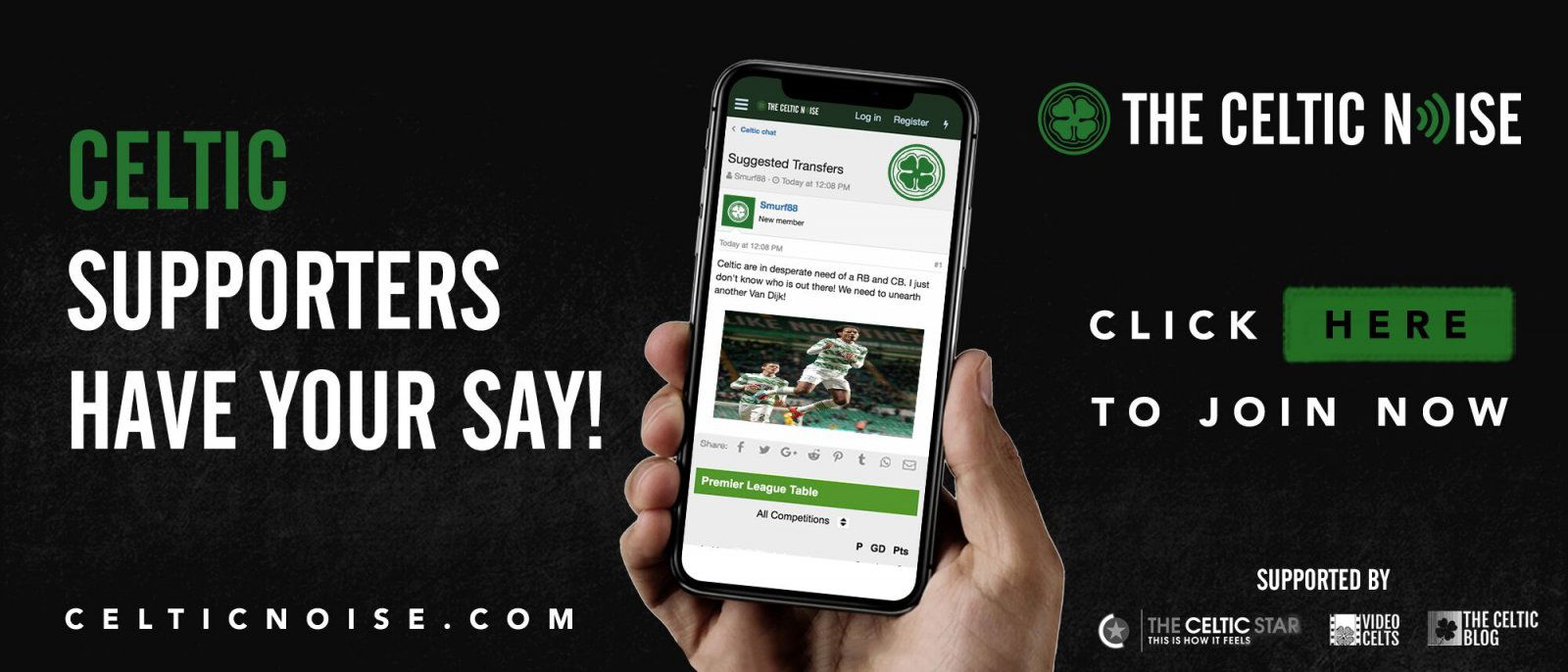 Roberts has played a grand total of 18 minutes since his move. He played only 15 matches for us last season. He is off form and out of practice. It is not unfair to say that his career is going backwards, and because of that the chances of City getting a major fee for him recedes with every minute that he does not play. He's quality, but it's not going to be realised on the ADUG treadmill. He might still be under the City umbrella, but time is running out.
When the current campaign ends, he'll be in the final year of his deal at the Etihad. He will not be given a new one. The club will try to move him on for whatever fee it can get. The catch is, Roberts will have to agree to it. I understand why he moved to Girona – it is his last throw of the dice as far as staying with their parent club goes – but I know that he will resist a move to a lower tier team as he has throughout his contract so far.
Roberts will be 23 when that contract ends; he is no longer "a prospect" player. A lot of English clubs might be willing to take the punt, but they will not be in the upper half of the league who would not pay big money for a player that age unless he was the finished article.
Roberts never will be whilst he sits rotting on a bench.
When we asked about his availability last summer we were told that a fee of £8 million would be enough to secure his signature. We had that all ready to go. I even know what scuppered the deal. This summer, when we made the same enquiry, we were quoted nearly one third more … there is no chance of that kind of demand standing up next summer when he will have twelve months on his deal left to go and will be free to talk to anyone within six.
£6 million would get him; that would give City a profit on the initial £5 million they paid, and if they got a decent sell-on clause in the deal they could probably reasonably expect to get more. Fulham would be entitled to a little something too, but City can easily afford to take a hit. This will come down to experience for them; some you win, some you lose. It will not leave them destitute; they can certainly afford it with the resources available to them.
A move to Celtic is the only one that makes sense for the player, and come the end of this campaign, unless he proves to be a hit at Girona, it may well be the only one open to him and to the club which bought him for £5 million plus add-ons when he was a Fulham youth player aged just 18. Including sub appearances, he's played three first team games for City in competitive football … he's probably never going to get a fourth.
Roberts has as many league title winner's medals for Celtic as he does games for Manchester City. He's too good for this, too good to be in decline whilst still a young man. His next permanent move will define the next phase of his career.
Some will say a move to Celtic would be retreating to a "comfort zone" but they are wrong.
He would be under pressure from the start, a kid trying to save his career.
It doesn't get any tougher than that.
Have you signed up for Celtic Noise yet? Our forum is growing every day and every reader of this blog should be part of the discussions, not just about the future of our club but about the future of the whole game here in Scotland and in Europe. Big things are happening. Be part of the forum at the heart of the debate.