Celtic has a serious weakness in European games, and it does not matter whether it's our starting eleven on the pitch or our second string. Injuries forced our hand tonight, but in truth neither the manager nor the players looked like they were taking that game particularly seriously.
The Europa League is a side-show, and not even the premium one.
As our board didn't take qualification for the big tournament seriously, why should those under them treat this one like it is?
We have a treble treble to win after all.
For all that, had we not succumbed to two moments of self-inflicted injury I do believe we'd at least have shown up for the second half. But two mistakes in a five minute period –the question about Gamboa was answered tonight in a way that brought not satisfaction whatsoever, although I stand by my claim that he's a better bet than Tavernier – cost us and from the moment the second goal went in the team simply switched off.
This is a mental problem. Our heads go down when we concede in Europe; we approach these games as if scared and the loss of a goal seems to confirm our worst fears about ourselves. We will not move forward at this level until we conquer those.
But those two goals essentially turned that game into a mid-season kick about.
A friendly match, with points at the end of it. We've made this an uphill battle in the Europa League group now, but then I always suspected it might be anyway with the current squad and several unresolved issues within it. Playing issues, not arguments.
I say that because I really don't want to give Chris Sutton any further nonsense to play off of.
Some of his comments tonight – such as the manager having "given up" on Benkovic really were embarrassingly uninformed. He has become a tiresome bore, a man who tweets our team hours before the game and spends the match whining just to hear the sound of his own voice.
Regular readers know I became fed up with it a while back.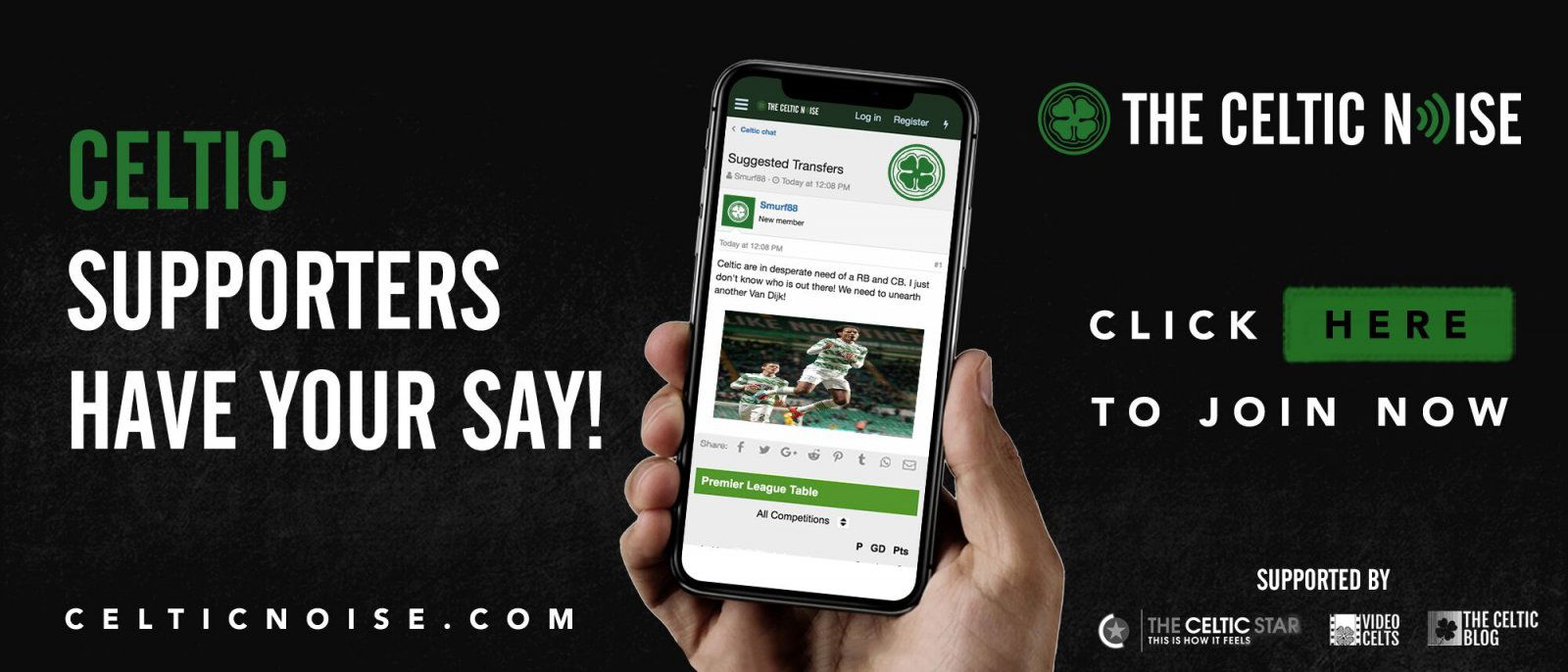 I may not like the way we approached that second half – especially when you consider the fans who travelled over there to see it – but I do understand the logic in players not wanting to run through walls chasing a game that will barely matter by the time this long season comes to an end.
The real match is on Sunday, as everyone in our support is well aware.
One player didn't have to worry about running through walls; just trying to run through blades of grass is enough to send him rolling to the turf in a heap; Jozo Simunovic has surely exhausted the patience of everyone at Celtic Park. He is an imposter who as far as I'm concerned is stealing a wage.
It is simply not normal for one player to be injured so often, so consistently unreliable, so mentally and physically weak that he cannot play consecutive matches without requiring a wee rest on the treatment table. Of all the players who we should be looking to ship out in January there is a case for putting him right at the top of the list.
He offers us nothing. What we spent on his medical bills could probably fetch us a deposit on a half decent replacement in defence.
Of the young players staking their claim tonight, none will have bamboozled the manager with brilliance. But some excuse can be made for them, in that it's a huge ask to expect guys who sit on the bench every week to step up in a match against that calibre of opposition. In some ways, you can blame the manager for that, but he doesn't like squad rotation and a lot of fans don't like it either, believing we should also play our strongest side no matter what.
I have sympathy with that view; I would certainly not be happy if we made eight changes for Dundee next midweek and then dropped points as a result of it.
Tonight went as I had probably expected it to, with some measure of disappointment but also some measure of relief. Yeah, we got the injury I didn't want but if I was to pick a player I'd have bet the house on not lasting the game and leaving on a stretcher he's the one I'd have chosen.
I wouldn't have him in the squad for Sunday whether he "makes it" or not.
I hate losing games, and I especially hate to see us losing in such a meek manner. But I get it, I really do, and from the moment the second goal went in the options for this makeshift team were to chase what was probably a lost cause and expend a lot of energy and take a lot of risks which were un-necessary, or to drop the pace, defend deep and keep it respectable.
We chose the latter. I don't like it, but I understand it.
Onwards to Sunday and to setting up a cup final against Aberdeen next month.
You can discuss this and and all the other stories by signing up at the Celtic Noise forum at the above link. This site is one of the three that has pushed for the forum and we urge all this blog's readers to join it. Show your support for real change in Scottish football, by adding your voice to the debate.