Karamoko Dembele scored his first goal for the Development Squad this week, and it was a moment a lot of our fans had been waiting for.
A lot of folk think it's a matter of time before he cracks the first team and does likewise there.
He is a fine young talent, but as this website has pointed out – and as it did earlier this morning and will again later today – talent isn't enough.
Young footballers have so many complications to navigate as they try to make their ways forward in the game. They have to cope with a voracious media, with an internet rumour mill that never stops turning, with more scrutiny into their "private lives" than anyone that age should ever have to endure, and with more temptations to send those lives careening off the rails. The landmines are all around them and some are easier to spot than others.
This kid seems to have his feet on the ground.
He'll need them there, planted firmly, and he will need a support network around him which understands the circumstances in which he finds himself. He is lucky to be working under Brendan Rodgers, a man who does get it and who has shepherded a lot of young players through their formative years. If he is smart he will listen to the manager. If he's really smart he will ignore the other voices which will undoubtedly be whispering in his ear; agents, reps from other clubs, people telling him what he could have, now.
If Dembele keeps his head down and grafts hard he will have all the rewards in due course.
He only has to look at someone like Tierney to see how quickly they can come for those players who dedicate themselves to excellence and who marry that to a work ethic.
At least one former youth prodigy at Celtic should be studied carefully by those who genuinely have Dembele's best interests at heart, as opposed to their own. The player in question is, of course, Islam Feruz, who's head was turned by cold hard cash and who's ego expanded to the point where it crushed him.
He has never recovered from leaving Celtic in pursuit of glamour and money. His career path veered sharply in the wrong direction; before long he was driving a Porsche and the years of work that got him to that place were swiftly forgotten about.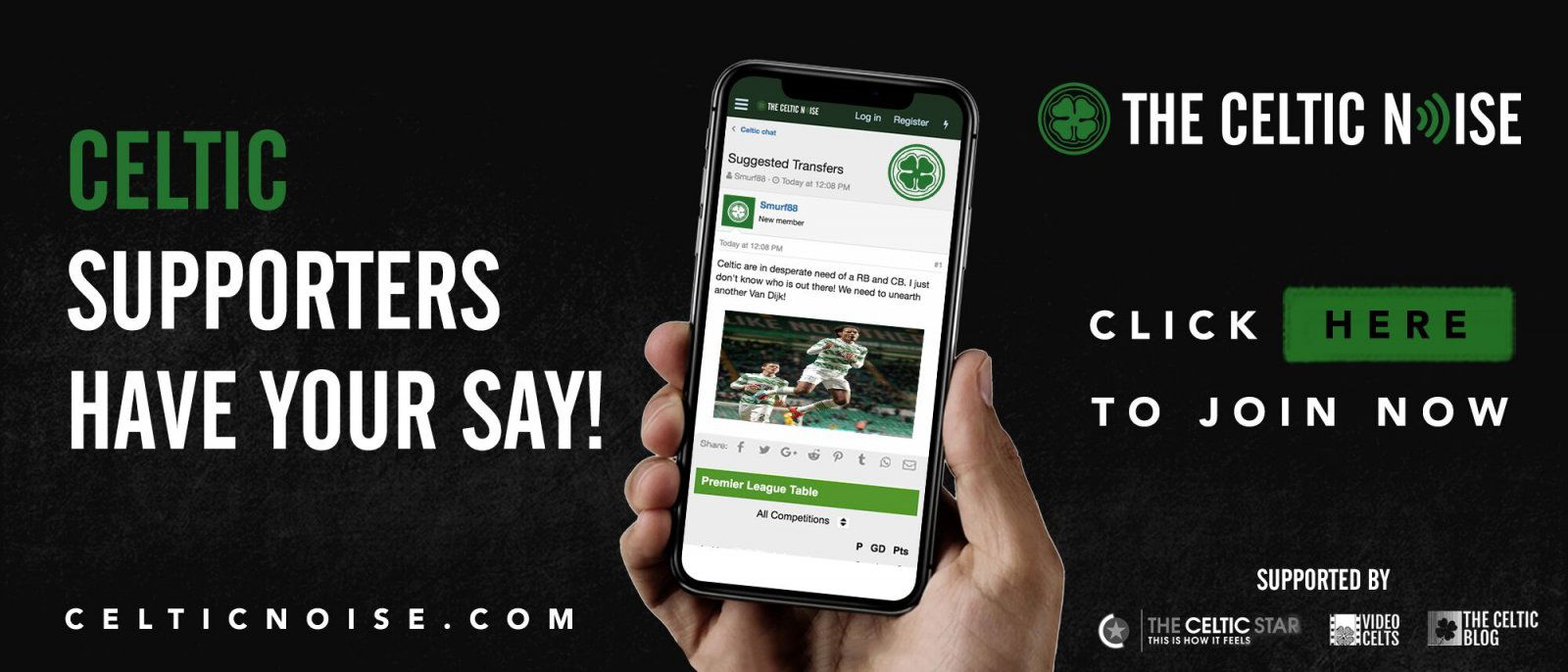 I know a guy, a Chelsea fan who worked with me in Glasgow, who trained Feruz in a youth team.
He spoke about the kid as being possessed of more natural talent than anyone he'd ever seen. Islam was a Celtic player at the time, but still turning out for this guy's team every week. He never wanted to be away from the sport. He never wanted to be away from the ball.
Just two years later, he had forgotten the joy of being on the pitch entirely.
It was a means to an end, nothing more, and the end wasn't games or glory, it was a lifestyle that could support his growing self-regard.
I would call the waste of his talent a tragedy except that he betrayed our club and the man, Tommy Burns, who had mentored him in his development.
Dembele will be surrounded by vultures and leeches.
These people do not care about him any more than the agents and so-called "advisors" who gave Feruz' family such dreadful advice in the last year of his time at Celtic. They will try to convince him that he should be chasing money right from the off, and going where there's more of it.
They should be ignored. The most important thing young Karamoko needs to focus on is playing the game, as much as he can and in an environment where his talents can be allowed to grow at the proper pace. There are few places like Parkhead, and the truly encouraging thing is that the people around him seem to realise it.
He signed a youth development contract with us last year, when some of the whispered voices were trying to get him to depart. He ignored them and spoke about the club with real affection. So too did his dad, who has been a positive force on his career.
"I'm delighted to have signed at such a wonderful club and I think this is the right place for me to fulfil my potential and achievements," the kid said. "And my goal is to reach the first team. It's not going to be easy becoming a footballer at such a big club, but I will show hard work, commitment and the biggest one for me, responsibility."
All that should be music to our ears, but so too should his father's comments.
"For me it's about my son's development and I feel that there isn't a better place than Celtic for him at the moment. He has been here since he was six years old and it would be brilliant to see him playing at Celtic Park in front of 60,000 fans, but I know this will not happen easily and will take hard work and patience."
So people are saying all the right things, and with him having cracked the Development Squad he is very clearly doing all the right things.
But he's about the enter the most difficult, the most challenging, time, the time when the distractions are everywhere and only the most committed are able to block them off and focus on playing the game.
He has real role models to look up to, men at the club who started as boys, who were exactly where he is right now.
They can be his guiding lights.
So too should the players who left early, thinking they'd made it already, and whose careers went downhill fast.
Kieran Tierney and Islam Feruz are two ends of the same spectrum.
It's important he understands that.
It is even more important that he learns the lessons from it.
The signs are good.
You can discuss this and and all the other stories by signing up at the Celtic Noise forum at the above link. This site is one of the three that has pushed for the forum and we urge all this blog's readers to join it. Show your support for real change in Scottish football, by adding your voice to the debate.