It's been a long few weeks in Paradise … but for the most part, bloody good ones.
The next few weeks will all but define our season.
First of all, the win against Hibs proved that not only, do we have our swagger back but the fight is there too. Although of course our detractors only want to concentrate on the two goals we lost and what could have happened at other Hibs attacks … but isn't that why you pay a premium for good defenders and a shot-stopping keeper?
They were also conveniently forgetting that we hit the woodwork five times and forced Bogdan into a few world class saves too.
The injuries that occurred then affected team selection on Thursday.
Yes, I agree that Sunday was on Brendan's mind, and rightly so; Sunday was the priority. But our first team would have struggled against a German side that has cost £200m, on top of never forgetting that we have low confidence in Europe in general just now as we are consistently told by everyone outside the club that we aren't good enough.
Anyone who says that's not a factor is a moron, and giving our fringe players games, while resting and protecting others, was correct. And in the case of Ryan Christie, it was the most perfect possible preparation for coming on as a substitute at Murrayfield.
The media reactions, as always, were over the top;
"Celtic should compete in all competitions all the time" – "I expected better from Celtic in Europe this season" – Chris Sutton during the game.
There was no follow-up as to why we should be expected to go toe-to-toe with a Bundesliga super club at the possible expense of a domestic treble, just criticism. And of course, Sutton is seen as "one of us" so if he is pushing that line, with no consideration of injuries, finances we face in Europe, it's no surprise that others were ten times as negative.
Yes, we are the richest club in Scotland but lower English Championship clubs can outspend us, so how can we compete against the 4th place Bundesliga team who, I repeat, have spent £200m on their team?
Sutton played in a different era, and seems to forget that he and Big John cost £12 million between them and that they had Henrik Larsson – truly world class – playing next to them, backed up with players like Lambert, Petrov and Lennon. And aside from the Seville campaign, some of their own form in away games in Europe was lamentable.
We'll see how the team gets on at home in the games to come.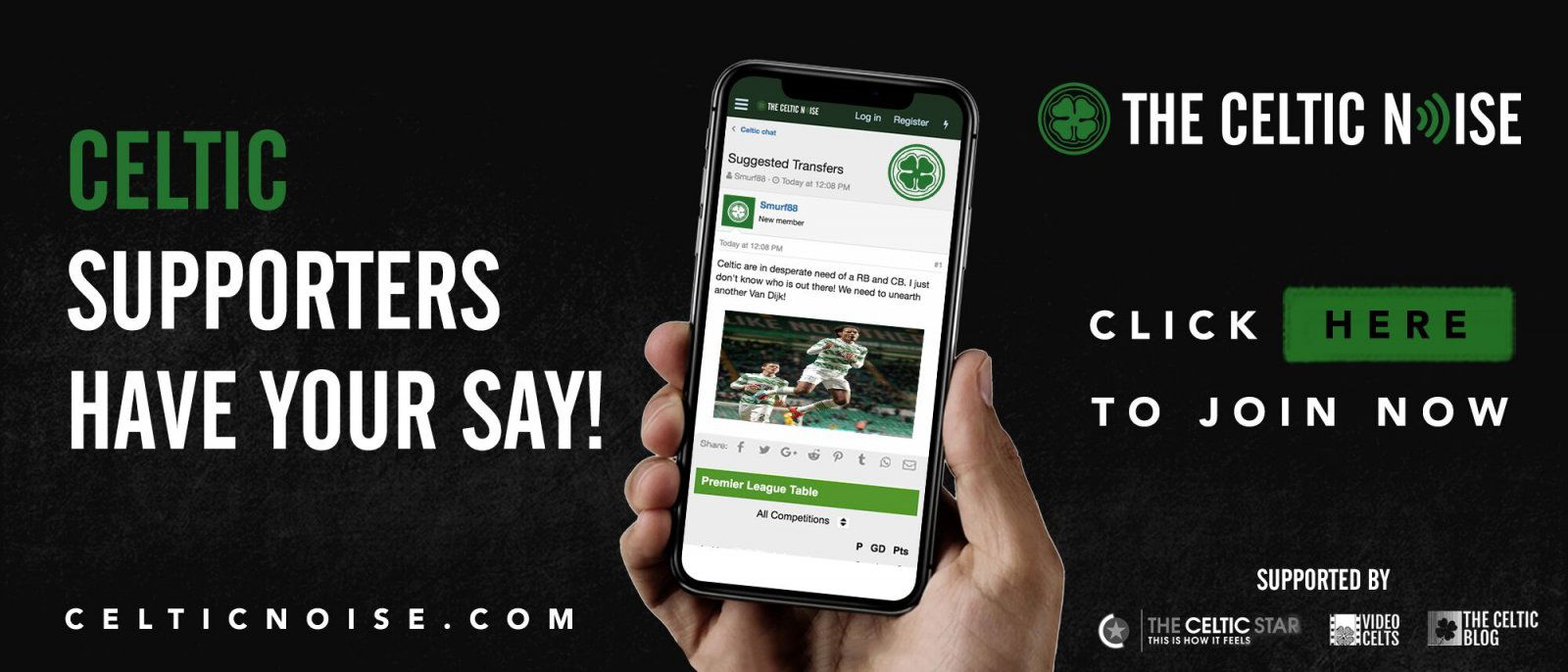 But the truth is that we are not at the level of Europa League yet. The reason more of our fans aren't comfortable facing that is this media promoted idea that Sevco suddenly is, but they have absolutely been blessed by the luck of the devil in the complete collapses of the three sides they have faced. When did you ever know a team to get a European group where two of their opponents sacked the manager mere days before games? Unreal.
Villarreal were in a form slide prior to taking on Sevco, and dropped eight first team players for the game in a move born of ego that will not be repeated.
But here's the thing; Sevco are prioritising that competition as they need the cash, and they have also been very lucky in the games themselves so far, and of course they are getting confidence from the SMSM for every game.
Bang on top of that is all the usual media hyperbole about issues at Celtic, such as rumours that Griffiths is not turning up; it's all about trying to sow discord in the camp. Brendan manages it perfectly again, so enough said on that.
And then came Sunday, and in spite of Sutton's attempt to suggest that the manager had lost faith in the defender, it became clear that Benkovic had been protected in advance of the game, as had Tom Rogic. Correctly, because what we wanted was Treble Cubed; Treble³.
That is the priority.
That game was huge; Hearts were predicted to assault us but on the big Murrayfield pitch our football won out and even with a depleted squad we were able to contain them with ease. Stevie MacLean, who's hope that we were "pumped" in Europe midweek to shatter morale, was booked early and by the end was resorting to sheer brutality born of his frustration. He now faces an SFA ban for his neddish behaviour, so that worked out well.
The fact he felt confident enough to make such comments, apparently without fear of sanction, proves that it is Open Season on Celtic; Operation Stop 10IAR at all costs.
Yet it looks like proving wholly unsuccessful. We are moving forward and I think Brendan's interview about us standing still in summer has helped. It has clarified thinking inside Celtic Park and broken the last of the tension around the place. It's as if he was announcing that people know mistakes have been made, but that we can all move on.
Everyone is on the same page now. A victory on Wednesday will, as James has pointed out, give us the four league wins on the bounce that we've been waiting for, and then we can push into the November-December period where, hopefully, we can climb back to the top of the pile and then really start to pull away from the rest.
Our season has been nuclear-turbo charged by the last few weeks, and every weapon in the arsenal is being readied. Others need to take cover! We're about to blast our way towards more history.
Dave Campbell is a Celtic fan and blogger who is very happy with the last two weeks.
You can discuss this and and all the other stories by signing up at the Celtic Noise forum at the above link. This site is one of the three that has pushed for the forum and we urge all this blog's readers to join it. Show your support for real change in Scottish football, by adding your voice to the debate.