All of Scottish football has a had a tough week; the behaviour of those who attacked players, all of them, is despicable.
I'll be posting a piece on it later, but I want to say that before this one.
But although I will cover it later, I would like to ask Gary Caldwll and Les Young, ex police federation chairman; was Kris Boyd guilty of possibly causing a riot this weekend, and if he had, would he have "brought an attack on himself?" as Young said about Lennon?
We know that the answer is no, but Boyd is a media darling in spite of being a dreadful writer and a second rate footballer who had better players around him and benefited from that.
Why anyone listens to him is beyond me.
But sometimes you get lucky.
Which is what some people are saying about us right now.
Now we have motored through the gears, swiped aside the"challenge" – yes still second, but its inevitable that we will be top within a couple of games – our dominance has been stamped on the game again, plain and simple.
Our performances have been exquisite, this was the few weeks that would prove if we still had the balls, and we have shown we have the biggest of them all.
Our summer transfers, as we know, caused problems; it seemed that the elements at the club were working at cross purposes, and as we have said the fog that caused affected our performances, our mood as a collective, but the over reaction of the SMSM and other clubs has not prevented us coming out of that, as we knew we would.
But some things have happened in the past few weeks that show the luck might be on our side.
The air has been cleared between the boardroom and the manager, like it or not they both know where they stand.
That sometimes has to happen to move on.
And in hindsight, maybe we're lucky it did because people seem to be refocused.
It has shown we need another striker, Griff, for whatever reason, cannot always be relied on.
Think of the grief that Brendan got last year for not playing Griff when some thought he should, and I was one.
Maybe he has been proved, at least in part correct now, maybe the mental fortitude you need isn't totally there with Griffiths as our main striker. As a back up yes, he can certainly be relied on for that, but to be number one? Maybe not.
Again the over reaction from SMSM through that period was pretty brutal. While I was one that questioned the non selection of Griff, I did always say I trust the manager.
But are we lucky that this trust in Brendan has been vindicated?
Our injuries, while being ignored as any possible reason for affecting form by the media, could have offered some alibi with the support had we dropped more points or lost the cup tie, but they would have shown the board and manager that we needed more cover and investment in certain areas.
That message has still been sent … but we seemed to have lucked out big time with our forced choices.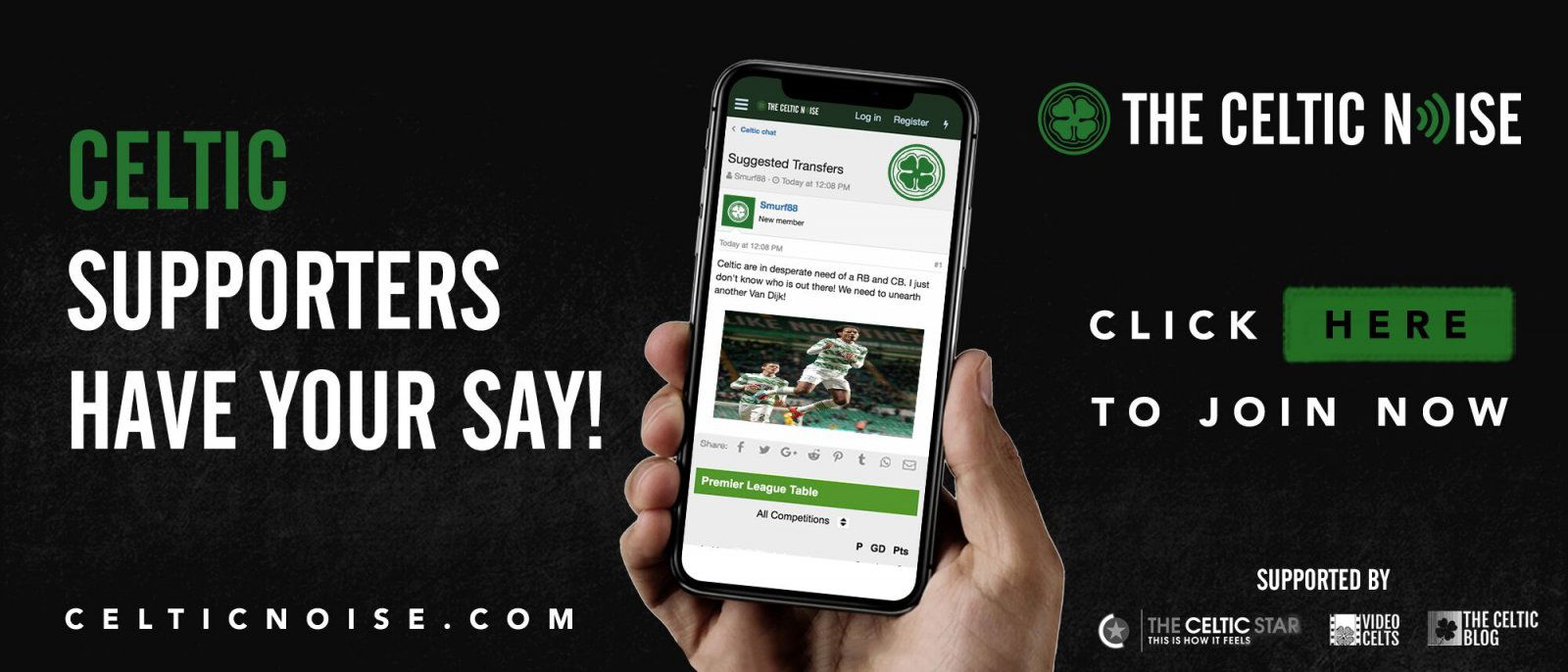 Our replacements have been superb; firstly Ryan Christie.
I do believe if we had bought the striker the boss wanted that Ryan Christie would have been loaned out again, possibly sold. Be he was kept as cover, and brought on in the semi final, and dare I say already, the rest is history; the luck in that, for Ryan and for Celtic, is lottery winning.
Now one injury has been pored over, especially by SMSM, as having a tsunami like effect on us; Scott Brown.
There are two elements to this; one is about his influence and how, when he retires, we will simply not exist without him.
To read the narrative in the press we will collapse, the club will no longer be.
And yes Scott being out of the team is a loss and, it has let the media focus on "oh if only you had bought John McGinn" and other such nonsense.
Now at first when Scott was ruled out it did cross my mind; do we even have cover for him? Especially with the Hearts games coming up. I even had a wee look to see if Nir Bitton was a possibility, and of course no was the answer. Then Mulumbu I thought, well he's not in same class but surely he can deputise?
No I was wrong, because Brendan did what he does best; he took a step back and looked, and knew he had a player in that team a lot better than we even thought he had, Callum McGregor, in a role he hasn't played since Ronny was manager … but back then McGregor was just a raw youth prospect.
Now he's a seasoned pro and a full international and though I had rated him since the first time I saw him, as an attacking midfielder, I am blown away by the player he's become, and his ability to have stepped back into that role as defensive midfield enforcer and play as if he has been there for his whole career proves how good this boy really is. He gets better with every game, every season and these sorts of players – who can play at the very highest level in any position – are worth their weight in gold.
And perhaps we've got lucky here too because now we do have cover for Broony, if Broony cant play every game, which will happen at some point.
This also shakes up our tactics, with McGregor there; it opens up greater space in front, for Christie as a deeper attacker and Rogic to flow and glide about like he does.
Good fortune is smiling us … or so it seems.
So all in all we have been lucky in past few weeks, with a few things.
That's if you want to look at it as luck, and doubtless that is how our detractors will spin it.
But actually, this is what happens when you have a manager and players who are as good as they are, when coaches can actually develop footballers instead of simply replacing the ones they don't think are coming up to snuff.
This is what happens when a club is run properly, from top to bottom.
This is what happens when conflict arises and is dealt with and not swept aside with deflection and lies.
It's funny how they say in football, in fact all sport "the good players make their own luck" – well the good teams do too.
It was Gary Player, I think, who said it best; "The harder I work, the luckier I get."
Everyone at Celtic knows the truth in that statement.
Dave Campbell is a Celtic blogger from Glasgow who believes that in this life the most successful people and organisations make their own luck.
Never miss an article on The CelticBlog again … download Celtic News Now, the best aggregator of Celtic stories on the internet, by clicking here. You're supporting a great Celtic fan project and all of the various sites … and it's free.
You can discuss this and and all the other stories by signing up at the Celtic Noise forum at the above link. This site is one of the three that has pushed for the forum and we urge all this blog's readers to join it. Show your support for real change in Scottish football, by adding your voice to the debate.