Label Sevco's latest accounts under the word "disastrous."
There is no other adjective that comes close to describing them properly. According to Phil, members of the board over there are unable to believe how bad they are; that should tell you something right away. Their biggest concern is that they are the ones who are going to have to keep on paying the bills.
King is a shameless character alright, but nothing can be worse than what he has done to people who really do care about the club they are supposed to be running together. They have carried his egotism through the last four years.
They have been there and put up the money when he was telling a court that he was destitute.
And having converted £11 million of previous debts into shares, they are facing the prospect of having to find more. In the meantime, he picks fights which are going to rack up the debts ever higher. Ignore everyone who says that these were "one off" expenses; that club has no grasp of fiscal sanity at all. I cannot imagine that they will make profits this season, even with the addition of European gate-money and the cash from UEFA.
Even if they do, as a character in one of my fictional pieces once said "The darkness is never behind you; it's just on the other side of the loop, coming back round again." This lot are addicted to spending money. They are addicted to debt. They cannot control it.
It is part of the firmament; in the very air they breathe. It is built in with the bricks.
Sevco has burned through a fortune in the six years of its existence.
It has posted combined losses of more than £50 million. That's an average of more than £8 million year on year and there is no end in sight. The more they earn, the more they spend and this is necessary because it's the only thing that keeps their supporters coming through the turnstiles.
Sevco's fans spend money on hope. The hope that they will rule the roost in Scottish football. They believe it's their entitlement. The moment that hope goes, the moment they realise that there really is no catching up to us, not this way, we'll see big changes over there as the ground empties and they go into a downward spiral.
Their turnover increased, to £32 million, and they are making a big deal out of that, but for the period in question ours was more than three times theirs, and that translates into what we can spend on salaries and transfer fees and on the infrastructure that will give us even more scope for raising cash.
Nearly every penny they have spent has gone out of the club; looking over the figures I see no sign at all that any has been put into the kind of areas which help them grow. Some may have been spent on modest stadium repairs and on the training ground, but everything else has been squandered on wages and pay-offs.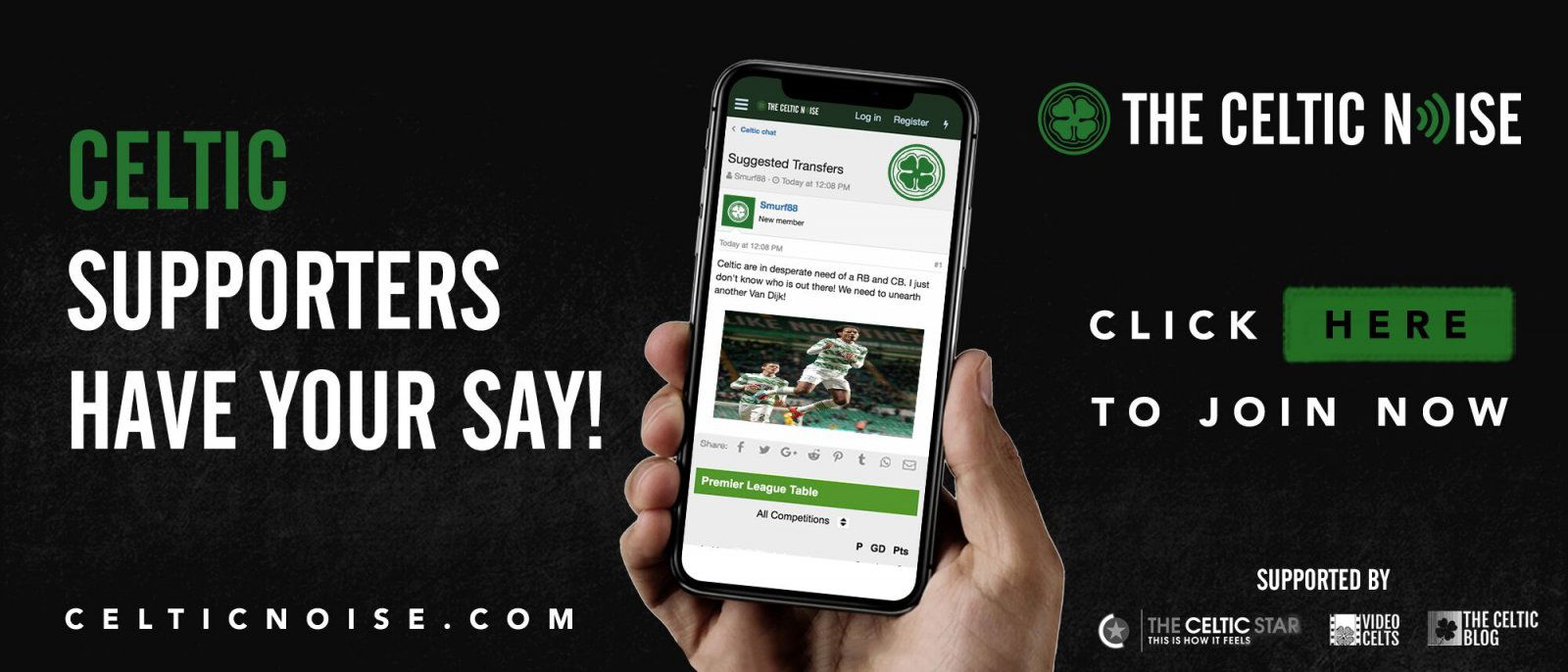 The problem is that Sevco is operating at virtually full capacity at the moment.
Their attendance figures can only go down from here, the commercial side of the business remains an absolute shambles, the retail side is still mired in litigation with no end in sight and this is Scotland and so TV money is miniscule. They are almost entirely dependent on getting bodies in through the gate, and the minute numbers start to fall off there they are done. Of their £32 million in revenue, the vast majority – £23 million – was from gate receipts.
What I found hilarious was the "player book valuation"; in short, the combined total worth of their playing squad.
Whilst the "brand" they call Rangers is valued at £16 million, the squad is worth a mere £11 million, which is £8 million less, or thereabouts, than we brought in for a single footballer, Moussa Dembele, at the end of the last window.
We have, on the books right now, a further five players at least – Tierney, Rogic, Ntcham, McGregor, Edouard – who could probably bring in an eight figure sum.
You have to think that we can still get a substantial fee for Boyata, and that the likes of Ajer, Forrest and Griffiths would secure offers in the upper seven figures. We have a squad full of talent, a squad full of saleable assets.
The accountants signed off on these books only because King and the club pledged a minimum of £7 million in additional funding during this campaign. As has been pointed out elsewhere, their supposed "£12 million share issue" of September saw £11 million of debt converted to equity – in other words, directors got shares for their loans; not one penny went to the club – and just over £1 million was brought in from "investment"; i.e. Club 1872.
They simply cannot afford to keep spending money at the rate they do, and even their manager has admitted that what they forked out for over the summer – cash they didn't have, as you can see – was not enough and they need more.
Celtic dwarfs this lot on and off the park. With income three times greater than theirs and a stable, double treble winning squad, with a stadium that holds 10,000 more fans and plans for hotels and bars around the ground, we have decisive advantages over them in every area. We have advantages that, frankly, I cannot see ever being bridged in our lifetimes, unless Sevco acquires a sugar-daddy owner with King Billy tattoos.
My guess is that there aren't many of them about.
We're also not facing multiple legal battles, on several different fronts.
The Ashley case, the Takeover Panel case and the possibility of being sued by Hummel and JD Sports present the club with existential risks.
There is no way they could afford to pay up in a multi-million pound judgement.
And those aren't the only legal proceedings they are wrapped up in.
One of the others is mentioned in the accounts, and it kind of made me smile; they are still being sued – with the case due to start next year – by a company called Orlit Enterprises, and a chap called Rafat Rivizi, allegedly for services provided to the club in finding investors.
There aren't many companies out there being sued by that particular guy, but he is still the subject of numerous legal actions himself. He was once wanted by Interpol. In 2010, before his association with Ibrox, the Indonesian government had considered seeking the death penalty in a case involving him.
You could not make that stuff up. Only at Ibrox would they have sought the "services" of such a man in the first place.
You can discuss this and and all the other stories by signing up at the Celtic Noise forum at the above link. This site is one of the three that has pushed for the forum and we urge all this blog's readers to join it. Show your support for real change in Scottish football, by adding your voice to the debate.