Last night I said in my social media intro to the article on the Ibrox ticket situation that if people thought they detected a note of panic in the responses to our statement that they were correct. The panic was definitely there. This afternoon it is ten times worse.
And before I get to that, I want to say something which again needs pointed out because it's getting glossed over for whatever reason although it's pretty clear and obvious; Celtic did not cause this problem. This was a crisis entirely created at one club, and that club was not ours.
King did this, nobody else, and if there's a backlash then he's responsible for it.
An entire chorus-line of Ibrox mouthpieces are piping up today to demand that the two clubs "sort this out."
It's way past too late for that. Celtic and Sevco had a reciprocal deal that goes back to the Rangers era. After giving assurances to the league, the police and to our club that this sort of thing was not in the offing, they decided to break that deal.
That's where the blame for this starts and stops. Having sold the tickets for the Broomloan Road to their own fans, there's no going back, not until next season at the earliest and do not count on it. This is another example of what Dave King's word is worth, and what any agreement with that club is worth. It suits them until it doesn't.
Derek Johnstone says if other fans are safe at Ibrox Celtic fans are.
Except others fans aren't safe at Ibrox. The internet is awash with stories about the treatment they get when shoehorned into the corner where 800 of our fans will be. The club itself admitted that it could not adequately police European games there unless with a reduced away allocation.
A prominent Sevco fan organisation held a "Smash A Fenian" rally last year; they will be out in full force at Ibrox that day, with the full backing of the club. And since there will be only 800 Celtic fans at that game it is entirely right to wonder about their safety.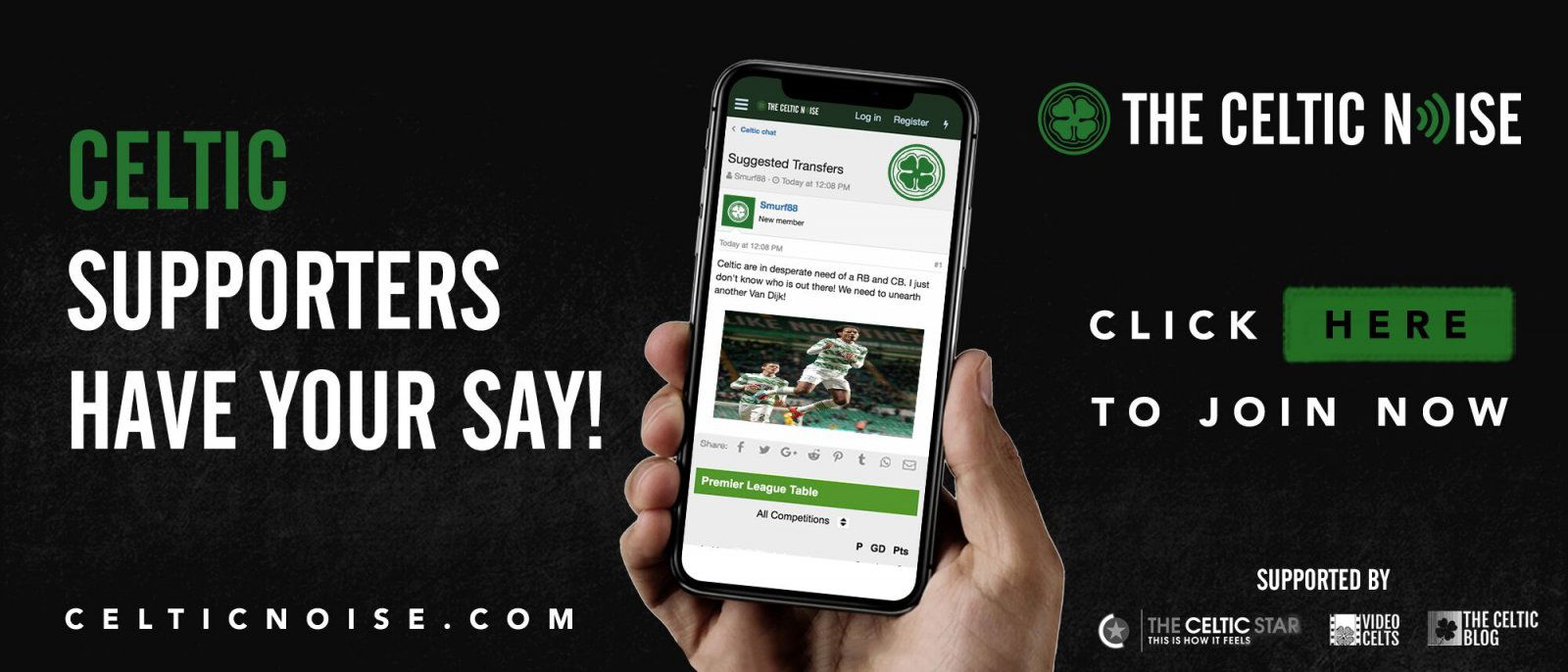 Johnstone says their fans were safe coming to Celtic Park; of course they were.
He cannot point to any instance of serious disorder at Parkhead.
Then, and shamefully, he seemed to suggest that we couldn't even protect our own fans at that game, by alluding to the incident in Janefield Street.
Does he really want to go there? I dare him.
The truth is, our players aren't even safe at Ibrox, something nobody in the media even wants to discuss; Brown was attacked on the pitch by a fan two years back and our players have been showered with everything from plastic cups to golf balls on recent visits.
The fact that these incidents have been roundly ignored by the press just means that the boil itself has yet to be properly lanced. No wonder an element of their support thinks it can behave as it wants to. No wonder our club has legitimate concerns.
Johnstone and Barry Ferguson have also asked "Why now?"
Why is it only now that these questions are being asked, and why is it only now that this is being brought up?
I can answer that as well; Celtic has had concerns since King made his announcement. This site and most of the other Celtic sites have been discussing it all season long. This was the first chance ordinary shareholders had to ask the club about this directly. That's "why now".
But this discussion has been had, in private, at club level and at supporter level, all the way through the campaign so far. It is not a new issue, not something we manufactured as some kind of crowd pleasing stunt. It's been live since King did the deed.
"This will ruin the spectacle," squeal some.
Guess what? The spectacle is already ruined.
Even if King had left things as they are, our record of 12 games unbeaten against them makes it a routine affair. We've put five past them three times in two seasons, including in front of their own fans. We've gone to Ibrox and come back from behind twice and still won, with ten men on the park.
There is no "spectacle" to be had, unless it is the one of a desperate club scrambling in the dirt for every narrow advantage they think they can get. And that's an ugly spectacle at the moment, and quite an embarrassing one for them.
But as usual with King, the realisation of what this all actually means has come to him too late in the day.
Sevco's AGM is on Tuesday, and I have no doubt that he will make some bullish statement and make this worse.
Because rational behaviour, acting like a professional, is beyond this guy's limited abilities. Once again, a situation he created has made his club look like shit in the eyes of the world. And all Lawwell did was answer a question.
And what a flap that answer has caused. You tell me; who looks weak and unstable here?
That note of panic that was in the air yesterday? It's hysteria now as the full weight of this presses down on them.
What did they expect?
That we would fold.
Once again, King has misjudged the strength of his hand.
Once again, he has pissed off the wrong people.
You can discuss this and and all the other stories by signing up at the Celtic Noise forum at the above link. This site is one of the three that has pushed for the forum and we urge all this blog's readers to join it. Show your support for real change in Scottish football, by adding your voice to the debate.