The Daily Record has responded to Celtic's threat not to take tickets for Ibrox by publishing a police memo which accuses our players of sparking crowd trouble at the game at Celtic Park earlier in the season and requests that our own allocation for Celtic Park gets cut if we "restrict" Sevco fans to 800 tickets for the visit later in the season.
This was obtained under a FOI request, but someone knew what they were looking for. That is a measure of what we're up against here, and it increases my view that we should refuse all tickets for that match.
Apparently, our players doing a lap of honour in our own ground, after we'd won a game, is what provoked the Sevco fans to rush the front and try to get on the pitch.
Let's cover the "provocation" allegation first.
Perhaps it's just me who wonders if this is the first time that a police memo has come down on the side of people so deranged they cannot simply sit in their seats and wait to be allowed out of a ground before trying to invade the pitch.
Other club supporters manage it. Celtic's lap of honour is something the players do after nearly every game, home and away.
Every other set of supporters manages to remain calm during it, and so this is starkly reminiscent of the excuses which were made in the aftermath of the Scottish Cup riot of 2016.
Sevco fans were "provoked" that day too.
It seems to me that Sevco fans are very easy to provoke.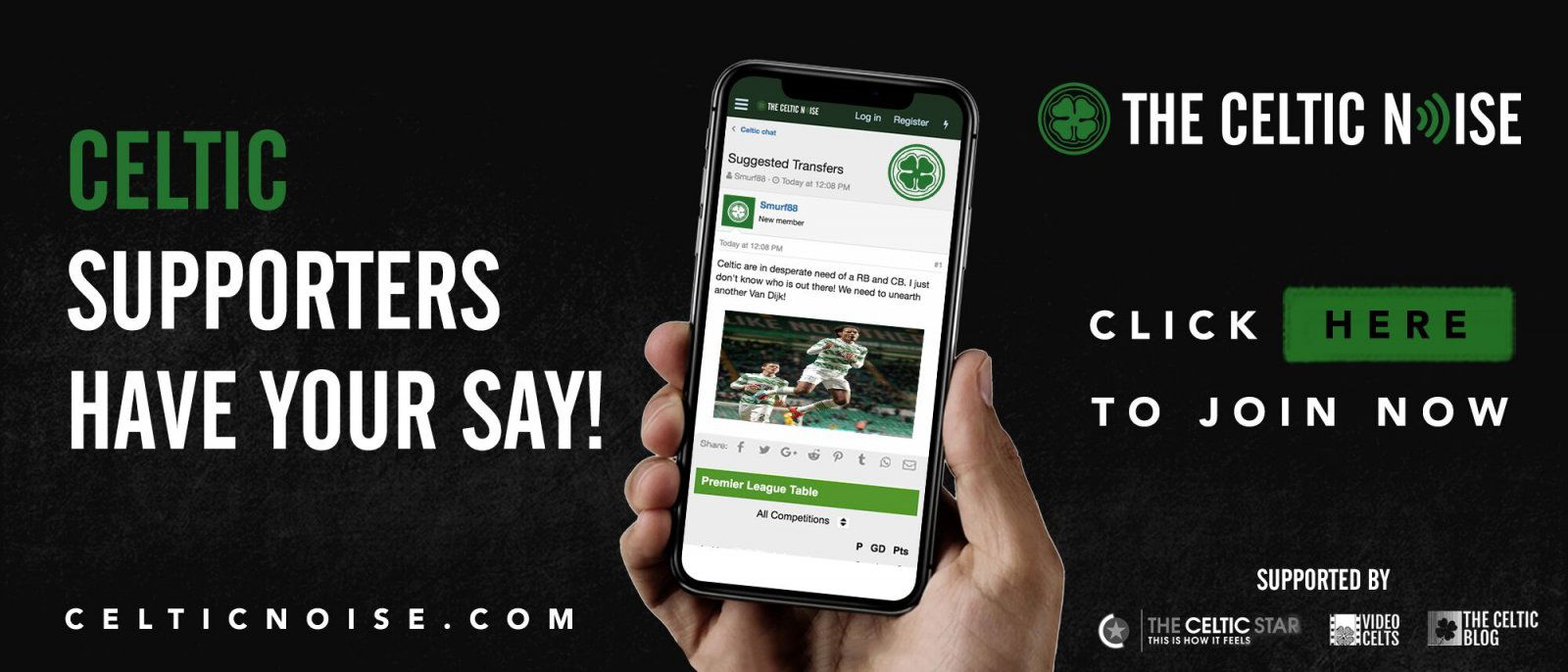 In a normal part of the world that would be identified as the problem, and dealt with.
Not in Scotland.
This is the only country where the police and the press would go out of the way to protect the sensitivity of nutcases so lacking in self-control that the sight of players doing a routine lap of honour provokes them to riot.
Take this to its natural conclusion; imagine yourself walking into a police station and telling them that you've just seen your ex-girlfriend walk past your house with her new guy and that the sight of them made you want to do something violent.
Do you think the police would jail them?
No, they'd jail you.
That is the law, and it's right and proper that it is.
I am sick to death of hearing how the Peepul are being provoked into psychotic behaviour. The problem is them, not the rest of the world.
And what offends them most, of course, is Celtic.
Celtic winning.
Celtic continuing to dominate their pitiful club, no matter the hype that surrounds it, no matter the manager.
And the idea that our 800 fans would be safe following a win at Ibrox seems even more patently ridiculous in light of the police memo which describes a Sevco away support that is out of control.
There will be fifty times as many of them inside Ibrox.
The police memo recommends banning "laps of honour" after these games; which means banning Celtic since we're the only club that gets to do them, since we just keep on winning them. You really don't have to read between the lines to realise it's an attempted punishment beating for our daring to win games and celebrate that fact.
I don't know who the cop responsible for writing this garbage is, but my first reaction upon reading it was "somebody sure was hurting that day." I hope his superiors roundly ignored this circular. and everything in it.
But I know exactly what The Record was up to in publishing it.
This is their response to our Ibrox ticket threat, a warning shot across the bow. Because the report also says this; "The officer said that consideration should be given to restricting the number of Celtic fans in the east stand at Celtic Park if Rangers fan numbers are as low as 800 when the fixture repeats."
So let me get this straight; Police Scotland wants us to cut our own allocation, for our own home ground, if Sevco fan numbers are kept at 800? I know what they can do with that suggestion, and I look forward to seeing them try and impose it on us.
But the agenda here is clear; this is an attempt to "resolve" this situation – the small number of Sevco fans allowed in our ground and our suggestion that we might not take tickets for Ibrox – by strong-arming us. Celtic had better be standing up against it.
One last thing; the memo also mentions a Green Brigade "march" to the game.
The Green Brigade marches to every game.
If marches interest the police so much perhaps they'll explain why they allowed this one;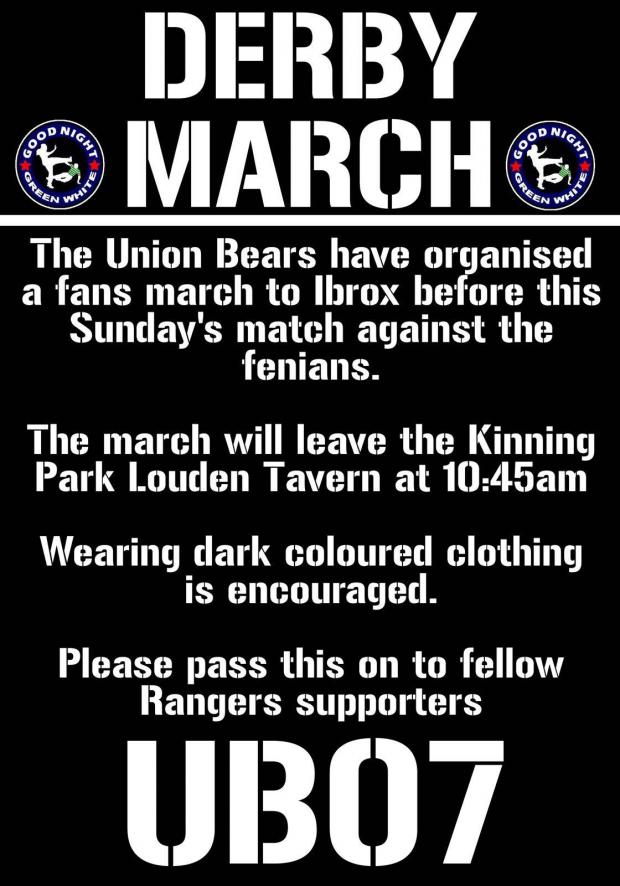 Aye, this one;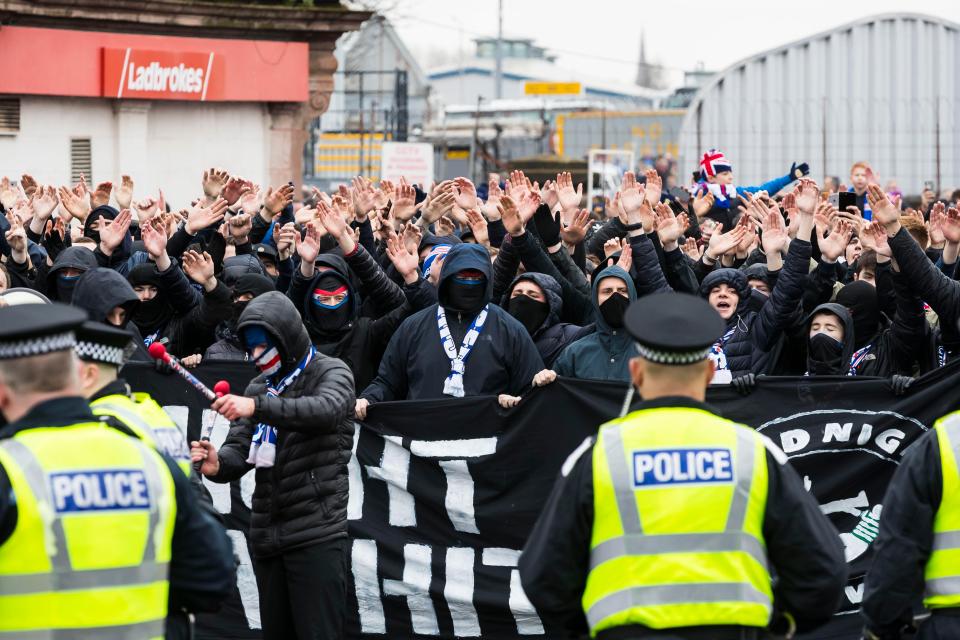 It's impossible to take them seriously when they allow such blatant double standards.
This is the kind of thing that should make Police Scotland and that paper embarrassed.
But it's a stick to beat Celtic with, and that's all they're interested in.
Shame on them for continuing to excuse the dire behaviour of Scotland's most notorious supporters.
They are making an already serious problem worse with every such story they write, and if something awful happens because of that we ought to make sure they accept their share of the blame.
This article was amended; the original wondered if the document had been leaked. Actually someone at The Record was tipped off about the existence of the memo, and they obtained it under a Freedom Of Information request. 
You can discuss this and and all the other stories by signing up at the Celtic Noise forum at the above link. This site is one of the three that has pushed for the forum and we urge all this blog's readers to join it. Show your support for real change in Scottish football, by adding your voice to the debate.
Related posts