A few weeks ago, when we had moved back top, I said that my overall feeling was one of frustration. Frustration that we weren't further ahead. Frustration that this still looked like a race. I still feel a little sense of that, but it's lessened significantly because of yesterday.
Yesterday was the sort of day you look back on later in the season and say "That was important."
It felt like that, didn't it? It felt like a game-changer.
The media is focussed, to an extent, on events at Ibrox. Of course they are.
But we know the moment that pushed this thing strongly in our favour was the enormous psychological lift our players took in that superb chip from Edouard which put us back into the lead after a scandalous penalty kick decision had threatened to cost us two points.
They then went up the park shortly afterwards and scored again. The whole team was just buzzing at that point. Even the concession of a late goal didn't change it. We had done what we went there to do, but we had done it in such a way as to erase doubts about the mentality of the team and their willingness to fight.
Not that many doubts existed, of course.
This team has proved itself over and over again; when the chips are down, they show up for business and get it done.
Our squad is even capable of pulling itself together through the kind of injury crisis that would make some managers sit down and cry. The crying from Ibrox about the number of players they might have to do without on Saturday is already hurting our ears.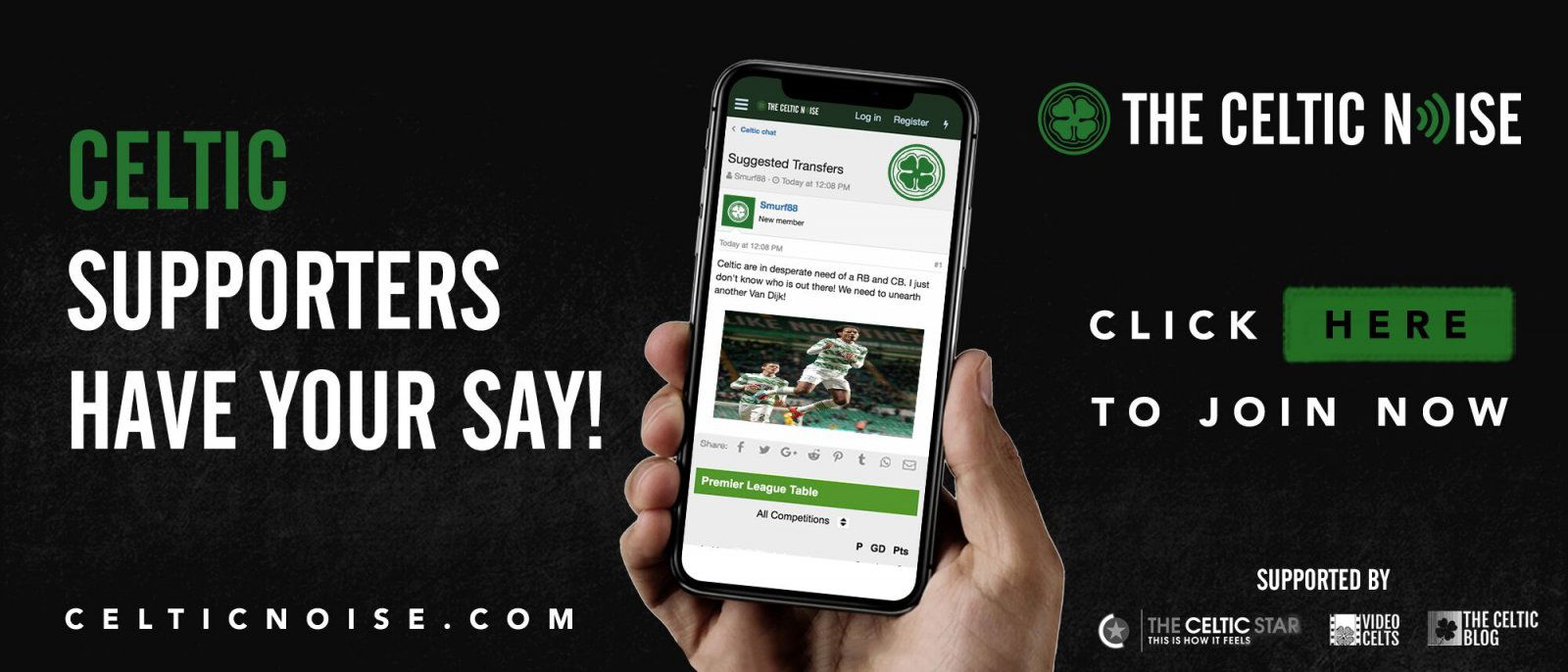 It's an excuse, the first of many they'll try to make, and I think most of us expected it.
Their club is coming apart.
The pressure they put on themselves is immense, and far greater than any we've been able to bring to bear on them thus far. If they could see a chink of light at all it's because we let them think they had a chance. Our own poor form is the only reason this so-called "title race" even exists; they still don't look any better than the teams around them and that is a damning indictment of Dave King's three years in charge of their club.
Celtic has been carefully built over a decade of difficult choices.
We've had setbacks. We've had bad seasons, and periods when we didn't look particularly effective out on the pitch. But the fundamentals have always been right. The foundations were laid a long time ago and they endure, whatever else might come to pass.
The club across the city has been thrown together in a hurry.
Everything about them screams "short term" and "quick fix." Even their transfer strategy, such as it is, amounts to little more than bringing the old band back together circa 2012 and hoping for the best; this is why Steven Davis and Naismith seem the most likely January signings.
I think the Ibrox game will only go one way, and that's with Celtic winning the match comfortably.
But there's a perception amongst their supporters – and indeed, amongst everyone at their club – that a home win will represent some sort of paradigm shift, some dramatic transformation of the landscape and everything in it. They are just as wrong as they could be; whatever the result, it's one game. It's a single, solitary match and no different than if we dropped points at Aberdeen or Hibs or Killie or Hearts. We will still hold the advantages we do now.
Their entire club exists in this half-light of unreality, an inability to see themselves for what they are and their desperate position for what it is. Two and a half years ago they managed to convince themselves that securing a penalty kick's win over us at Hampden had transformed them into the biggest club in the land. The insanity of it was manifest. The next time we played them we scored five. Their manager didn't last the season.
I have no doubt that if they gained some positive result here that it would spark the same kind of jubilation that greeted that win on penalties. I have no doubt that it would have the same result; this time next year we'd be heading for nine in a row and they would be looking for yet another manager to take Brendan on.
The old saying goes that those who ignore history are destined to repeat it.
The Ibrox club is proving it in more ways than one.
You can discuss this and and all the other stories by signing up at the Celtic Noise forum at the above link. This site is one of the three that has pushed for the forum and we urge all this blog's readers to join it. Show your support for real change in Scottish football, by adding your voice to the debate.