In the John Cleese movie Clockwise, about a teacher who keeps on getting derailed whilst trying to reach a conference where he's to give the keynote speech, his final breakdown comes as he sits in a road dressed in the robes of a monk, with the clock ticking but not yet out of time.
For all the havoc he's been involved in, there's still a glimmer of a chance.
One of his students has joined him on his bizarre road-trip across the country, and he turns to her and tells her where the real pain is.
"It's not the despair, Laura. I can take the despair. It's the hope I can't stand."
Football fans understand the concept well.
It's the hope that kills you.
That's why, amidst my frustration at full time last night, I was struck by a moment of almost sadistic glee as I realised that the equalizer had not pleased people at Ibrox as much as it had tormented them with the thought of what might have been.
It also keeps their unhealthy belief that this can be their year alive; had Celtic secured the three points even that might have faded and died.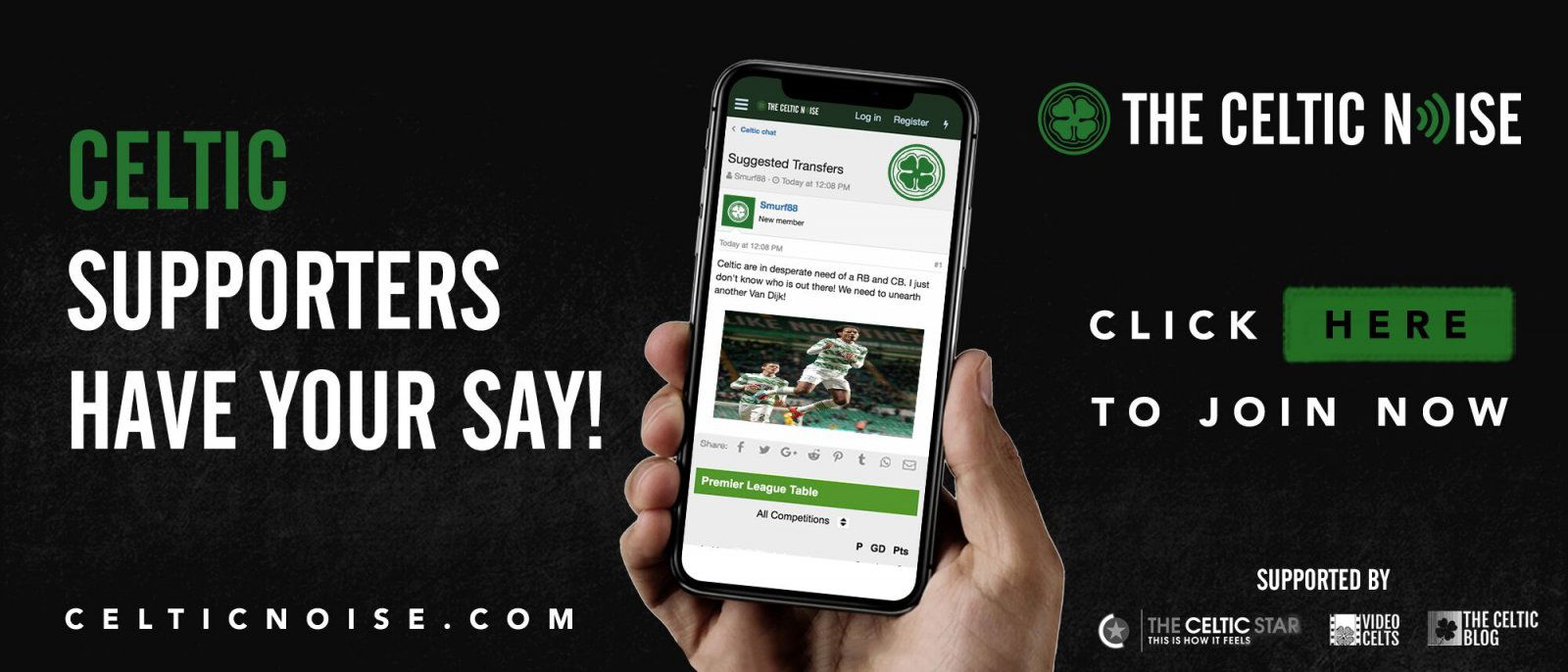 But hope remains. Hope is still being dangled in front of them like a tasty treat on a wire. Like a donkey pulling a cart in the hope of eating a juicy carrot they plod on, believing. It must be exhausting, physically and mentally. You'd think they'd quit and save themselves all the grief and the obvious despair. To save themselves embarrassment.
Because everything from the weekend until the final whistle last night was embarrassing. Their preening, posturing, egotism, arrogance … they were top of the league for half a week, and then reality hit them as it always does.
Not that they recognize it.
Our confidence in our club comes from having been over the course before, from a seven for seven trophy record, for seven titles in a row. Their own comes from a mistaken belief that they are special, that the club which existed before them was special, that Scottish football fears them and with good reason.
None of it is based on anything concrete.
None of it is grounded in facts.
In fact, it's especially dangerous because it is based on ego and presumption. Because it is based on their perception of themselves
And irony of ironies, it was Derek McInnes who got the result, the second time he's beaten them in three games … and, of course, he took a point in the other match. He has Gerrard figured out; it took him just 89 minutes to do it.
Even playing with ten men last night, his team did not look like losing the points.
Fury has erupted amongst the Peepul because they genuinely see this as an opportunity missed instead of as a dose of reality.
They see Celtic as a club they could catch, if only. Yeah, if only they were as big a club as they think they are. If only they had players as good as they think they do. If only they had a manager half as talented at running a team as he is at running his mouth.
Their overconfidence was based on nothing, but their doubts are quite the opposite. Their doubts are entirely justified. Their concerns are absolutely right and rooted in what is real. Their club is a mess. Their manager is a joke. His win ratio is a little better than 50%.
But for Europe he would already be booking a seat in the departure lounge, and that little adventure has been overhyped to a fare-thee-well. Two of their group stage opponents sacked their managers during the campaign. Villarreal won 8-0 at the weekend, and that has led to much backslapping amongst Gerrard's dwindling band of adherents; they sit 17th in the league.
Nobody at Ibrox should be kidding themselves on that this ends well. Celtic continues to frustrate the fans in league football, but if we win our game in hand we're top again and three points ahead of their hapless club in spite of what everyone knows is a bad start. We've won the first domestic trophy and a draw at home puts us through in Europe.
Gerrard is floundering amidst waves of nutty over-expectation. It's the hope that's killing him, it's the hope that's crushing his team. Few of his players know what it's like to be winners and most are being simply flattened by the entitlement that flows out of the Ibrox stands and which never lessens no matter how many nights like last night there are.
The lunatic fringe over there really does believe that you become a better footballer the minute you pull on their run-of-the-mill blue shirt. But these guys cannot be more than they are, and nor can that manager of theirs. The appointment was insane. The optimism that surrounded it was delusional. As it all comes crashing down the fear is running rampant. The loathing has started to replace the adulation as their fans start to feel the "title challenge" slipping through their fingers. That they never really had it in their hands does not make things better or the pain that comes with clinging on to hope any less hard.
And reality will not save the manager, and nor should it.
He has played his own part in blowing expectations all out of proportion. That will be part of what destroys him.
You can discuss this and and all the other stories by signing up at the Celtic Noise forum at the above link. This site is one of the three that has pushed for the forum and we urge all this blog's readers to join it. Show your support for real change in Scottish football, by adding your voice to the debate.