So trophy number one for the season is banked and remains in our cabinet and we're back on top of the league after destroying the form team Kilmarnock.
The cup final was quite a scrappy game but it was good to see our players getting stuck in physically which could maybe have been a criticism of our current team in recent times. Yesterday's performance against Killie couldn't have been any different.
We blew them away in the first half with a superb display.
A big part of our recent upturn in form has been the resurgence of Ryan Christie. He is hard as nails and never shirks a tackle. Add that to his technical ability and we've got a real player there.
One of my initial thoughts on him was that he was a bit lightweight. BR has obviously identified his best position as centre mid and the lad has clearly done the work in the gym to improve his physicality. Pardon the cliché but, as James said earlier, it's like a new signing.
Then we have Dedryck Boyata whom we all thought was just going through the motions after not getting his move and allegedly refusing to play, bursting his head open in a sickening clash in the cup final and running back on the pitch like a warrior with his head wrapped in bandages.
That suggests a great level of togetherness throughout the team and club in general.
So we go into the next third of December knowing that we started the season poorly, dropping a lot of needless points and failing to make the grade in the Champions League but still find ourselves having two games coming up that should take us clear at the top of the table and hopefully into the knockout stages of the Europa league.
That's a pretty good place to be.
We're playing well, scoring goals and blowing teams away.
We're firm favourites to win our 8th consecutive title.
It's getting real for us and it is getting very real for our rivals across the city.
They are already trying to devalue the achievement by claiming the first four are invalid because they were working their way up the lower leagues after Rangers' failure to emulate Jock Steins achievement ended up torpedoing the club into liquidation.
The club might have died but that old hubris never did. This is a team that was finishing third in the lower leagues and losing Petrofac finals suggesting that they would have made a difference to the outcome of those titles.
Hilariously delusional.
That they have the brass neck to call our titles tainted once again shows an impressive amount of cognitive dissonance given the old club was liquidated because of a tax bill that was the result of a decade of cheating.
The thought of Celtic eclipsing Rangers' 90's nine in a row is terrifying for them; you can only imagine how great their fear is of us making it ten.
Spending way over their means to try and stop us and hoping the elusive league title will solve all their problems and take them to the land of milk and honey … it's an interesting strategy. It's also a suicidal one. Stick your head in the sand and ignore the year on year accounts that show climbing debts and unmanageable spending … we've seen this pattern before.
Are they so desperate to stop us from doing ten that they're willing to risk another admin event? It would appear so.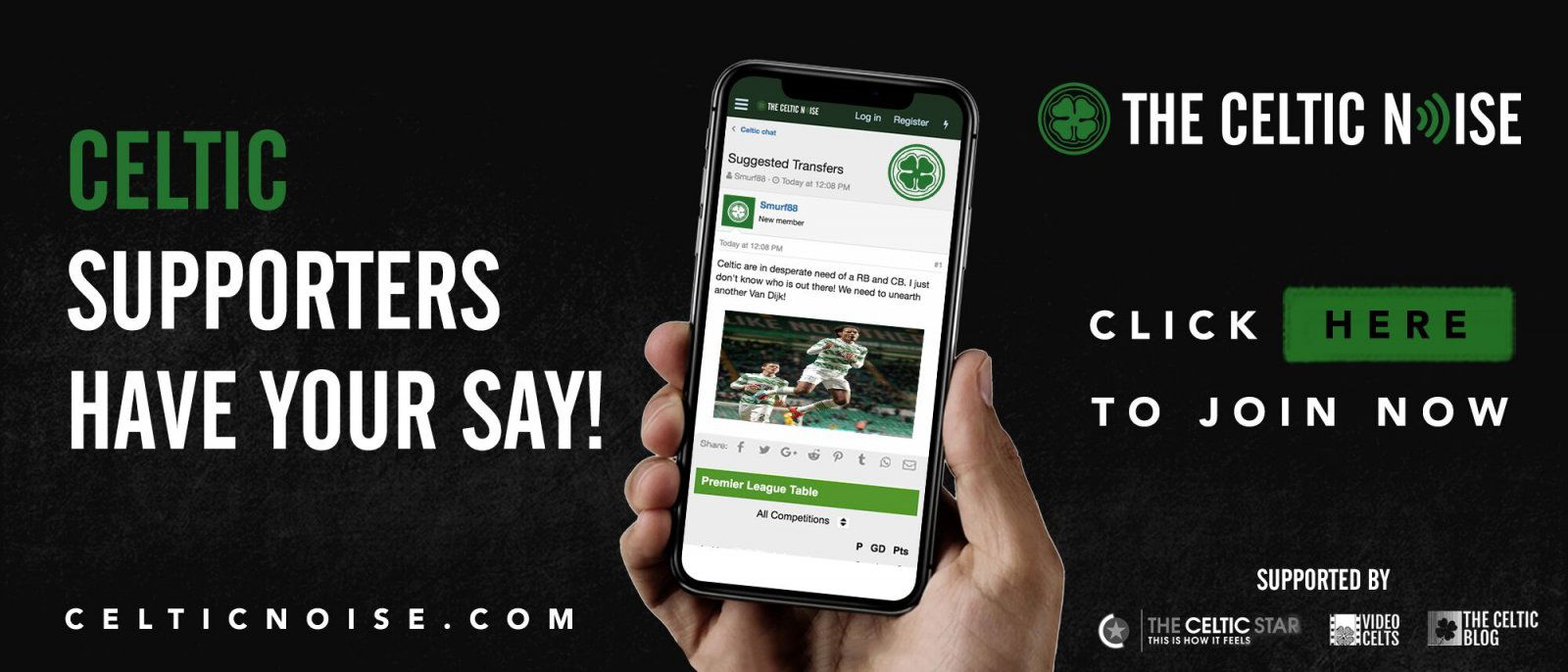 But they are not the only obstacle of course; we also have officialdom.
Is there anyone who thinks Dallas, Beaton et al will give Celtic the benefit of the doubt in borderline decisions?
No chance.
We're used to Honest Mistakes and incompetent refereeing but I predict a ramping up of both in the coming months and years.
You could almost smell the panic when BT offered to provide VAR. Let's see what nonsense excuse is used to refuse this service?
Of course, it's not impossible that we could damage ourselves. Celtic made their own problems this year also by having a shambles of a pre-season.
It seems as though we're all back on the same song sheet now, but it is important that we bring in two or three players in January to add a bit of quality to the first team. Right back, centre half and centre forward are, I think, the three positions most required.
If we fail to back the manager, then we run the risk of losing him.
That may not be fatal in our quest for ten but it would be absolutely criminal in terms of where we want to be as a club. BR has shown his talent in developing young players into first team stars. I want to see us achieve ten in a row with Tierney, McGregor, Christie, Edouard, Morgan, Johnston, Ralston and the rest strutting their stuff in the first team but I also want to see them complimented with quality signings.
I believe we will, and I believe that following the summer fiasco we'll already have targets identified and get them in early and avoid the usual underwhelming countdown to the deadline. Assuming that to be the case and given the form we're in at the moment there's no reason why we shouldn't tie up title number eight in quick time.
And then the real fun begins.
The media will turn every non-story into a Celtic catastrophe. Mediocre Ibrox players will be turned into £30 million superstars after average displays against bottom three standard teams. It will be constant and relentless and every other day will be Statement O'Clock.
All the time the online hate mob will scream, demand and pray that we're punished for the great conspiracy they've created in their desperate minds.
They've latched onto this narrative as their best hope of success and having nothing football related to boast about it will become more and more deranged in the claims and accusations they level.
It's also likely that the current Ibrox board (if they're still in place) will continue to double down to stay in out slipstream when they would be better served taking the Fergus approach and ensuring the health of their club.
Celtic meanwhile will continue to reap the rewards.
Because we didn't put this together in haste; these are the results of 20 years of fiscal prudence and a shrewd (if somewhat frustrating) transfer policy.
This thing was built brick by brick.
We have the nucleus of the team that will work towards ten. Other than Benkovic they are all Celtic players and with the likes of Rogic, Ntcham, Christie, McGregor, Tierney and Edouard all recently signing new contracts the future looks good.
It's an exciting time to be a Celtic fan, lets enjoy the ride and pile on the pain for those who despise us.
The only thing that can stop us is complacency and with Brendan at the helm, guys like KT, Broony and Calmac in the team and the Internet Bampots keeping their eyes on everything as well as providing the news the media ignore, complacency won't be tolerated.
Here we go to ten in row.
Chris Cominato is a Celtic fan, blogger and moderator on The CelticBlog Facebook group.
You can discuss this and and all the other stories by signing up at the Celtic Noise forum at the above link. This site is one of the three that has pushed for the forum and we urge all this blog's readers to join it. Show your support for real change in Scottish football, by adding your voice to the debate.