Good win last night, and a good night overall.
I refrained from doing a Fear And Loathing piece on events at Easter Road, although I found one aspect of that result hilarious; the number of Ibrox fans who are taking great heart from the performance. If that's what they've got to be cheerful about then expectations over there have cratered.
Celtic had an excellent first half, and it was very pleasing to see that two of our youth academy graduates were on the scoresheet. Ralston's return to the team is most welcome, as I've liked him a long time and thought he looked immense in some of the games before he dropped out of sight.
The kid is a talent.
So too is Magic Johnston (I'm getting that one in early), our winger, who scored last night's third goal, and it was a peach of course.
It's a pity that it took an injury to Odsonne Edouard to get him on the park; we are all hoping that the injury to our single striker is not too bad. There's a chance that he'll be fit for Ibrox. Even if he isn't, I still think we've got enough to go there and win.
Because the team over there is just not that good. I cannot say this enough times, Gerrard has a win ratio that hovers around the 50% mark.
At the time of writing this it is poised at just 48%, and that is mid-table form at best.
Only one thing stops us being far out in front of his rag-bag mob and that's our own inability to put together a decent run of form.
Which is why amidst the general satisfaction I feel about the performance and the score last night is a sense of frustration, a sense that we've let an opportunity to really bury this lot get away from us for the moment. We could be heading into New Year with a commanding advantage.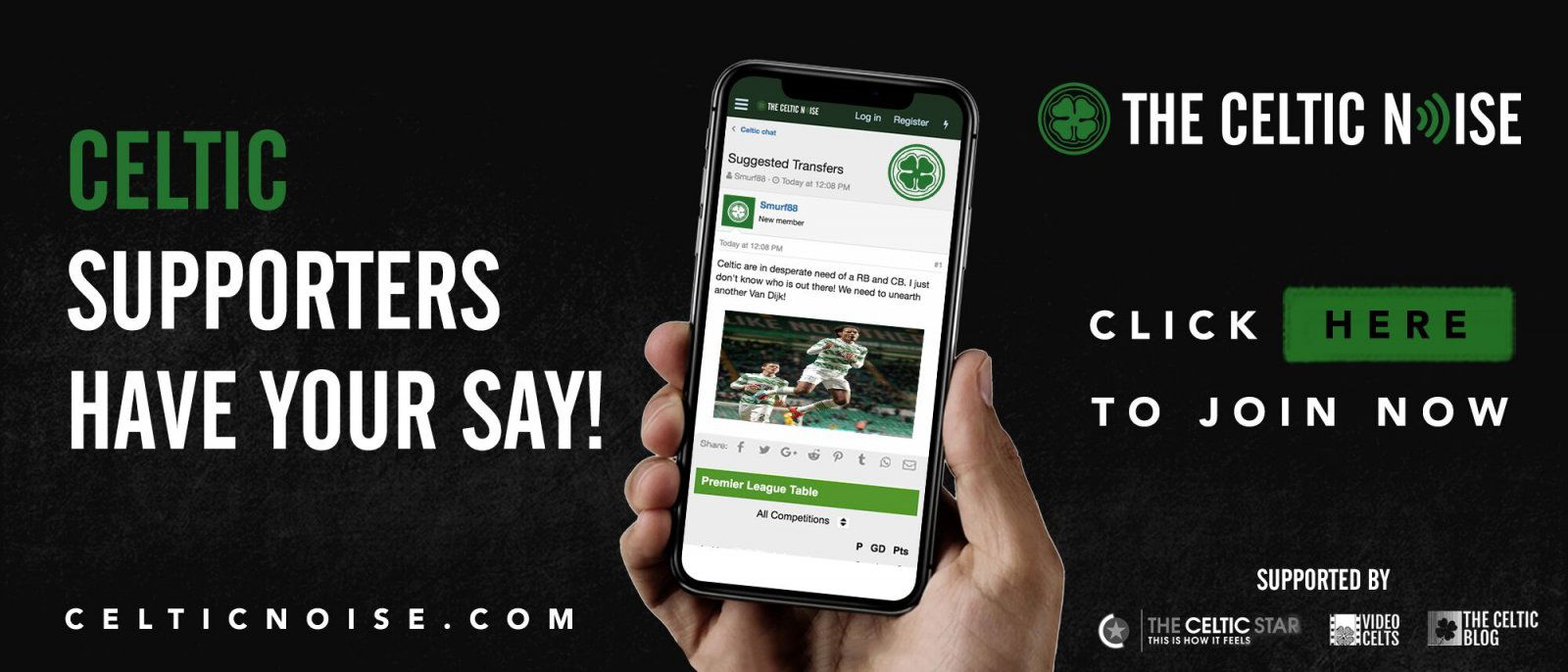 We could be so far in front of them that Gerrard would already be facing hard questions from those fans over there, so far in front of them that the injury to Edouard and Rogic's imposed absence from the game at their ground would not matter to us at all.
The title race is closer than it needs to be, it's closer than it ought to be.
Our away form has been chronic; the thing of it is, I expect that to improve as we move into 2019 because of the odd anomaly (and if you believe that's all it is I have some beanstalk beans to sell you) wherein every single one of our European group stage ties was followed by an away match.
I couldn't even tell you what the odds against that happening by chance would be. It's ridiculous to believe that's all it is. Out of the eleven European matches we've played this season since domestic football began, eight of the fixtures that followed have been away from home.
We have Valencia to come, of course.
That's on 14 February.
On 17 February we're at Rugby Park.
You simply could not make that up; assuming the league game against Motherwell on 24 February isn't moved to a neutral venue for some reason it'll be nine matches away from Celtic Park in thirteen games following European ties.
We have been the architects of our own problems, that much is clear. Our failure to reach the Group Stages of the Champions League meant playing games on Thursday nights, which nobody likes at all. But still … the fixture list would have been the same either way.
With those statistics in mind, it's a credit to the players that we're actually sitting on top of the table right now.
But we should be miles in front, and we're not.
That does frustrate me somewhat, and it frustrates the manager as well. He is keeping the team focussed, and that's good. That we're actually at the summit and with a League Cup in the trophy room is a tribute to everyone at the club, even though we don't have a commanding lead in the title race.
All of this should be scaring the life out of the opposition, and especially when you consider that we're going to spend money in January.
I hear there was a player at the game last night, being wined and dined by the club. I actually know his identity as well; it would surprise you. There might be a reason for his being there other than signing talks, but there isn't an obvious one.
Nevertheless, I won't publish the name without getting a second source on it.
In some ways, it's the tightness of the title race that makes it all the more likely that we'll push the boat out. The manager would have got signings anyway, what with the summer we had, but there's a greater impetus to spend with things so close.
The team needs it, and it looks as if we're going to have an enjoyable January as a result.
That's why I think the frustration will pass. At the end of the day, it's Celtic sitting pretty. Our one point advantage with a game in hand actually leaves us in a position where we could go to Ibrox, not win and still not have conceded anything substantial.
A win, of course, will give us that clear blue water that leaves their club staring into the abyss again.
You can discuss this and and all the other stories by signing up at the Celtic Noise forum at the above link. This site is one of the three that has pushed for the forum and we urge all this blog's readers to join it. Show your support for real change in Scottish football, by adding your voice to the debate.