There are things to remember, amidst the hyperbole that is gushing out of the Ibrox dressing room and the media right now, things that are worth taking note of.
First is the assertion that some kind of psychological weight has been overcome by the team at Ibrox.
If that's true, then the current squad must have been carrying it from the one before them and the one before that.
Is that how it works?
Do they also have a psychological problem with Lennon's Hibs team? With McInnes' Aberdeen?
They made so much of this game before it that it's no wonder they are crowing shamelessly after it.
You'd think it was a title decider; guess what? It wasn't.
This is going to be hard for some people to read; not Celtic fans, who know this already.
This is for the hacks and the Ibrox NewCo supporters who haven't quite got their heads around the simple truth of it yet.
Are you ready? Here goes.
The team that just beat us and sent my Paddy Power Welcome bonus down the drain has accomplished nothing that Hibs, Hearts and Kilmarnock haven't already done in this campaign; they beat us at home. A day like Saturday was always possible with this side which has won four of eleven games on the road.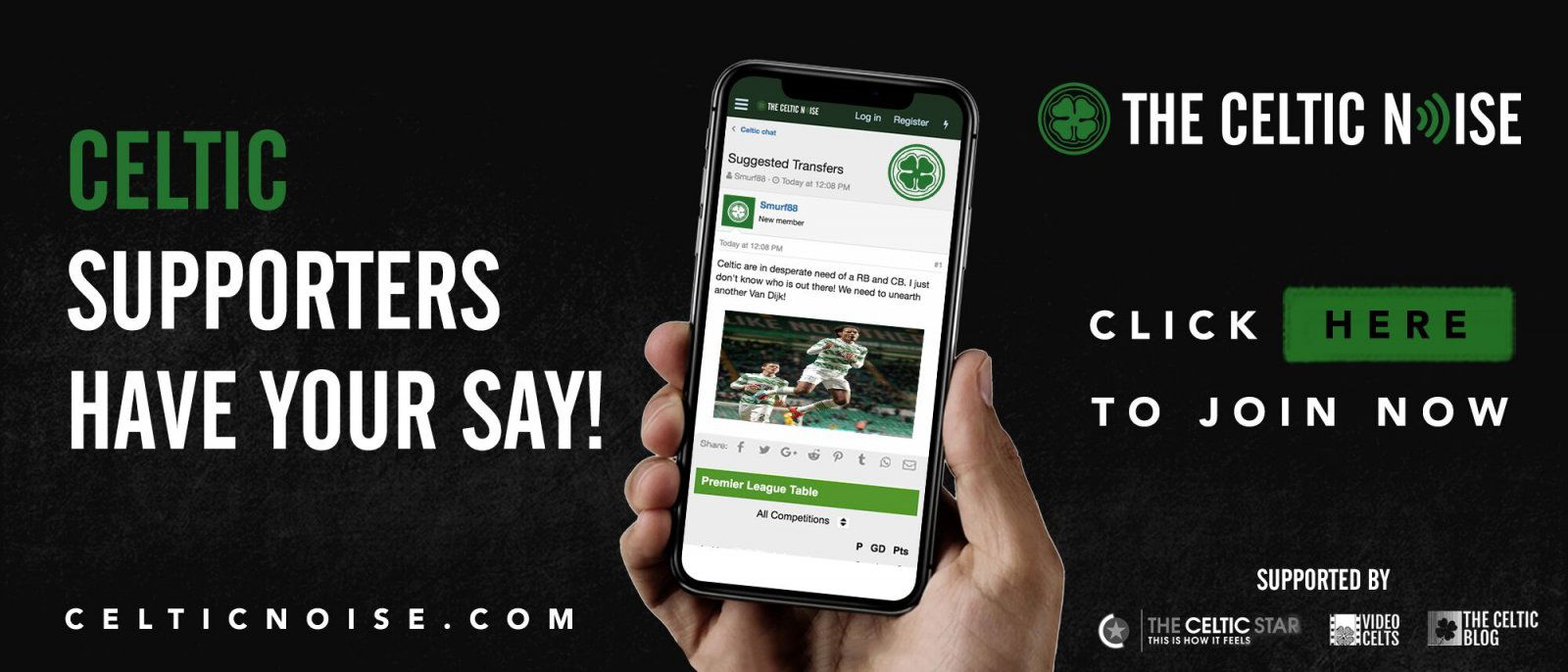 The truth is, we're not playing well except in fits and starts.
Every Celtic fan knows this.
None of us is looking at the league table and thinking "what great form we're in."
None of us is kidding ourselves on that it's an acceptable state of affairs just because we're top.
I find it incredible that a manager who has outspent every team around him by a factor of 4 or 5 to 1 can be getting hailed as a transformative genius because his own team is second. It's like a race where exhausted runners who long since passed the point of putting on a show and are now struggling desperately just to complete the circuit, are tripping over their own feet. We are on a dreadful run of away form … yet we're still in front of them.
A more honest media would be asking why they aren't far ahead of us by now, but that's a question better left avoided because the answer is obvious; they are rank rotten. Gerrard hovers just above the 50% win mark. I cannot say this enough times; theirs is mid-table form and the gap separating them from that level proves it.
It damns us that the same gap separates us from it … and that's what disturbs me as I look at the league table today.
Because of course the Ibrox club can win the league if we continue to play this badly into the second half of the campaign.
But you know what? As I've said before, that's not really the issue.
Because so too could Kilmarnock or Aberdeen or Hearts.
Anyone who thinks losing the title to one of those clubs would hurt less than losing it to the NewCo is kidding on.
Heads would have to roll down The Celtic Way regardless.
The outcome would still be unacceptable.
The Ibrox club is no better than Clarke's team, or Levein's team or McInnes' team.
They have played 21 league games and dropped points in nine of them … almost half. In Europe, the much heralded "great run" saw them draw seven matches and lose two. That's nine games they failed to win out of a total of 14. Bear in mind, in the Groups they came up against three teams who all sacked their managers during the campaign … and two of those teams finished ahead of them. Of course, Aberdeen beat them in the League Cup.
Ryan Kent – a player who has suddenly been reinvented as a super-star on the back of one cross ball – says that our team now fears them.
Absolute guff, of course, and stupidity on the same level as the last bunch of egotists at that club who cheered being drawn against us in the Scottish Cup and who ended up on the end of a 4-0 pasting that was as close to one sided slaughter as anything the world has seen since the battle of Cannae.
Until very recently, Steve Clarke was unbeaten against Brendan Rodgers.
Did we fear playing Kilmarnock?
Where was the talk of us overcoming a psychological hurdle?
Where were the stories about our players fearing theirs?
I guess the 5-1 hammering we recently handed them at Celtic Park has transformed the fortunes of our club.
Weren't they top that day?
Honest to God, I understand the desire over there to make this result into a game-changer; I said in the run up to the game that this is exactly how they would handle a win. I also said it wouldn't alter the fundamental state of Scottish football or the simple truth that we are its biggest club and won't be halted by anyone over the course of the campaign … even on such dreadful form we go into the New Year top with a game in hand and the League Cup secure and the implications of that simple fact are not even being explored in a media filled with people either trying to remove their tongues from the Scouser's posterior or waiting in line to insert them.
But if we can be top, with a trophy in the bag, after a first half of the season that's gone so poorly, imagine how far in front we'll be when we hit form and are on fire?
Don't expect the press to write about that; they are too busy trying to picture Gerrard standing at the end of the season holding the SPL trophy.
That will only happen if Brendan lets him babysit it for a night.
Other than that, those who can conjure up the image have imaginations better than most and they ought to give George RR Martin a call; that way we might yet see The Winds of Winter published in 2019.
You can discuss this and and all the other stories by signing up at the Celtic Noise forum at the above link. This site is one of the three that has pushed for the forum and we urge all this blog's readers to join it. Show your support for real change in Scottish football, by adding your voice to the debate.