Well, I hope that tiny minority on social media who thought slagging Burke was a good idea after the weekend were happy with him last night. There is a lesson, right away, in the benefits of showing a little patience and not acting like a wean throwing a tantrum.
Whilst I'm on the subject, some of the West Brom fans who have weighed in on Twitter have shown themselves up to be even more ridiculous that those who phone The Daily Record hotline. This is their player, and some of them were lining up last night to say that his man of the match award proves how poor Scottish football really is.
Since their club bought Burke from the Bundesliga, where he did very well, I have a different theory; perhaps it's all about having a half decent manager who knows how the player's skill-set fits into the overall shape of a team. Perhaps the mouthy incumbent at their club, who sneered at ours when agreeing to the loan deal, just doesn't have the imagination to put the player where he can be most effective. I'll say no more on it than that.
Brendan knew exactly what we were getting in Burke, and he knew exactly how to find the best of him as a footballer, talking about how he would "strip back" his game in order to have him hit form. That's why Brendan is so highly rated, that's why he's been so successful.
Oliver Burke is like a lot of Celtic's current squad; he's versatile.
Brendan knows that a football squad is simply a toolbox for a manager to work with, and on any given day you want the right tools to do the job.
Burke played as a centre forward last night, as he did at the weekend, and it's already clear that he excels at doing the things that we miss now that Dembele is no longer here. He holds the ball and guards the ball brilliantly, using his physicality.
That brings other players into attacking areas.
Watch his link-up play with Sinclair and Forrest, it was excellent.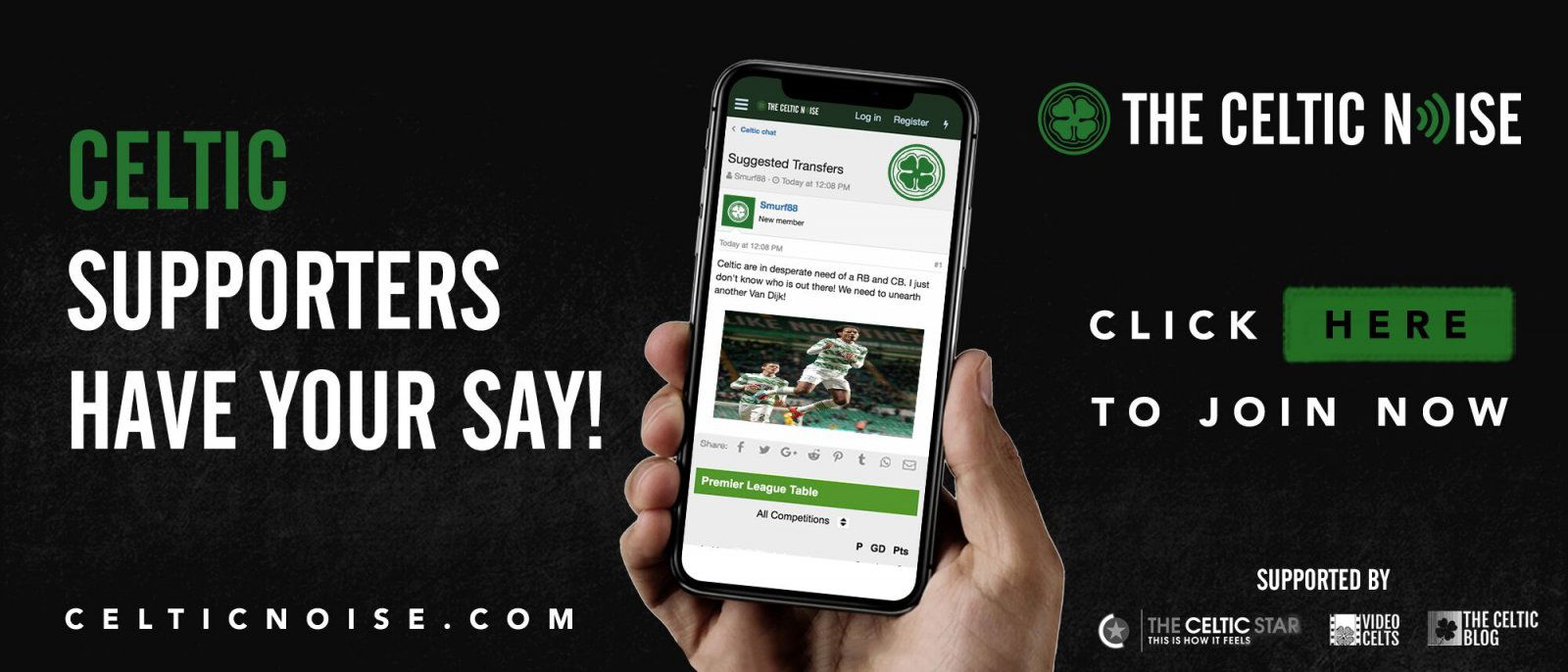 His two goals also show that he will be able to find the net for us. There was nothing world class, nothing outrageous, about any of them, but they showed an instinct for hitting the target that will make him an attacking asset no matter where he plays.
What I saw last night was a young, hungry, lean, mean footballer who will offer us plenty at the top end of the park and who worked his backside off with running, tackling, assisting attacks and creating opportunities for himself. He will deliver for us.
At almost the moment he was scoring his first goal, Jermain Defoe scored at Kilmarnock.
I've had the benefit now of watching both games and I can tell you that it's precisely all he did in that match. There was none of the aggression, determination, creativity or craft which big Burke showed in spades both last night and at the weekend.
I'll be blunt; I saw a very expensive version of Kris Boyd. How devastating it must be for Kilmarnock striker and wannabe hack to watch someone even older than he is earning obscene amounts of money every week for sticking out a toe at the right moment.
On a night like last night, against a Kilmarnock side who were there to put in a shift, when every fifty-fifty ball was a battle, Gerrard was a fool for leaving on a player who contributed nothing but the goal for 70 plus minutes. Some of his apologists have said that Defoe's record is so good that taking him off would have blunted their attack; actually, they played better when Lafferty took his place, because he was willing to drop back and come out wide and work.
Gerrard and some of the hacks reckon Defoe will "come good in time" but the engine just isn't there any longer.
If they can stick the ball into the six-yard box then, like Boyd, there's a good chance he'll put it away, but defences will quickly figure that one, and so any game where Gerrard starts him will be like playing with a man down.
Defoe barely moved out of his forward position the whole night, and he was so slow that he was caught offside time and time again.
Coming off the park, in spite of his limited shift, he was huffing and puffing like a pensioner on a StairMaster.
You know what else? For all that, Defoe looked like a world-beater next to the midfield maestro who was the other much-vaunted January signing, Steven Davis, for whom the word "anonymous" barely suffices to describe the night he had.
He was subbed off quicker than the striker was, and accommodating these two necessitated Gerrard transforming the shape of the whole team, which I guess their fans better get to used to considering the money these guys are on.
Someone on an Ibrox fan-site pointed out that these two form part of a team "spine" that, along with Arfield, McAuley and McGregor has a combined age which makes some of the vertebrae on show at the Natural History Museum seem like a fresh kill.
It makes it clear, as if it wasn't already, that this is a club that is more focussed on the here and now than on the future, if it actually has one.
The media lauded Defoe's signing so copiously, with some of the coverage bordering on fan-boy hysteria, that you marvelled at it and the contempt it betrays for the rest of our game. Burke was greeted with no such fanfare, even amongst our own support.
Yet after only two games you can see, clearly, what he will bring to the team and what the benefits of that signing will be.
He'll do, and no mistake.
At Ibrox they went for expensive bling, and within twelve minutes last night Defoe had given them reason to believe it was a gamble which might pay off.
It's a shame for his manager, and those who are paying the terms of his enormous contract that the game lasts longer than a single moment, a shame that a team sport needs more of a contribution than a single reactive hit of the ball, a shame that once Kilmarnock's defence realised that he had all the mobility of a Tiger Tank with broken treads that they nullified him with ease.
Defoe will score a handful of goals up here, perhaps more even than Burke manages in the course of his time at Parkhead. Burke will contribute to a whole other level, and both he and the club will be better off for it without us having to worry about going bankrupt.
Kris Boyd will score you goals too, if you're willing to put up with his moaning about everything and the part-time nature of his commitment to the team whilst he pursues an alternative career, but Brendan wouldn't entertain any player who offered so little when his teams are built on the principle that any individual is just another moving part in a bigger machine.
If you offered me Defoe right now, on a free contract, and he was willing to cut his wages to zero, or Oliver Burke for another year after this one there'd be simply no hesitation on my part in who I wanted to see wearing the Hoops. Hype is all well and good, but when you get past it footballers have to show what they can do out on the pitch.
Oliver Burke has already started to shine, and he's just warming up.
Defoe, too, might look better when he's got more time at the club … but see, time is a luxury that's behind him now, and those legs are only going to get more heavy and his body less able to perform. It's reality, and I know that's a dirty word around here, but everyone knows this to be true.
That signing was folly, and a folly which this website urged our own club to avoid. I am not saying this after the fact.
Having watched them both play now, I am more convinced than ever that in spite of the positions not strengthened and the bizarre nature of our pursuit of a player the manager does not need that we have had the better window of the two clubs and we've brought in the more effective footballers.
For all his early, foolish, critics, Burke is a better bet by far.
You can discuss this and and all the other stories by signing up at the Celtic Noise forum at the above link. This site is one of the three that has pushed for the forum and we urge all this blog's readers to join it. Show your support for real change in Scottish football, by adding your voice to the debate.