With the Ibrox NewCo having won at the weekend, the gap at the top is back to where it was before; three points only.
But this is a crucial week for our club, a week where we have two matches against St Johnstone to navigate, and a transfer window about to close.
This is an important week. This is a week when we have to press home the advantage.
Our foot is on the throat of our rivals. We need to press down hard.
Six points would not represent an insurmountable lead in this league race. Everyone knows that.
But it would give us room to breathe, and so far this season we haven't had that. It would leave things in our own hands going forward. Keep on winning and there's nothing the rest of the league can do. Our rivals will claw the eyes out of each other, that much we know.
At Ibrox their fans celebrate every result as if it was a game-changer. Look at Sunday and the pitiful pitch invasion which greeted their third goal. Theirs is a club which always believes it's on the brink of something that will hoist it above us. When they are looking at a six-point gap with the same number of games played perhaps then it will dawn on them how foolish that is.
We go into Wednesday's game with injury problems.
What else is new?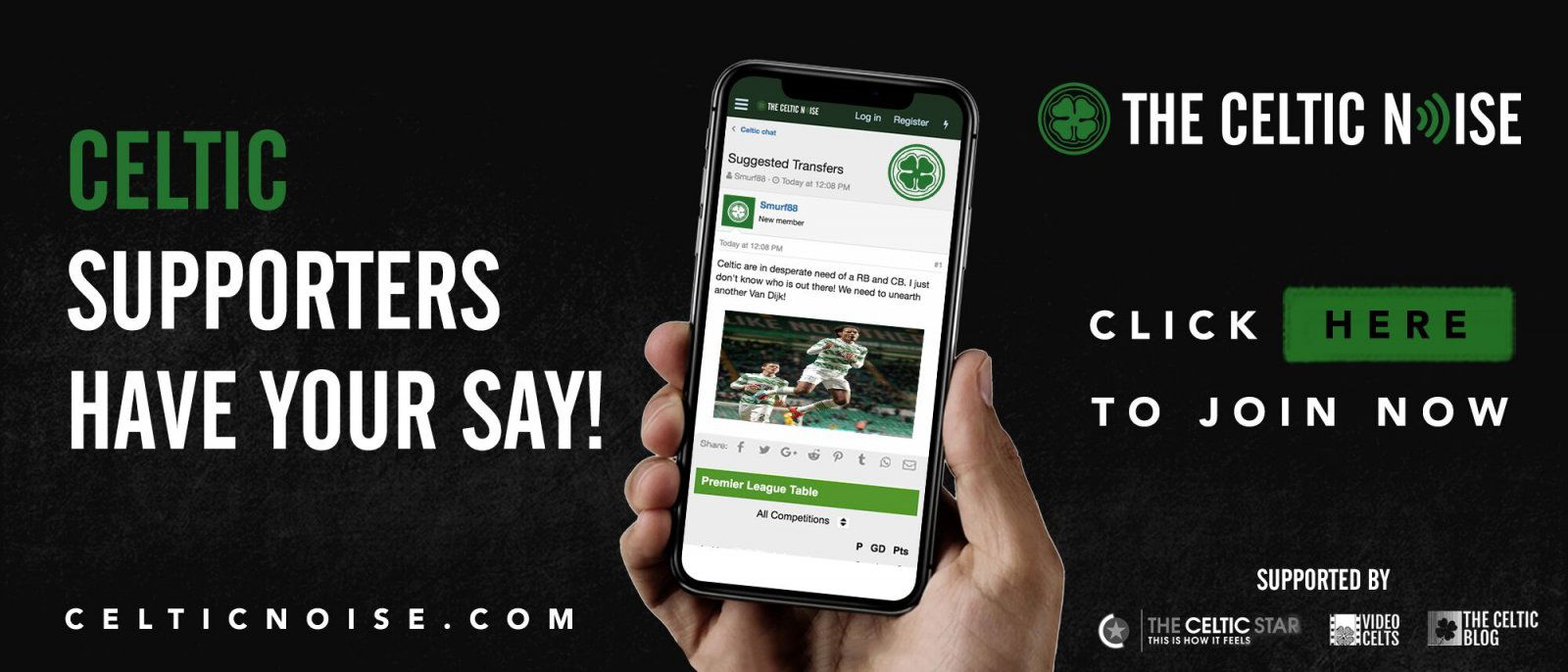 The club has failed to sign any backup for the defence, and that was a choice that people inside the walls made. I really don't want to hear any moaning or complaining from the manager or the coaches or the board's supporters if that decision comes back to haunt us; the rest of us has been screaming blue murder for reinforcements at the back for weeks.
We may well go into that game looking threadbare and worse might still be to come. Who wants to bet on Simunovic lasting more than a handful of matches before he takes his usual place on the treatment table? This is the risk we're taking.
In spite of that, we do go into the match with fit players in every position, and so as far as that one game goes everything else is an excuse. The squad we have available should have the ability to get the job done, and I have no doubt that they will. At home we have been imperious, whether the pitch has been in good nick or not.
The transfer window remains the worry.
A lot of people seem to be flapping over the idea that we might sell a first team player; that cannot happen and so I don't believe that it will. Any effort to move out one of our big stars should be met with fury in the stands and from the coaches, so I doubt that the club would even dare.
Even Boyata will probably stay, in the absence of any player to come in and replace him. I think his replacement should have been sourced a month ago and the player told to sling his hook, but for reasons passing understanding we took another path.
Defensive worries aside, we look stronger up top than we have in many moons.
That will make all the difference in the coming campaign, and obviously it would be nice to see Bayo getting a run out at some stage in the game midweek. But we're secure in the forward areas by the form of guys like Sinclair and the early impact of Weah and Burke.
We should complete the signing of Shved over the next day or two as well, and if he stays with the club instead of going out on loan – a pointless exercise if you ask me – then I expect he will become an important asset to the team as well. Our attack options have not been this good in years. I look forward to seeing how they'll be utilised when everyone is fit.
Wednesday is the last game of January. February is going to be huge.
We have some massive games coming up over that month, and we really need to dig deep and secure the best possible results from all of them.
I think if we win the league games that's the title race just about done.
After Wednesday we play St Johnstone again, away in the league and a week later at home in the cup. Sandwiched between those games we have Hibs at home.
Then we have Valencia, at home, followed by our standard away trip following a European match, an outcome that has been constant all the way through the campaign. And it's against Kilmarnock, a match that we simply need to win because another bad result on the road will give the media license to write horror stories and it will drop the form back to its pre-January level.
Fresh from Killie we're off to Valencia, and then back for a home match against Motherwell before closing the month off with a visit to Tynecastle.
February is the most important month of the season in my view.
If we get through those games in good form and with the points on the board we will win the title with room to spare.
Towards the end of March we play the Ibrox fantasists at home, but if February goes according to plan the race will probably be over long before they roll into town and then roll out again with the tails between their legs. Get through February unbeaten and it is all over.
So come on Celtic, this is the time. There are three days to go. The clock is counting down. This month can end with the whole club on the ultimate high, going into our most important month with real purpose and real energy.
If we do that eight in a row – and the Treble Treble – are there for the taking.
You can discuss this and and all the other stories by signing up at the Celtic Noise forum at the above link. This site is one of the three that has pushed for the forum and we urge all this blog's readers to join it. Show your support for real change in Scottish football, by adding your voice to the debate.