Operation: Stop Celtic is in full swing as we know.
That has been repeatedly proved over the past few months.
Let's take an example from just the past few days; who genuinely believes that Morelos will be disciplined over his assortment of fouls from Saturday? A panel of ex refs has to scrutinise it and they have to be unanimous before anything can be "proven." Nobody realistically expects that he's going to get banned, not with the title race close, not with his team having even a sniff. At the weekend he was allowed to hack and niggle with impunity. Why should he pay for it now?
Operation: Stop The Celtic is not the only reason we're here.
We have played our own part in letting standards slip and now our rivals, and those in the power structure, can smell blood. This has intensified the campaign to ensure we do not win the league, while allowing those who are doing their best to stop us to hide behind our own failings.
But what is, and always has been, running alongside that campaign is the "Back of the Bus" attitude that prevails in Scottish football, and society at large.
I have banged on about this, I know, but it needs to be constantly addressed, specifically when the evidence is so blatant.
This is coupled, of course, with the media's desire to return Scottish football to "normal" … which means, they say, two teams challenging at the top.
But actually, just one … the one that isn't Celtic.
One victory; that is all it has taken for the "just accept it" bile to be spouted, which means, actually, "Get to the back of the bus, the establishment is back"
3 points were won on Saturday, that's it, no title, no cup. 3 pts.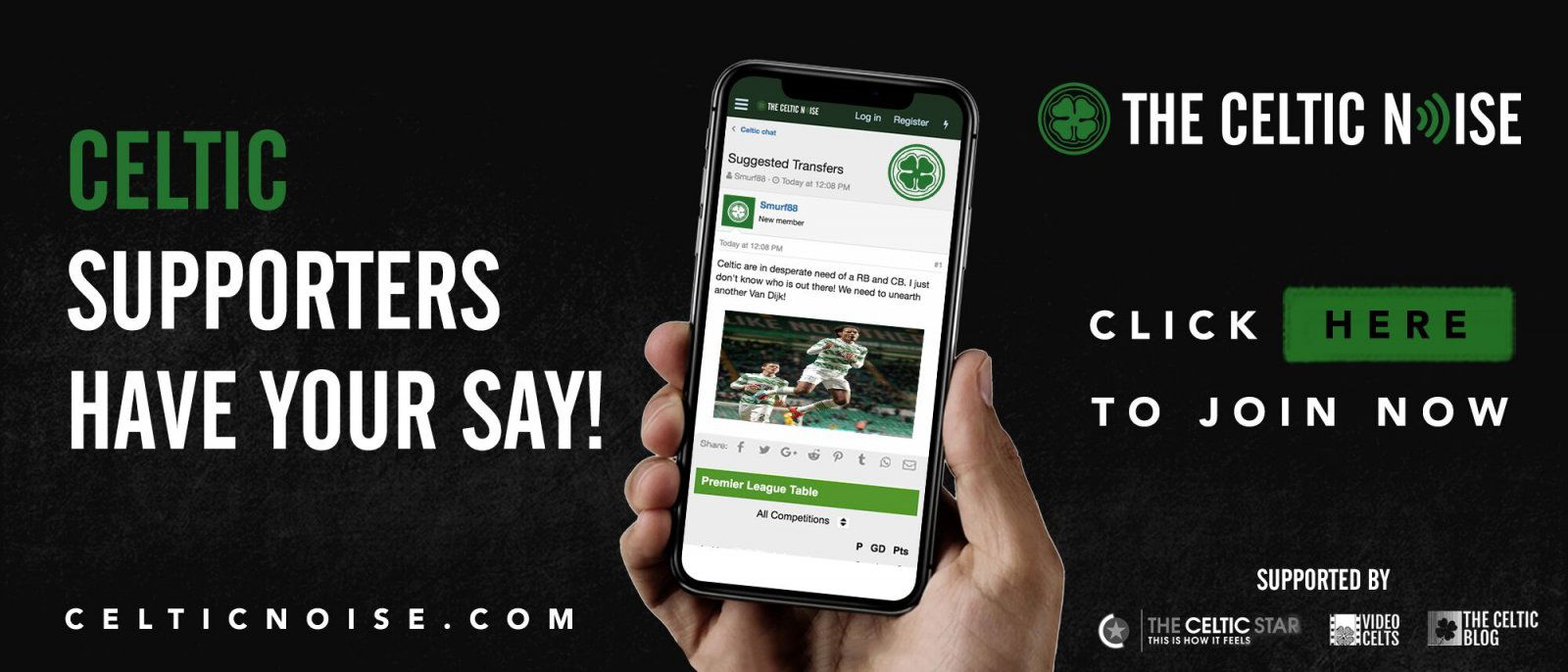 Those 3 pts keep them behind us, as James has said.
Joint top is a myth.
If the league had been decided by Saturday's game, we would be champions already.
And we'd still have a game left to play.
If we played that game, whether we won it or not , we would still be champions.
Yet listen to the hacks; to them, any Celtic fan who even says that while there is a race just now that we will flex our muscles and pull away after the break is "just not accepting the race is on".
We do. It's on, just now.
But it is on more to do with how we have played this season rather than the rest, although there has been some improvement in others.
If we had picked up just one more victory we would be comfortable at the top by 3 points, you make that two more wins and the league is almost done.
But we, Celtic fans, are not allowed that point of view.
And I mean I was specifically told by Hugh Keevins on the phone in that "I was not allowed to say that" as those results didn't happen.
So we cannot say that the title race is in effect as we have been poorer.
But how many times have you seen the Ibrox club's media allies say "except for a last minute equaliser at Aberdeen …" or "if the team had been more disicplined against Motherwell …"
Everyone else is allowed to indulge their "what might have been …" theories.
We are not.
Nor are we allowed to say that we have confidence that we will assert our dominance after the break.
What they are trying to do is get us into a mind-set where we believe that it is inevitable that the Ibrox club will win the title.
It isn't, they won't. We will.
They also keep throwing out the "psychological advantage" that has been gained by the Newco.
Again, this is their first victory in thirteen.
What about the psychological advantage of being top at New Year, with a game in hand?
Isn't that more of an advantage?
I bet it would be if the roles were reversed.
The media narrative is designed to deny Celtic even the thought of an advantage.
I am 100% confident we will win the league, and having confidence in the best team and club in the country is nothing to be ashamed of, unless of course you are Celtic, cos we need to be kept quiet in the eyes of the bigots who are involved in our game.
From the clubs through the administration and to the press.
If I do have one concern is that I am more concerned with the challenge from Kilmarnock than anyone else; their consistency has been astonishing and they can keep it up.
However its more about us than anyone else.
If we refresh that squad, get in the correct players and lose who we need to lose then it's not a race anymore.
I have no problem in believing that and I will say it over and over again.
We might not be at the back of the bus, but we will be loud enough to be heard from there.
Dave Campbell is a Celtic fan from Glasgow who's already pissed off with the current media narrative.
You can discuss this and and all the other stories by signing up at the Celtic Noise forum at the above link. This site is one of the three that has pushed for the forum and we urge all this blog's readers to join it. Show your support for real change in Scottish football, by adding your voice to the debate.