Last night, as the warm and happy feelings of seeing the Great Ibrox Bubble burst all over again, threatened to send us all to bed with smiles on our faces, Brendan Rodgers went in front of the media for his after-match chat and said the most astonishing thing I've heard from him in quite some time.
When asked about the club's efforts to sign the Ukrainian winger Meryan Shved, he gave a less than enthusiastic response.
He said the club "have about a million wingers and don't need another one."
He revealed that he knows little about the player and that he would probably send him out on loan.
Incredible stuff, and it made me wonder just when we hired a Director of Football?
Because the last time I checked Brendan Rodgers was the guy who sat at the top of the "football operations" pyramid. Brendan Rodgers. Nobody else.
The frustrations of the manager are pretty clear.
He knows the areas where we need to strengthen the team, and out wide is not one of them. He knows that the club needs full-backs. He probably thinks it needs one more central midfielder; he did in the summer, and the free transfer Mulumba is clearly not the solution he had been expecting.
We are all quite aware of the identity of the player he did want to bring in; I will not entirely blame Celtic for that, as everyone knows, but the hole still exists, and it still needs to be filled.
The club is dragging its feet on negotiations in those areas where the manager has identified the greatest need.
And in a week where he has questioned how much cash the club has available for him to spend it must be especially galling to see them take £2 million away from his priorities and spend it on someone he doesn't think will benefit us in the here and now.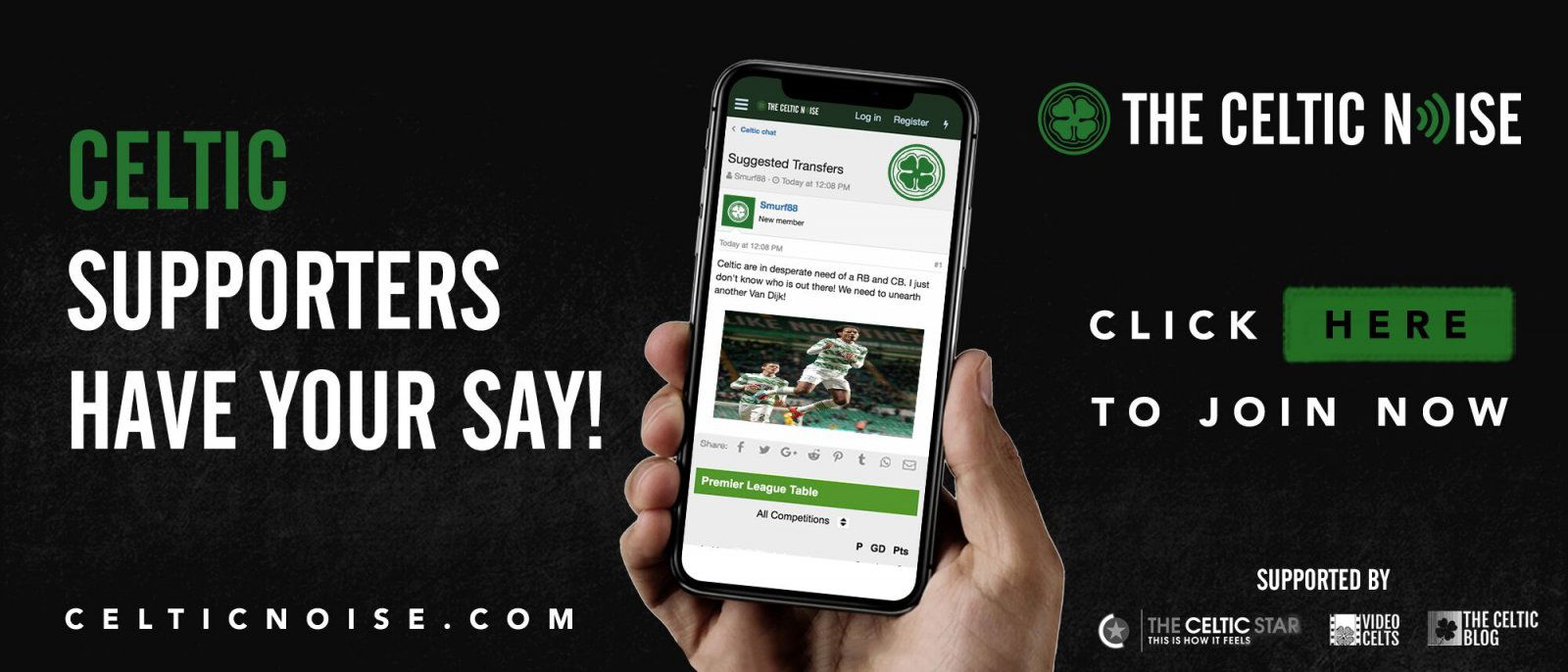 This will naturally raise concerns about the manager's future.
It will raise doubts about his staying at Celtic Park beyond the summer.
If he goes, all Hell will be paid because given the right backing not only do I think he'd see out his current deal but we could probably get him to sign an extension to it.
He clearly loves the club, and has big ideas for its future.
But someone is busily building next year's team and it doesn't appear to be him.
Just who is it at Celtic Park who thinks they can do Brendan Rodgers' job better than Brendan Rodgers himself?
Who is willing to push a man in this manner, and force him to distance himself from a deal?
This is the Arzani deal from the summer all over again; the manager being stuck with a player he didn't want to buy whilst crucial parts of the squad remain unattended.
Whoever it is at Parkhead who thinks he's playing Football Manager better understand that whether Brendan succeeds or fails, the eyes of the fans are on the club and people want answers as to how our transfer policy works. If they've convinced themselves that the manager's ability to develop his squad and win trophies is a reflection on them they better think again. If this comes to a "who do the fans back?" question, there will be only one winner.
The supporters are baffled as to how we do things, and Brendan hasn't helped make that clear although last night and in the summer he made his frustrations with it all pretty plain. This is not something that will wait.
There is a week to go until the window shuts and tangible progress in the here and now, in those key areas the manager identified, has to be made. No excuses will suffice.
But longer term, the issue of just who at Celtic Park it is who reckons they have the right to sign players the manager doesn't want is something that badly needs to be addressed because in the event Rodgers goes no-one of any repute will take on his job whilst this egotist works behind the scenes, often at cross purposes to the manager's needs.
Anyone who thinks this is something that we can afford to ignore is not paying attention to it.
This will cause us long term problems unless it's fixed.
Fans deserve to know how this is being done, and who is doing it.
They deserve to know who's deciding for the manager what his priorities are.
Frankly I'm disgusted that the person responsible still hasn't learned the lessons of the summer. You would swear he is intent on forcing Rodgers to consider his position if he hasn't already decided to go.
If the manager leaves because of that person then that person had better be following him out the door.
Because such a disruptive, arrogant, individual does not belong at Celtic Park, where the success of the team is paramount.
That person is making that success harder to come by and damaging our reputation in the game.
You can discuss this and and all the other stories by signing up at the Celtic Noise forum at the above link. This site is one of the three that has pushed for the forum and we urge all this blog's readers to join it. Show your support for real change in Scottish football, by adding your voice to the debate.