Beating Airdrieonians and St Mirren … these games were no measure of where we are, nor should they be.
They were us, at home, against clubs we should be beating easily.
Dominated won by three and four, going on six and seven. The minimum we expected.
But moving further ahead of the so-called rivals at Ibrox was pleasing.
It wasn't the only positive of course.
Firstly, let's give praise to the new signings.
Oliver Burke looked lively, and if he was lacking in some confidence in front of goal against Airdrie he made up for it against St Mirren. If he is going to play up front for us, even as a backup, he needs to keep putting them away; he will get chances from our wingers and midfielders, (defenders too as per big Boyata's pass for 3rd goal in the Scottish Cup tie). He will certainly score more goals. He has nice touches and his movement looked good, and as James said earlier, he is a physical presence.
Definitive positives there.
Timothy Weah … two for two. He has looked really lively when he's come on, with good touches and link up. He clearly has an eye for goal, with good finishes, and he's quick and instinctive, and never tries to overplay it.
He's looked good, especially considering his age.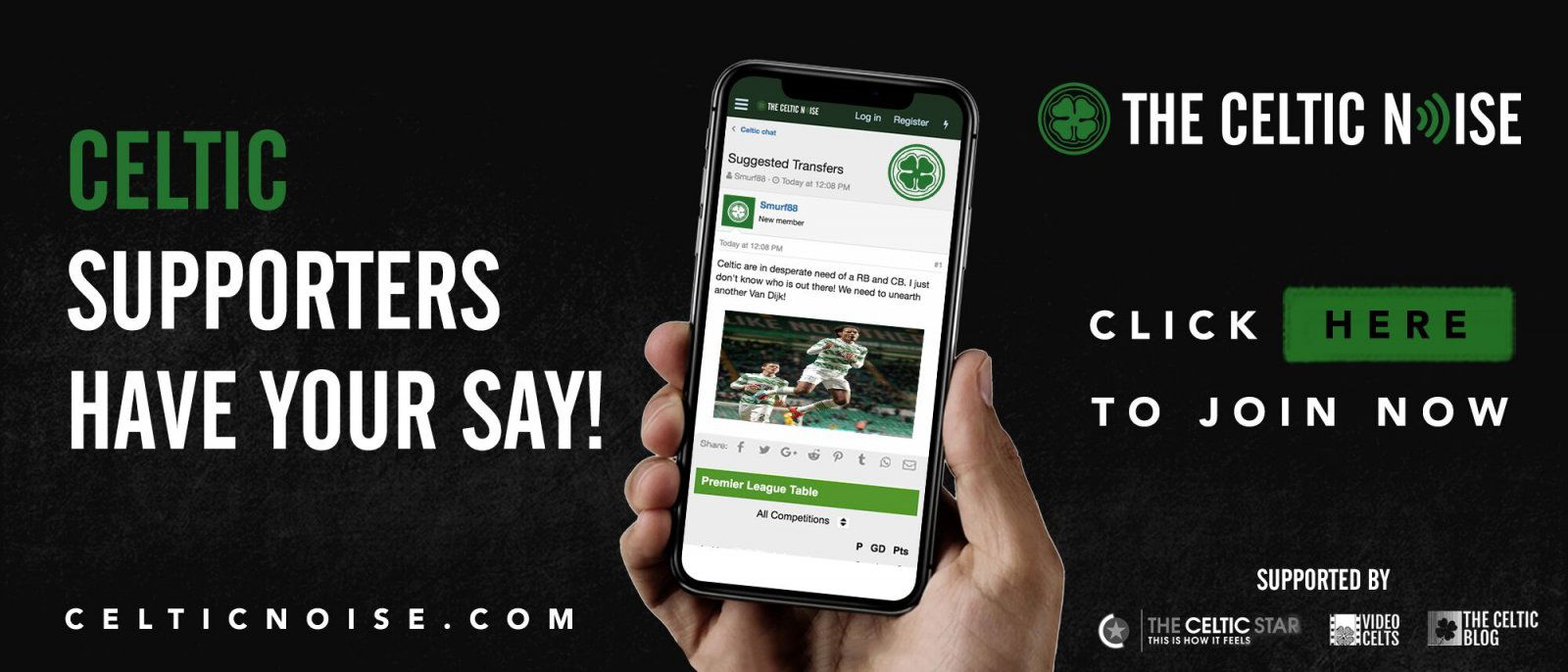 Scott Sinclair; established players and a penalty miss again at the weekend but he converted one on Wednesday. The penalty miss thing must have worried him; these things do happen, but he is doing it more than he should though. A phase? Maybe, so it was good that he snapped out of it.
Above and beyond that, he still got two against Airdrie and last night is another goal, and of course he should have had the hat-trick in the cup and was denied it by yet another "honest" mistake. This is a good sign, he's still able and sniffing out chances, not letting misses get to him.
Brown, Calmac, Forrest – two games and their usual stellar performances, their level of performance is so high it's just seen as normal now but excellent as always.
Nir Bitton was another positive. It was superb to see him on the pitch again, as James mentioned recently; when he is fit he is more than capable of playing the Brown role. He is not the same leader no, but he has ability yes.
Positive. Absolutely, but lets not pressure him, he has been out a while, let him get back into the groove.
Then there's the defence; as a whole they were not tested in these games, they were basic standard performances and whilst I would love us to go and get a big centre half on a 4 year deal, I can't see it happening this window. I do think January is hard for these players and there are questions on the appetite of the board, and manager, to get one.
I do want a back up in.
At the risk of being controversial, I still say that Ferdinand at St Mirren might be worth a punt.
Boyata getting injured confirms that we're only one or two knocks away from having problems, and if Benkovic or another go down or get suspended I do worry.
Scott Bain was excellent in both games; I like Bain.
Really I do, I am a card carrying member of the goalies union, as that was my position back in the day.
Any time this boy has played he has not put a foot, or a hand, wrong. Those five (at least) saves at end of first half against Airdrie are all astonishing … the first is world class, because the striker has done nothing wrong, but Bain has just got to it.
If Gordon or, especially McGregor, had done that all the press would salivating, and the follow ups are almost as good.
Some criticised Rogers for making Bain his "domestic cup" keeper, even having a pop when he played in a cup final. I think its been shown as genius, keeping two top drawer keepers happy and resting big Gordon. And keeping his word to Bain in the cup final, not like others have done; remember Wenger screwed Richard Wright out of a cup final after telling him was his "cup keeper". Our manager has way too much class for that.
I think Bain could develop into our long term number 1, as he is only 27.
Bayo of course is not available yet and Brendan said he may take while to get going, although that could be the manager trying to take the pressure off boy.
I still want more work done on the team, as we all do.
I dont want us to jump in like others though.
I fully expect us to motor on and over next few weeks, possible before the European tie, and get some more daylight between us and our "challengers".
As for our "challengers", as I have indicated, and even before last night, I fear Kilmarnock more than any of them, although losing Greg Stewart (and I agree with Steve Clarke on that, it stinks to high heaven, Kilmarnock have been treated disgracefully) will be a blow, but this is where champions and challengers show their stuff.
Losing players through January or for injuries and suspensions can knock a team, but Clarke has them so well drilled I could see them staying the distance, but our class would out.
The others? No.
Aberdeen are perennial bottlers and McInnes doesn't have it in him to take us on.
Ibrox and Gerrard were riding a wave of expectation before their collision with reality … . they've gone all or nothing and nothing is what they'll get.
Their whole season will rest on the shoulders on Defoe.
(I am with Phil on this one; Morelos will go in last 48 hours of the window.)
Remember millions have to be found to settle debts, there is £5m for Defoe's wages and another £800k for Davis until end season.
£10m or thereabouts.
It is obvious that someone will have to head out the door.
As Phil has said, Morelos and Tavernier are very much for sale, the expectation of a big fee is what is turning suitors off.
There word is that Gerrard also wants him gone, although we can't confirm that.
Defoe is not here to sit on the bench, not earning what he does.
Morelos would spit dummy if he doesn't play, and Wednesday casts doubt on Gerrard's ability to organise a team with two up front.
More importantly, some at Ibrox do not feel that Morelos temperament can be trusted in a tight league race.
My prediction, for what it's worth, is this; sometime between 29 January and 31 January, both Morelos and Tavernoer will leave Ibrox for a combined fee of no more than £8m.
This will be spun as spectacular business.
The excuse will be that it was done late on and they had not time to spend it. A rumour I've been sent, and which will not go away, is that a move to Brighton is on the cards for the right back; the deal will include a "reduction" for the outstanding balance owed for Jamie Murphy.
(I bet you forgot that; it's still owed, approximately £1.5m including interest.)
I wrote recently that Ibrox club were paying approx half of their superstar loanee's wages, I know some rubbished it, including a good mate of mine, a Celtic fan, who said was I havering.
Guess what though?
Within days the MSM was running the same thing, although the club had obviously wanted to keep it quiet.
Questions were being asked, albeit not forcefully, about how they could afford this.
Remember in a recent piece I mentioned about Fergus McCann asking, when he came into Celtic and saw the income streams both current and possible at the time, how Murray's, now dead, Rangers could afford what they were spending?
This is being questioned again, though very quietly.
Although I have been told, again by a source who is usually bang on, that more than one SFA official has asked their superiors about this, fearing that if they do go under again, the SFA won't be able to hide their complicity this time, so far no senior SFA members are interested.
James also wrote last week about the Takeover Panel.
I don't know much about that specific issue. but I do know how the City works, and they will not take much more. They do not like being messed about. Like the tax man, they wait, they play the long game and then run you over.
Remember how the NewCo came into existence …
Their attitude seems to be, "We are Rangers (as they think they are) and we should be able to do as we please."
It is the same attitude as the dead Rangers had, insomuch that other clubs should pay over the odds for their players.
They also labour under huge delusions about how good their players are.
They seem to think that as Celtic have sold players for massive figures that their players are automatically worth that.
They have no real European pedigree though. They can't even win a domestic cup in Scotland, which is seen as a backwater in England and an easy league. Their arrogance has Gerrard claiming that £8 million for Morelos is "an insult, and an insult to me personally." What a daft thing to say.
We are consistently told that we are not that good, there is no challenge, even this year when we, inevitably, win eight in a row, we will hear it.
"Not that good." "No real challenge."
Remember how the "challenge" story has been pushed this season when they say it.
As has been the case all season, things are not as bad with us as has been made out.
Yes we need changes. The team needs a big revamp in the summer, I think Bayo is part of that, others we are looking at too, but our concentration should be on this campaign.
The title, the treble, and Europe.
In that order.
The others will wallow in their small mindedness, it will destroy them as it did once before.
Dave Campbell is a Celtic fan and blogger from Glasgow, and he's nailed it once again.
You can discuss this and and all the other stories by signing up at the Celtic Noise forum at the above link. This site is one of the three that has pushed for the forum and we urge all this blog's readers to join it. Show your support for real change in Scottish football, by adding your voice to the debate.