So this week it was back to normality, with the holiday madness has finished. I actually worked through the holidays, but these days wake you up because most workplaces are just utter madness that first couple of days after New year.
Football is no different, mainly because of the transfer window. We've got three in already; Oliver Burke is in for us on a six month loan, as is Timothy Weah. Both make more sense than not, regardless of the deal lengths, which I will come to later.
Yesterday we got the good news that the deal for Bayo is done too, irrespective of, as James pointed out, the Daily Record's sniping and negative reporting and the promotion of Rapid Vienna's view that they were a better option for the player.
I would go further and say it was a deliberate attempt to sabotage the signing, by almost pushing and willing the player to snub us. What would the player think, reading that? When a Scottish newspaper is promoting another league? Can you see an Austrian newspaper doing the same against Vienna?
In spite of that, we had already made our pitch and got our man. Kolo Toure, who knows this boy well, and Lubo Moravcik both rate him, so I think it makes, again, more sense than not.
I expect more, and I am sure we all do. We know where the team needs work. Celtic have to get it right this month, Brendan Rodgers more than anyone else.
What I did today, apart from work, is catch up on the goings on by reading a marvellous blog by Phil Mac Giolla Bhain.
Confession time; I don't read Phil's blog every day as I do this one, partly because I feel more emotionally attached to this blog, for obvious reasons.
But I enjoy reading Phil's writing so much that I hate just reading one article.
The quality, humour and depth with which he writes is excellent and is evidence of a higher standard of journalism than we see anywhere in Scotland. Just because he doesn't write for a "newspaper" it doesn't make him any less of a journalist than some of the pretenders we have here in Scotland; in fact, it means he is honest and states his opinion and hasn't sold out.
When you match his quality with his integrity and commitment to ensuring that what he writes is accurate you get an exceptionally high quality of journalism. The stories he's broken over the years shame many a news-desk.
His reporting on the now dead Rangers and their money issues, their liquidation and death in 2012, the formation of the Newco, with its Survival and Victim lies was first class. People who doubt his work should look back on that, and the Dallas scoop, and admit how wrong they are. He had the exclusives on many of the biggest stories in our game.
What has always annoyed what Phil calls the "klanbase", both fans and media, is that he has worked hard to cultivate his contacts and this shows up in his accuracy and complete commitment to writing the truth.
And that does not extend just to the club across the city; they forget that.
Phil writes the truth about his own club, which none of the NewCo bloggers seems to do, and he does not pull punches about Celtic either.
That is important. It is important to keep on pressing your own club, as the summer shambles showed. One of the things that must drive his critics mad is that he doesn't over react, and he has stated it when he thinks others are, Celtic fans included.
We are prone to it.
He is dispassionate.
Which means that he's professional.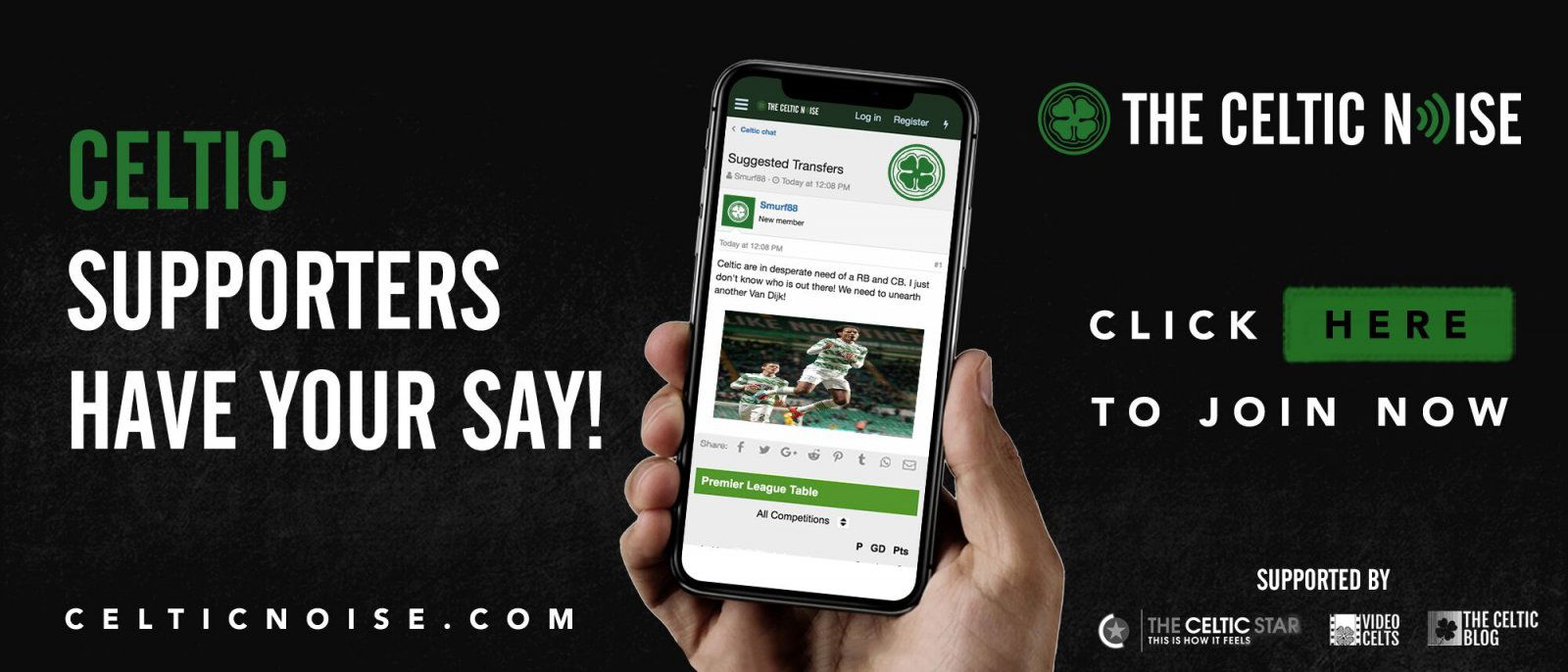 So I read his blog today with interest. Three specific things caught my attention.
The first is that Manchester City have fourteen twenty year olds on £25,000 a week who have never played a first team game.
Do the maths.
£350k a week on guys who don't play and maybe never will.
That puts into context how difficult we have it trying to improve the first team at Celtic.
For us to improve we have to find better than we have now, obvious yes, but it costs money. I do think we could flex more but we can never be "scatter-cash" as that always ends in tears. But when you look at a stat like that, it's a wonder we've been able to assemble any kind of team at all when clubs south of the border can do that kind of thing.
Secondly, given the above, Phil states that Celtic have, or will, bid for two EPL players from the same team.
I have no idea who they are, although I have tried to find out, but as we have been scunnered at the last minute with players from down there in past, I am not at all surprised if the club and the club involved are doing the level best to keep it quiet.
But it's the third point that really pricked up my ears, and it is an astonishing claim which I have no doubt Phil has sourced and backed up; that's the bit about how Celtic, mainly Brendan Rodgers, deliberately withheld the fact that there was a sickness and vomiting bug in the dressing room the week before Ibrox.
Rodgers refused to mention it as a reason for the lethargy on the pitch.
I did a bit of digging into this, and, as always with Phil, it's bang on. So much so that there was talk of Celtic asking for the game to be postponed. They would have been well within their rights to. The fact is, some players played that day when they did not feel up to it.
It was so bad that families of players and other staff were told not to come in to Lennoxtown, which is always family friendly. But Rodgers downright refused to consider asking for the game to be postponed as he knew how it would be spun by the press and the Ibrox loyal.
I've also heard that a couple of the press corps did want to mention it since the game, and that Rodgers has specifically asked them not to.
Not only does he feel it would have backfired towards us from all angles, but he does not want the players to get it in their head that it was an excuse. Because it wasn't. I still believe that, even with broken legs, we have better players than that shower.
We just didn't show up on the day.
Now I do not have the links at Celtic that Phil, James or others do, but I do have one that is usually bang on, and I can tell you I do give this story some credence.
Now, I am sure you are asking "If Brendan Rodgers doesn't want it out there why am I doing it"; well the truth is, it is out there and people do know, even at Ibrox.
On top of that, I hear there was an altercation somewhere in Ibrox after the game between Brown and Morelos, with Broony being particularly irked by that little runt's behaviour, where Brown made it clear that it was a bad day at the office but that the Ibrox players better be prepared for Celtic Park and the second half of the season.
That's only a rumour, but as I said my source is a good one.
Once again it is more evidence that, while we do need work on the team and we have to be better in the coming months, things are not as bad as has been made out in the press. We are top still and we have a game in hand. We are improving the team.
The six-month nature of the loans of Burke and Weah have been questioned, but Celtic did want Weah for longer but PSG were not playing ball.
It could be the Financial Fair Play issue; if they have to lose players in summer they might need him in squad.
If they don't, there's a good chance the loan could be extended into the next campaign.
Burke is different, his attitude at West Brom has been questioned; I should point out here that while the media has always known that along with everyone else, they have only mentioned it now that he is at Celtic. If he had signed across the city, then it wouldn't have come up.
Perhaps he just had trouble settling there; regardless, the six-month loan protects us and West Brom both.
We do not have a first option on him as he has a deal until 2022 at the Hawthorne's; they won't want a minimum fee written in, because if he has good 6 months they could get more, plus they may feel that they still have a player on their hands.
And Celtic don't want another Musonda.
But again, don't rule out another year on the loan deal once this campaign ends. There is more sense in the 6 month deals than has been mentioned.
One other thing comes out of Phil's article, and it's the details of Defoe's salary.
Celtic were never interested in Jermaine Defoe, and that has to be pointed out as there's been a lot of media nonsense about that as well. I am sure you have noted, as I have, that Defoe, Davis and Kamara have been hailed as "brilliant business."
Nobody has asked questions as to why Defoe cannot get a game at Bournemouth, why Davis barely featured for Southampton or why Kamara could barely get a game at Dens Park! Instead, we saw one lunatic headline comparing him to Patrick Viera.
But the real issue is about those massive wages Defoe is on, and where the Ibrox club's share of that massive salary is coming from. An 18-month deal … even at half his current wage level that would amount to £60k a week for a total commitment of £4.3m.
if that is true it is astonishing, and questions must be asked about it. Because where is that coming from? And why is no one in the SMSM asking the question?
Phil is asking. James is asking. The rest of the bloggers are asking.
Of that group, only Phil has a press card, but it's not a magic wand, it's nothing dozens of journos in this country don't have as well.
Why does it take an Irishman, working from Donegal, to do the job our local media hacks won't?
Why is it left to the bloggers to pick up the slack?
The guys on these sites shame the hacks every single day.
That's why so many people read them now.
Dave Campbell is a Celtic fan and blogger from Glasgow who is grateful he doesn't need to rely on the mainstream media here for information.
You can discuss this and and all the other stories by signing up at the Celtic Noise forum at the above link. This site is one of the three that has pushed for the forum and we urge all this blog's readers to join it. Show your support for real change in Scottish football, by adding your voice to the debate.