When this transfer window closes, the extent of our board's "ambition" for the club will have been laid bare.
Somewhere inside Parkhead a decision has been made that money in the bank is more important than having as good a team on the park as we can have. That is the long and short of it. We are well on course for a let-down of epic proportions.
I read Brendan's media interviews with a deep sense of disappointment.
I felt my spirits sink lower with every word.
He all but confirms that the central defence will not be touched.
He even used one of the arguments I posted the other day; that Boyata and Benkovic will be first picks and anyone else would have to displace one of them in the team.
It is the lamest excuse for doing nothing I've ever heard from a Celtic manager.
"To be brutally honest, if we were to bring in someone of the quality we require they would want to play," he said.
It is the first time I've ever heard a manager retreat from the idea of signing people to create competition. It is also the first time I've heard a manager express a preference for playing loanees and people on the way out the door rather than taking six months to bed in players who will be here next season and who want to play for the club.
It scares me to hear such a shocking thing from Brendan Rodgers. I have no doubt that some in the media will very soon be filleting him for those comments, and I have no difficulty whatsoever understanding why they will do it.
I understand now that the idea of benching Boyata for the remainder of his term here as he's already checked out doesn't appeal to Rodgers or to the board.
I guess the idea of bringing in someone who does want to be here and playing him instead would cost money. And so we've taken the "strategic decision" to turn the summer into a desperate scramble to fill holes that should be filled right now.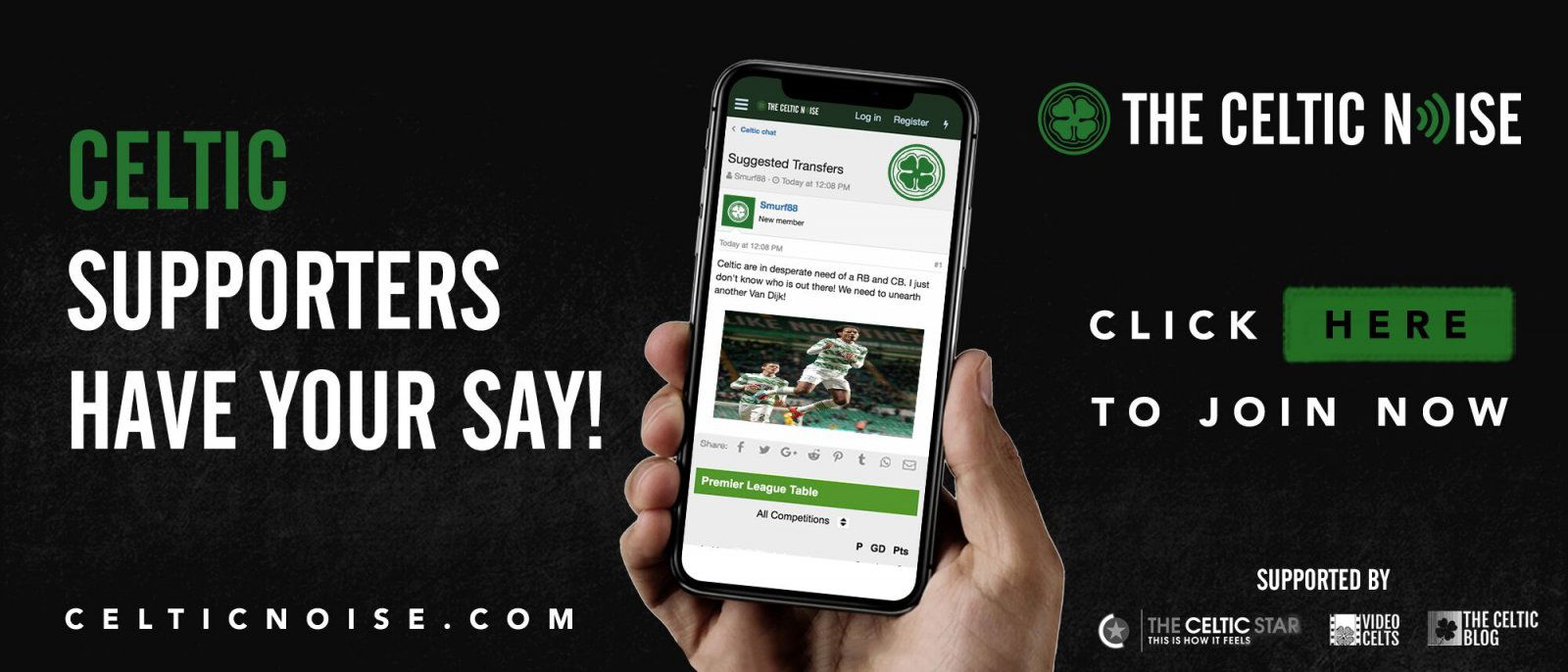 As to signing a right-back? Who knows. The manager is talking about "availability and affordability" which doesn't sound promising in the least. We moved for two players, neither of whom it looks as if we will sign. Has everyone just given up? Is that it? I know we call it a short-list, but two players? Are Celtic really telling us that there are no right backs in all of Europe who we can get and who are a better bet than an over the hill Mikael Lustig?
I'm afraid that's simply not true. It's just that the board at Celtic Park isn't willing to pay for one.
We sold Dembele for a Scottish transfer record in the summer, allegedly at the last minute, allegedly against our will.
Far from getting the bulk of it back to invest in the team, the manager is not going to be given one penny of it.
This is the cold, hard fact of it.
The board apologists who will tell me some was spent on Bayo should save their pitiful justifications for those upon whom they will work.
The manager was not backed in the summer either.
Call the Bayo signing the leftovers of what we should have spent – but didn't – then.
We're on Day 18, and this is when the excuses start, the excuses some people were predicting would be rolled out all month. Time is against us. Clubs don't want to sell players. But look around Europe. Players are moving freely. The market is busy. And the best we can do are loanees and project footballers.
This is not about the market.
That is an excuse.
I would respect people more at Celtic Park if they spoke the truth about this.
We're sticking to a policy. When that policy was simply risk-averse I could stomach it. Because we signed Bosman's. We signed experienced players whose careers had dipped with the consideration only that they improved the team in some small way. We shopped around, we looked for bargains. But we signed quality.
We do not do that so much any longer.
The focus now is on whether or not a player has a re-sale value somewhere down the line. We "invest" in "assets".
We are, as I feared, going to be revealed as a business running a football club.
As a for-profit, which exists to enrich directors and executives, with minimal investment in the team.
Under the current strategy there would have been no Nakamura, no Sutton, no Hartson, no Thompson. This is not risk averse. It is high-risk. It's just a different sort of risk. We now market ourselves as a "stepping stone" and a development club.
I will no longer be surprised to see Ntcham depart in this window.
The groundwork is already being laid for it. Every media report today mentions how players will have to leave before others can be brought in, as if we were Glasgow's impoverished club, as if we were the ones sitting on a debt time-bomb. In case no-one noticed that club just brought in two footballers from England and made them the highest paid players in the country … and they're busily building next season's team right now.
Yes, it's madness. Of course it is. But nobody will ever be able to accuse their board of not going all-out, of not going all-in. And the thing of it is, if it works and their club hits the skids over the summer not a single one of their supporters will care and neither will ours. Because that which we coveted most will have been snatched from us, for good. Because Operation: Stop The Ten will have been accomplished and we're back to zero again.
Their board knows what its priority is, and there's not an Ibrox supporter who would argue with it.
Lunacy, but the kind football fans well understand. That their whole club could collapse on the back of it will provide no consolation whatsoever to Celtic fans who will have witnessed the pitiful, shameful, cowardly squandering of an historic opportunity.
And of course, if their club did manage to secure the title they would have a shot at the Champions League pot of gold that could, with their luck, hoist them up from the perilous position their spending splurge has put them in. In other words, their gamble might pay off.
At Celtic, we have no further, no higher, no greater ambition than to be what we are, which is what we've made ourselves. A club which the manager of West Brom can disdain by saying he's sent us one of their reserves to make him into a man. I shuddered hearing that dismissal of our stature when he talked about Oliver Burke. It shook me because it confirms my fear that Celtic is seen now as a feeder club by many of England's mid-table teams.
I am sure Peter Lawwell simply let it wash over him.
The statement is accurate, after all, and a vindication of the strategy and how we market ourselves.
Under our board all talk of us aspiring to be a football power is a fraud.
There's a report on the official site today which confirms that we're one of only 15 clubs in Europe to pass the 1 million mark in terms of fans through the gate this season.
That's your commitment to this club.
Where is the commitment from those running it which you deserve?
You made that record, not them.
All talk of seeing us ourselves as a massive club is PR bollocks designed to sell season tickets and nothing more.
So I am resigned to it, to a window of abject disappointment, a window of projects and loans. All the hype before it and in the last 18 days was for naught. We're not going to move significantly forward here, and I blame a lot of people for this, including myself.
The bloggers do as much as anyone to push expectations sky high during the transfer window, and as such I'm going to make you all a promise right now; no matter how good the "source", no matter how exciting the information, no matter how much I'll kick myself if I miss a scoop, I am not going to feed into this any longer. Not for one more day.
Between now and the end of this window I am going to write about transfer deals only when they are done, and with a critical eye. Further loans are certain, more short-termism absolutely guaranteed. We have lost the ability to forward plan.
We'll probably get a right back that way, and so that task too will be put off until the summer.
Through all of this, and even through my growing frustration at his own blind-spots and his own clear failure to get what he wants and what he needs for this team, I cannot be anything but grateful to have Brendan Rodgers at the helm. He has dragged this team beyond what it should ever have been capable of. He has been lamentably served by those above him, and he continues to perform miracles in spite of, not because of, their neglect.
Hell mend us, hell mend them, if he decides to call it quits in the summer.
The reckoning will not be delayed then; it will not be put off.
It will have arrived.
You can discuss this and and all the other stories by signing up at the Celtic Noise forum at the above link. This site is one of the three that has pushed for the forum and we urge all this blog's readers to join it. Show your support for real change in Scottish football, by adding your voice to the debate.