As we all know, Celtic played the Ibrox Newco on Saturday 29th December at Ibrox stadium in the Ladbrokes Scottish Premiership.
If Celtic had won they would have gone 6 pts clear at the top with a game in hand.
It was to be the unlucky 13th time the two bitter rivals had met each other since Celtic's historical Double Treble winning manager Brendan Rodgers took charge of the Parkhead club.
Before a ball was kicked the Celtic bus had been smoked bombed outside the stadium.
Whether or not this had an unnerving effect on the players remains to be seen, however it has been said that the feeling amongst the Celtic players was one that has never been felt before in any other Glasgow derby.
In front of a hostile home crowd of around 50,000 and a much-reduced ticket allocation of just 750 for Celtic, as opposed to the usual 8000, what effect this had on the Celtic players we will never truly know. It certainly never helped.
As we know, Celtic lost the match 1 – 0.
I think a look at Brendan's record overall is in order here …
Rodgers was appointed the manager on a 12-month rolling contract on 20th of May 2016, following the exit of Ronny Deila.
It didn't start well; on the 12th of July, in his first competitive game in charge, Celtic lost 1–0 away to Gibraltar's Lincoln Red Imps in the first leg of their second qualifying round of the 2016–17 Champions League.
He said of the surprise result, "There is the obvious disappointment. There is no embarrassment."
Celtic overcame their one-goal deficit with a 3–0 win at Celtic Park.
On 23rd of August 2016, Celtic qualified for the group stage of the 2016–17 Champions League for the first time in three years after a 5–4 aggregate victory over Hapoel Be'er Sheva. In the first game of the group stage, 13th of September 2016, Rodgers suffered a 7–0 defeat against Barcelona at Camp Nou; this was Brendan Rodgers' heaviest defeat and the worst ever result for Celtic in European competition.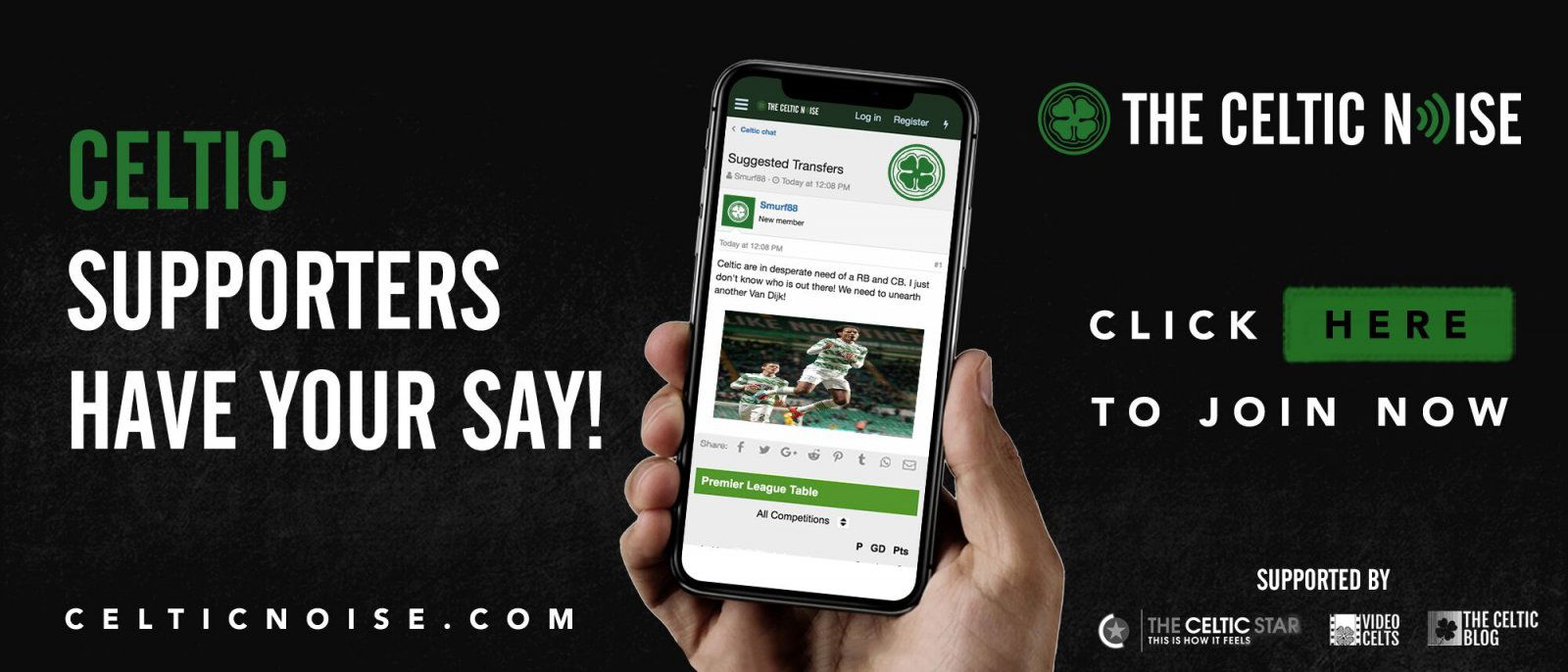 Brendan Rodgers has gone on to achieve more success than anyone involved with the club could have wished for.
On 27th of November 2016, Rodgers won his first ever trophy as a manager as Celtic beat Aberdeen 3–0 in the final of the Scottish League Cup.
The win also gave Celtic their 100th major trophy.
On 31st of December 2016, Rodgers became the first manager in Celtic history to win his opening three games against an Ibrox club.
This victory meant Celtic went 19 points clear, with a game in hand, in the 2016–17 Scottish Premiership table. It also secured Celtic their 5th consecutive league victory, 58 points from a possible 60, and stretched their unbeaten run in domestic football to 24 games.
On 2nd of April 2017, Celtic defeated Hearts 5–0 to secure the club's 6th consecutive league title, with 8 games to spare.
Five days later, Rodgers signed a new four-year contract with Celtic.
As Celtic's unbeaten domestic run continued, they subjected the Newco to the heaviest defeat any Ibrox club had suffered since 1915, thrashing their rivals 5–1 on 29th of April.
Celtic's 2–0 win over Hearts on 21st of May saw them finish 30 points ahead of second-placed Aberdeen in the league with a record 106 points, and the team become the first Scottish side to complete a top-flight season undefeated since 1899.
On 27th of May 2017, Celtic defeated Aberdeen 2–1 to win the Scottish Cup, securing a domestic treble for the fourth time in their history, and ending the 2016–17 season unbeaten in all domestic competitions.
On 4th of November 2017, Rodgers lead Celtic to a 4–0 victory over St Johnstone.
This victory meant Celtic were unbeaten for their last 63 domestic games.
The victory also meant they surpassed the 100-year British-held record for consecutive domestic victories, which was also held by Willie Maley's Celtic team, set in 1917.
On 26th of November 2017, Rodgers won his fourth trophy in a row as a manager as Celtic beat Motherwell 2–0 in the 2017 Scottish League Cup Final.
Rodgers became the first manager in the club's history to win his first four domestic trophies and also stretch the unbeaten domestic record to 65 games. This unbeaten run finally ended after 69 games, ending with a 4–0 loss to Hearts at Tynecastle.
On 29th of April 2018, Rodgers secured his 2nd and Celtic's 7th consecutive league title with a 5–0 win against the NewCo at Celtic Park.
This win also extended Celtic's unbeaten run against them to 12 games. The season ended with Rodgers winning the first ever 'Double Treble' (a treble in two consecutive seasons) in Scottish football history with a 2–0 Scottish Cup Final win over Motherwell on 19 May 2018.
Since Brendan Rodgers took charge at Celtic he has faced the Ibrox club 13 times.
And from 13 games Celtic has Won 10, Drawn 2 and lost only 1.
Celtic have scored 31 times against them conceding only 7 times.
Look at that record.
Look back on all of it.
They say football runs in cycles so we should all have known that Celtic's dominant hold over our bitter city rivals would end at some point.
We have enjoyed an unprecedented level of success as Celtic Fans.
That being said there is as yet no evidence that that dominant spell has come to an end.
There are however worrying signs.
One defeat does not lose titles and one win will not succeed in winning a title.
What is evident is that Celtic are not as good as they once were.
The all-conquering run Rodgers put together seems a long way back.
From our pinnacle of winning 69 games unbeaten, and achieving a historical Double Treble Celtic has gone on to start the 2018/2019 a far weaker side than we once were.
It has shown on the park with sub-par performances and losing too many points.
Celtic have simply been inconsistent.
Failing to build on a position of strength and domestic dominance during the summer and now mounting injuries have left Celtic and Brendan Rodgers with a massive selection headache. It certainly hasn't helped having lost key players like Paddy Roberts, Stuart Armstrong and Moussa Dembele.
It didn't help that Leigh Griffiths was out and the likes of Keiren Tierney and Odsonne Edouard were on the bench.
Recruitment wise our summer was a failure.
We failed to bring in new faces to replace those gone and strengthen the areas we needed to strengthen.
Going back to the match on the 29th December for a moment some have said that the match officials cannot be blamed and that Celtic was just rank rotten. That may be so but having reviewed the match highlights there are several key incidents and frankly rather shocking moments missed by officials that could have swung the game in Celtics favour.
Alfredo Morelos should have been red carded for several deliberate assaults on Celtic players.
Morelos kicked Scott Brown in the nuts, stamped on Ajers back and flicked Ryan Christie in the balls.
All these incidents were witnessed by officials not far from the action and simply ignored.
I don't buy into these incidents going unnoticed. I don't buy into the officials being inept. What I do buy into is these incidents went unpunished by a deliberate conscientious decision not to punish the individual concerned.
Calum McGregor scored but his goal was chopped off as offside.
For all that, it's fair to say that Celtic didn't turn up and it was an extremely bad day at the office for the Hoops.
As much as it pains me to say it the squad who wanted this more got the deserved 3 pts in the end.
However, as Matthew Marr pointed out, wars are not won on individual battles and this war has a lot of battles left in it yet.
We are only half way through the season. Sit top of the league. Still in Europe.
There are at least another two Glasgow derbies to play out this season.
And I'm pretty sure Celtic will be fighting for the next victory like never before.
In the January window, certain players need to leave and quality brought in to replace the dead wood.
This window will be the most important in Celtic's recent history.
It's no surprise that Celtic fans are asking questions, and one of them is about our captain.
Has Scott Brown seen his best days as a first team regular?
Does he slow the play down?
One thing is for sure, Scott Brown has been pivotal in Celtic's success over the past seven years and it's fair to say he has at least a couple of seasons left in him yet.
No one can ignore the facts though. When Broony was out injured Celtic looked hot again.
I would hate for him to bow out with him being nutmegged at Ibrox. That is simply embarrassing for him and for us as supporters. For that reason, I hope he can continue and find some form to give Brendan Rodgers a good reason to have a selection headache.
Scott Brown is in contract negotiations with Celtic about extending his stay with the our club.
There are rumours of him wanting three years and Celtic offering only two.
Additionally, there appears to be big money interest from Australia.
We will learn more about this in the coming months.
At the weekend, the Ibrox NewCo celebrated like they had won the Champions League.
Victory in one match out of thirteen is pretty embarrassing.
It is a pathetic statistic. Nothing to be celebrating really.
Here's another stat; so far this season, Celtic have a 100% home record in domestic football.
Come 30th March when we next play the Ibrox NewCo I fully expect their record to be one win in fourteen.
Over to the Celtic Board and the January transfer window needs to be a good one.
Malcolm Whyte is a Celtic fan and blogger.
He runs his own site TheDoubleTr3ble. 
You can discuss this and and all the other stories by signing up at the Celtic Noise forum at the above link. This site is one of the three that has pushed for the forum and we urge all this blog's readers to join it. Show your support for real change in Scottish football, by adding your voice to the debate.