As everyone has heard by now, John Beaton has allegedly reported threats that had been made against him and his family to the police. And according to the SFA he had to be escorted to a game at the weekend by officers and an SFA rep.
I had immediate reactions to the news, as I am sure we all did.
I will address those in a moment.
I have purposefully not read anything online (including on here) or watched any news, sport or otherwise since I heard, so I could gather my thoughts and write them here. Because of this, I am able to give my honest opinion on what has happened. No matter what anyone says, when you read or hear views on an issue it impacts on your thoughts.
So here are my thoughts.
First, anyone who has threatened the safety of John Beaton or his family, over this or anything else, is a vile, despicable human being and deserves everything he or she gets from the full force of the law. You can only hope that they are caught.
These people are not football fans, they are thugs and I do not want them to identify themselves with our club, they are a blight on the game and society as a whole.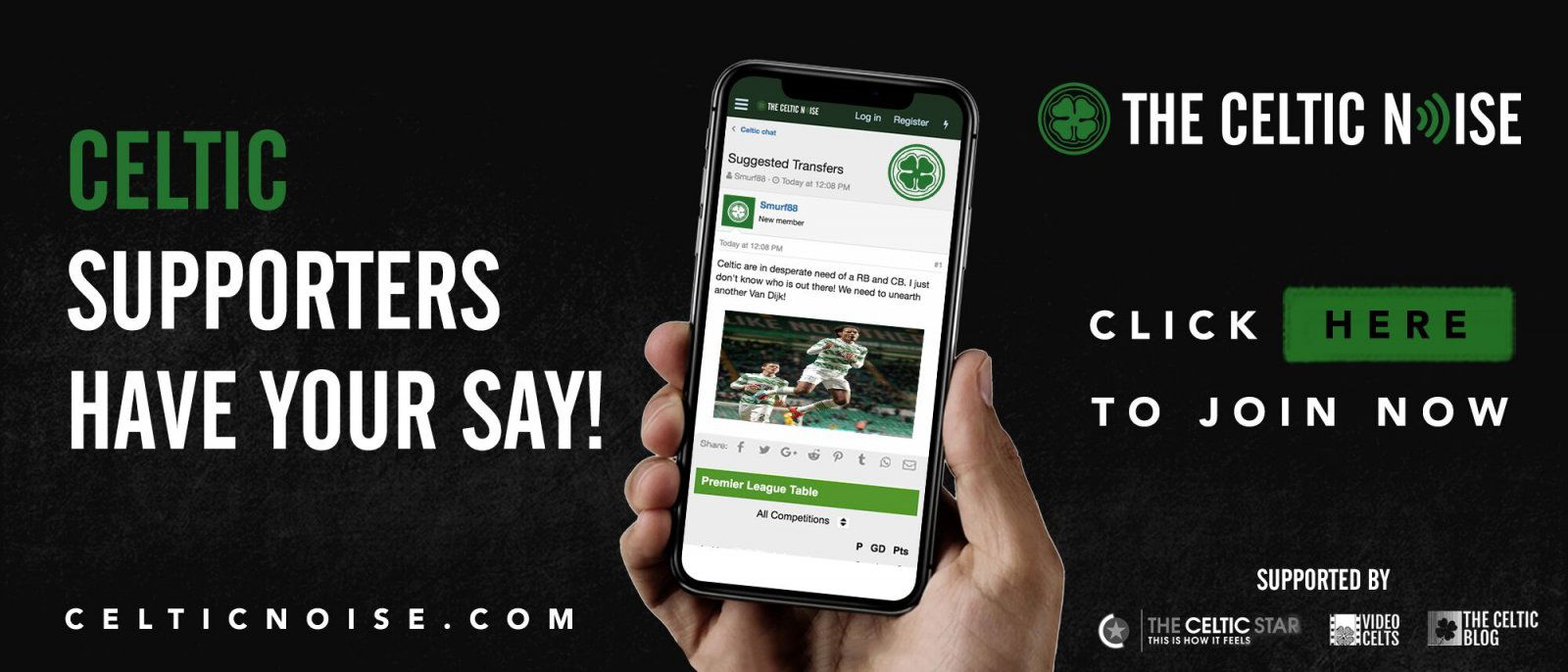 After my initial shock, I realised that it seemed to be getting reported that these threats were related to Beaton saying that he saw all the Morelos incidents last week and thought none were worthy of cards. That and Celtic's official statement this week.
Now they are, of course, connected, but amidst all the flap the thing that people seem not to want to acknowledge is that Morelos should have at least had three yellows and would have had no complaints if any were straight reds. We have all said, and the club has said in their statement, that this is not the reason we lost that game.
We didn't show up on the day, it is just as simple as that. In terms of how it affected the game, it's a moot point now and doesn't matter and never has. Celtic was not – as some hacks have suggested – trying to gloss over the result. They simply want fairness in the ways the rules and regulations are interpreted, and an explanation as to how decisions are made.
The issue, as everyone knows full well, is what happened in the aftermath of the game, where according to the governing body John Beaton said he saw all the incidents and felt that none were cards. That does not excuse or justify the threats. I am, in no way doing either, but it is the crux of the matter, and we should not let people forget it.
And being blunt, if John Beaton does not believe these were cards, either yellow or red, then serious questions must be asked about his competence at the very least, and there is simply no escaping from that fact. Because that explanation boggles the mind.
Celtic said as much, although they were not so direct. They were very clever in their phrasing about 'wanting discussions'. As were the SFA in their response saying they were open to them. This, by the way, is nothing more than they've said to other clubs.
Because of course, this is not the first time this season similar decisions, some involving the same player, have been questioned and one other club has, openly, as Celtic did, written to SFA regarding referee performances.
The SFA and the ref involved received similar abuse as I recall.
However, there was not police report then and the media were right behind the club in question. Now I am not judging John Beaton here, if he felt these threats to himself and his family warranted reporting to the authorities he had every right to do so.
But none of the reporting was anything like what I heard today, where it's been laid at the door of Celtic. One so-called football "reporter" directly blamed the club and stated that it was a "defection for the abject performance" although the statement the club put out actually stated that they did not feel this was why the game was lost, saying, "Celtic did not deserve to win."
When have you ever known of any club board to say such a thing?
For years, since 2012, the Ibrox club, from the board through to the manager, the players and their pals in the media have played the victim card. Every decision that goes against them results in a rant, or writing to the SFA and pursuing vendettas through media outlets, threatening and bullying. Gerrard wasn't long in the door – his first game – before he was calling the integrity of the game and referees into question.
All of it was simply discussed in passing. Never has that club been accused of being at fault when their fans have behaved in these despicable ways, even when McCoist demanded names of an independent panel and they were all subsequently threatened.
It's always someone else to blame.
Yet today, it is Celtic's fault, as if we caused the behaviour of the morons who threatened John Beaton when all we've done is ask legitimate questions, the sort which others have been asking all season long. It is an outrage.
Dave Campbell is a Celtic fan and blogger, and he's sick fed up with the media blaming us for everything.
You can discuss this and and all the other stories by signing up at the Celtic Noise forum at the above link. This site is one of the three that has pushed for the forum and we urge all this blog's readers to join it. Show your support for real change in Scottish football, by adding your voice to the debate.