We, as Celtic fans, have certain rights and responsibilities.
Our responsibilities including giving our club scrutiny when that's required.
You know what? That's also one of our rights.
As Celtic fans, as people who love the club, we do have that right because our scrutiny is of the healthy sort.
It is the kind that keeps Celtic on the right track.
What happened at Ibrox in 2012 could never have happened at Parkhead.
I firmly believe that.
Even at the hour at which the bank was readying itself to foreclose in 2004, there were Celtic supporters who were aware of every development and actively involved behind the scenes.
Yes, Fergus got there first with the chequebook but people either forget or don't want to remember that there were others waiting in the wings, and that his success was built on a grass-roots campaign within the support itself.
Take nothing away from the wee man – he's one of my idols – but if he had been forced to rely on backing from the sort of Peepul who watched the Craig Whyte show unfold he'd have had a much harder climb to the summit.
Nobody has to tell me or the other writers on this blog, or indeed you guys, that our club has a transfer policy which often seems incoherent.
Today's latest rumour – which in keeping with my promise I won't discuss until it's done – simply adds to the general level of bafflement about areas not strengthened.
But amidst it all I know there is method in Brendan's apparent madness and if we pull off the deal that's being touted around in the papers then it's a signing I'll be very happy with even as I scratch my head.
Other people claim to be scratching their heads, but their commentary is designed to do only one thing; to stir the soup.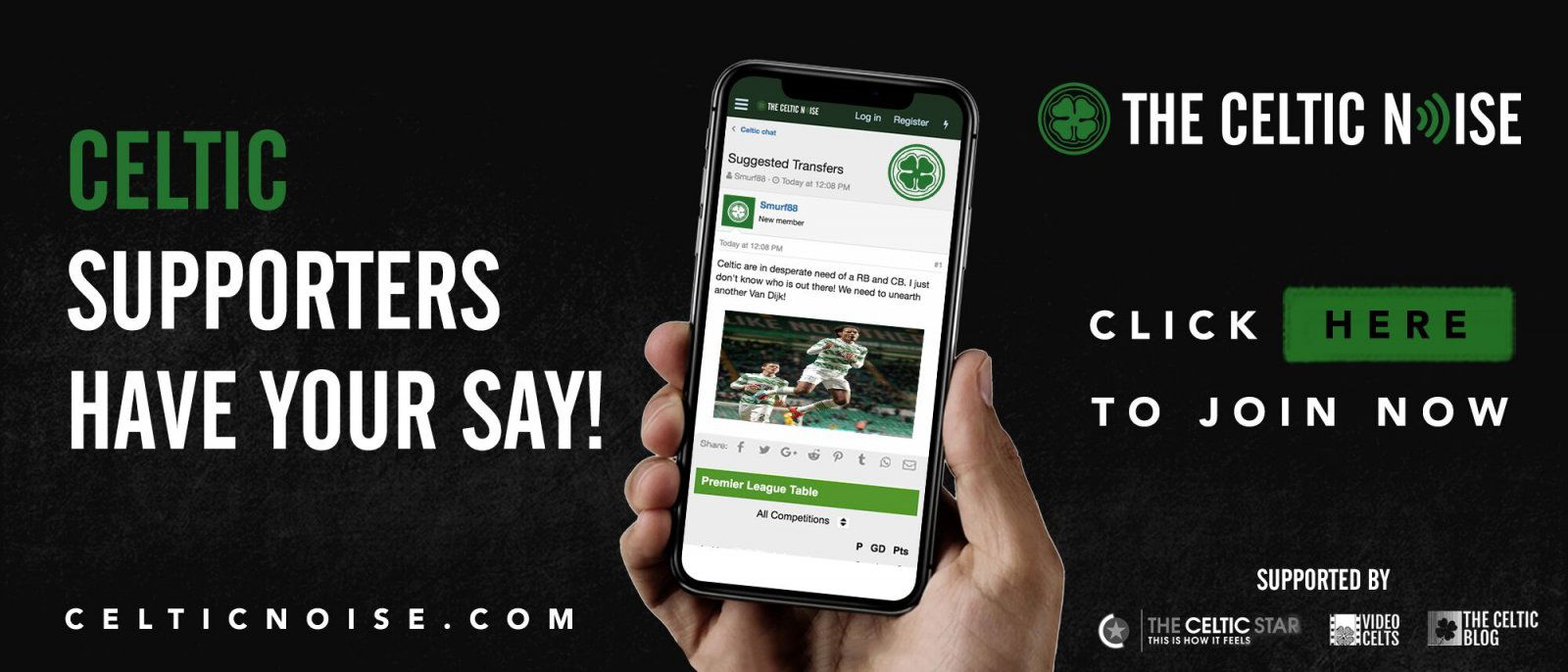 Take Tam McManus for instance; when this guy speaks the football world does not exactly stop to listen.
He's another example of an ex-player who thinks pulling on the boots for luminaries such as Dunfermline, Ayr United, Falkirk, Derry City and the noted global superpower of Rochester Rhinos, qualifies him to speak intelligently about the game.
You need intelligence first, though, and it's not the only requirement.
See, it's not for nothing that I read and respect The Guardian's sports team above all others.
Here in Scotland there seems to be an assumption that fans would rather read the lumbering claptrap of ex-players rather than brilliant, insightful stuff from professional writers who combine their technical skill with a keen understanding of the game, although when you read some of the "journalism" produced by those in our press who are allegedly qualified for it the difference between their output and that of the likes of Kris Boyd is minimal.
But I especially distrust ex-players who become pundits and who betray their complete lack of knowledge every single day by trying to get by on being controversial and stirring up fans. With a handful of exceptions – I love to listen to Steven Thompson and Michael Stewart for example – they are a pretty clueless bunch.
McManus sent out a tweet earlier asking what formation Brendan expects to play with the signings he's made thus far.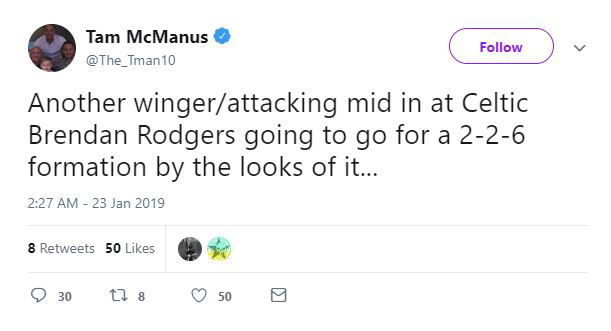 It was part sarcasm, part cry for help.
The media is really having difficulty with the idea that our manager has decided that the best way to wrap up the league title and to go after the Treble Treble is to score more goals than the opposition … but that particular theory has I, think, been fully vindicated.
It is, after all, the whole point of the sport.
But I'll tell you what; on the day Brendan needs team-building advice I am certain that the first person he'll call is the man who thought Kris Boyd should be selected for Scotland last year. That kind of insight and intelligence and ability to spot talent is what our manager lacks.
Or does he?
What's Brendan's record again?
Oh yes, it's seven trophies for seven.
I reckon I know whose judgement I have more faith in.
Then there's a news article which seems clearly designed to do nothing more than have a cheap dig at Brendan and the club, because the point it raises is so specious that it's barely worth debating, yet debating these things is pretty much what I do, so here goes.
Written for The Evening Times, and by Matthew Lindsay, it is entitled "How is Brendan Rodgers going to give all his Celtic players game time after January recruitment drive?"
The title alone makes you shake your head in wonder at the cheek behind it, the brass neck, the brazenness. Had we not bothered to sign anyone the media reaction would have been hysterical. Now we've signed too many players and can only have an unhappy squad.
I mean, really, how else to treat that but with utter contempt?
Yet the article itself answers its own question; it is not a bad piece in fact, except for that clickbait headline and opening which reads like a dig before actually showing some of that insight which is missing from the likes of McManus.
Brendan's ambitious expansion of the front line gives us options, creates competition and gives us more direct firepower than we've had in a while. Yes, there are a lot of players vying for a handful of starting slots but I could write an article on how Gerrard faces an identical dilemma with his over-bloated midfield and three strikers competing for one position.
But that's not an assessment you'll read in the press.
"How does he give all of his players game time? Isn't there a chance that some will grow disgruntled due to their lack of involvement?" Lindsay asks, about Celtic's squad and the choices our manager faces.
It is hard – no, it is impossible – to imagine Chris Jack asking the same questions, and yet the situation over there is even more complicated and has implications for their financial sustainability. Celtic's playing squad doesn't endanger our existence.
I love that these people are so concerned about our tactical plans and about the composition of the squad.
Celtic fans are concerned too, but for different reasons. We do understand that improving the attack is the key to breaking down eleven man SPL defences and that our defensive record – we've conceded only 14 goals in 20 games – isn't really where the problem lies, at least as far as Scotland goes.
We get what the manager is trying to do.
Our worries are more to do with Europe, with next season, with the Champions League qualifiers we sort of take for granted.
The thing is, Brendan doesn't and he knows that we need to be more readily putting teams to the sword.
The concerns of people like McManus are noted; but you can't escape the notion that they are, of course, not concerned primarily for Celtic but with Celtic.
The folks who drooled over Defoe and said that his signing had "laid down a marker" seem awfully worried about our response to it, and when you're at Celtic and are making these people nervous then you know you're definitely doing something right.
You can discuss this and and all the other stories by signing up at the Celtic Noise forum at the above link. This site is one of the three that has pushed for the forum and we urge all this blog's readers to join it. Show your support for real change in Scottish football, by adding your voice to the debate.