Kieran Tierney will not play for at least another month.
Odsonne Edouard is still some ways from being fully fit.
Tom Rogic will come straight back to Celtic from Australia without having had a break.
Ralston just joined the ranks of the injured. Ntcham might be back soon and he might not be.
Griffiths, well who knows?
Bayo has not yet got a work permit but the manager "thinks" moves are being made there to get it over the line.
We are well covered up front, or better covered anyway, and midfield should take care of itself.
But key players are not going to be back for a while and few will be match-fit by the time Valencia roll into town. At the moment, net spend is less than the CEO's bonus and we appear more concerned with moving players out than with bringing them in.
In addition, the injury to Tierney – and we have no idea how bad it is – means that we should probably be looking at bringing a left back to the club (on loan) now as well as a right back … a search that has already taken near on 18 months and with no end in sight.
The question is this; when do we begin to worry?
Kieran's injury is clearly the worst of it. If he's out for long term – and it's been over a month already and nobody knows where it ends but Brendan's comments were deeply worrying – then we really are in bother because nobody at the club does what he can do. That, in itself, is damning and it has knock on effects for the rest of the squad.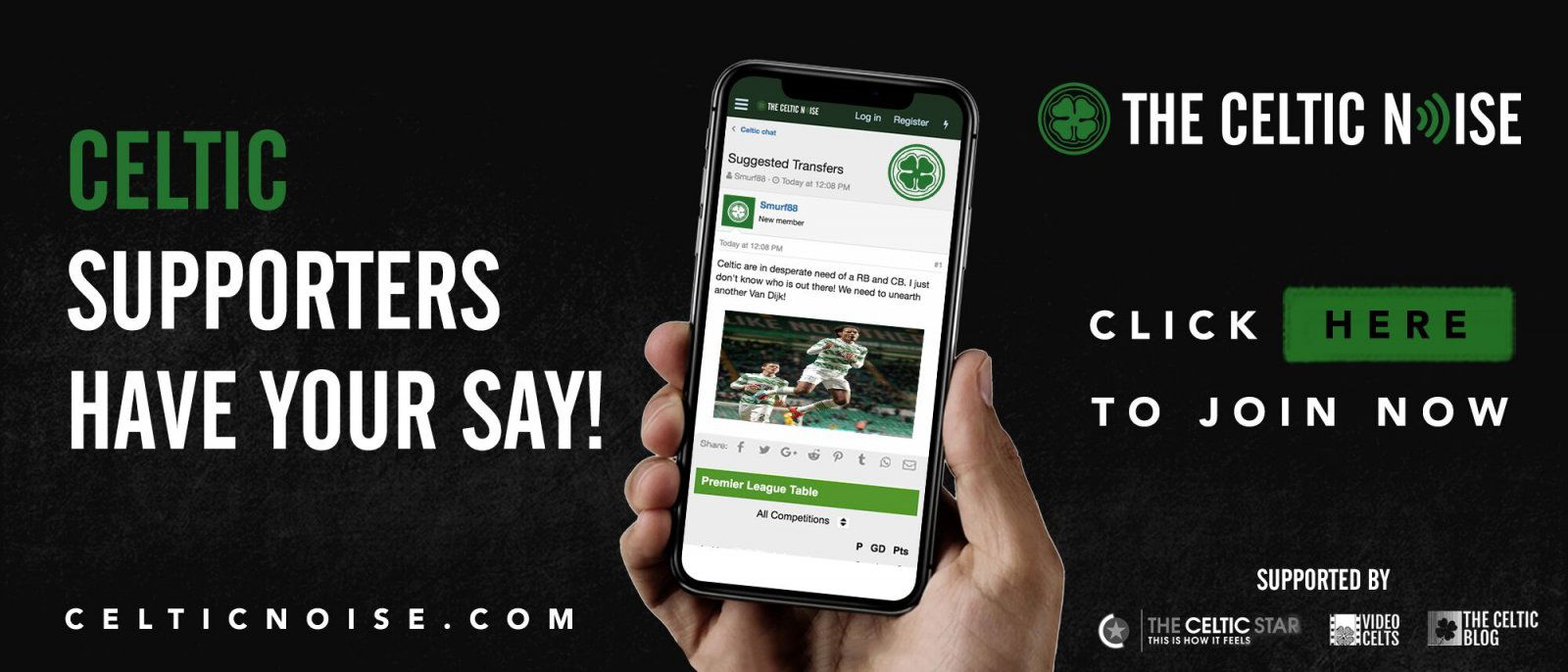 If we play McGregor there we're losing our most potent midfielder. We saw at Ibrox just how well that works. The alternatives – Jonny Hayes, Izzy and Calvin Miller – are nowhere near good enough and the prospect of them running out to face Valencia should frankly scare the Hell out of us. The board clearly does not prioritise that tie … nor it seems our treble.
This has long since passed the point of being ridiculous. There are nine days to go and the manager has had to go in front of the media, yet again, and beg for the resources he needs. Anyone who thinks he'll put up with beyond this campaign is kidding themselves on. If this is the level of support he can expect he will walk and nobody will blame him.
That's the summer's problem, and right now I think we'll struggle to hang onto the manager.
I am actually more concerned with what happens in this campaign, and Tierney in particular is a huge, huge loss to us because we've failed to sign appropriate cover for him. I wrote about that for much of last season, and I was glad we brought Izzy back because it at least gave us an option out there.
But nobody is kidding on he's the footballer KT is.
Our squad is still over-reliant on certain players, and this is why Brendan keeps on pressing his case for better cover options. Those who keep on pointing to the players the manager has already signed and who don't get games should consider the market he's forced to shop in due to the restrictions on his budget; this is why we're signing the Jack Hendry's of this world in the first place, because he is not allowed to buy proven quality.
And the consequences of that are clear. We're nowhere near where we should be after two and a half years of the manager in charge. He's worked miracles getting more out of this squad than anyone else would have been capable of … but the chronic underinvestment in first team footballers is now glaring and is now starting to hurt us.
The manager has signed 23 players as Celtic boss. Eight have been loans including two that turned into permanent deals. Of the players who are left, four signed on free transfers. Two more signed for us on what are called "cross border compensation fees."
The others we signed for cash.
Everyone knows the CEO just pocketed a bonus in excess of £2 million; how many times has the manager been given that sum to spend on a single player?
Out of 23 signings, he's spent that just five times.
If we're going to judge his success let's do it on them.
The first of them was Scott Sinclair; by any definition that has been a success. A slew of player of the year awards in his first campaign and even last season when some say he was a huge disappointment he was our top scorer in the league.
The second was a £3 million punt on Kouassi Eboue. No-one can work this one out. Is there a player there? We've not seen him enough to know. It looked like a risk at the time – he was just 19 and had played only a handful of games – and it's proven to be one.
The next was Olivier Ntcham. We spent around £3.5 million on him. On his day there are few better midfielders in the country. Porto are ready to offer us five times what we paid. What else can you call that but a huge success?
Then there was Odsonne Edouard. Fee unknown, but certainly a club record. He will score goals, he will win us titles, he will go for a huge profit. Success.
And the fifth is Vakoun Issouf Bayo, who we've not seen yet.
Three out of the four we know have worked out.
One has been a flop.
Most of us would take that record in a heartbeat.
As to the rest? I'll do a piece on it perhaps, but Moussa was a mammoth success, Bain is an excellent backup keeper, Lewis Morgan will be a Celtic first team player in due course and Izzy is a good backup to Kieran.
Most of the others have been dismal signings and not a soul was surprised when most of them – Jonny Hayes, for God's sake – didn't work out.
The manager has been lamentably "supported" by those above his head.
He's been given sweetie money to spend, over two and a half years of full houses, two Champions League campaigns and the sale of a player for nearly £20 million. On top of that was the cash from the sale of Armstrong and the bonus we got from the Van Dijk deal.
I know people still expect us to do serious business in this window. I know the excuses have already started amongst some sections of the support who think it'll all come good in the summer. Looking at the above record, who really believes that?
The club from Ibrox, which is skint, has outspent us two summers in a row.
Who really believes Brendan will stick around long enough for us to find out if it's going to be three?
Here's the question again; when do we start to worry?
You can discuss this and and all the other stories by signing up at the Celtic Noise forum at the above link. This site is one of the three that has pushed for the forum and we urge all this blog's readers to join it. Show your support for real change in Scottish football, by adding your voice to the debate.