Let's be blunt, Gordon Strachan has always talked nonsense. Even when he was Celtic manager he would occasionally say things that were crass beyond belief; at one time he even attacked a section of our fans in the kind of language The Daily Record wouldn't have dared.
For all that, I love the guy. I am ever grateful for what he did for us at Celtic Park, even if he did stay a year longer than he should have. Had he left, in triumph, after snatching the title on that final day up at Tannadice he would have gone with the applause ringing in his ears.
This is the thing with some managers.
Some, not all.
As one Blairite lamented after his idol had hung around Downing Street too long, "they never get their departures right, do they?"
If Brendan leaves in the summer, as some expect, or sees out the remainder of his contract all the way through to ten in a row and goes then, he will get his departure right.
He will leave as one Blairite special advisor had once hoped his man might, "with the crowd wanting more … the rock star who won't play a last encore."
I have no fears about that at all. Because Brendan Rodgers will go out as a winner.
I have no fears about that either.
The stage is set for a perfect ending.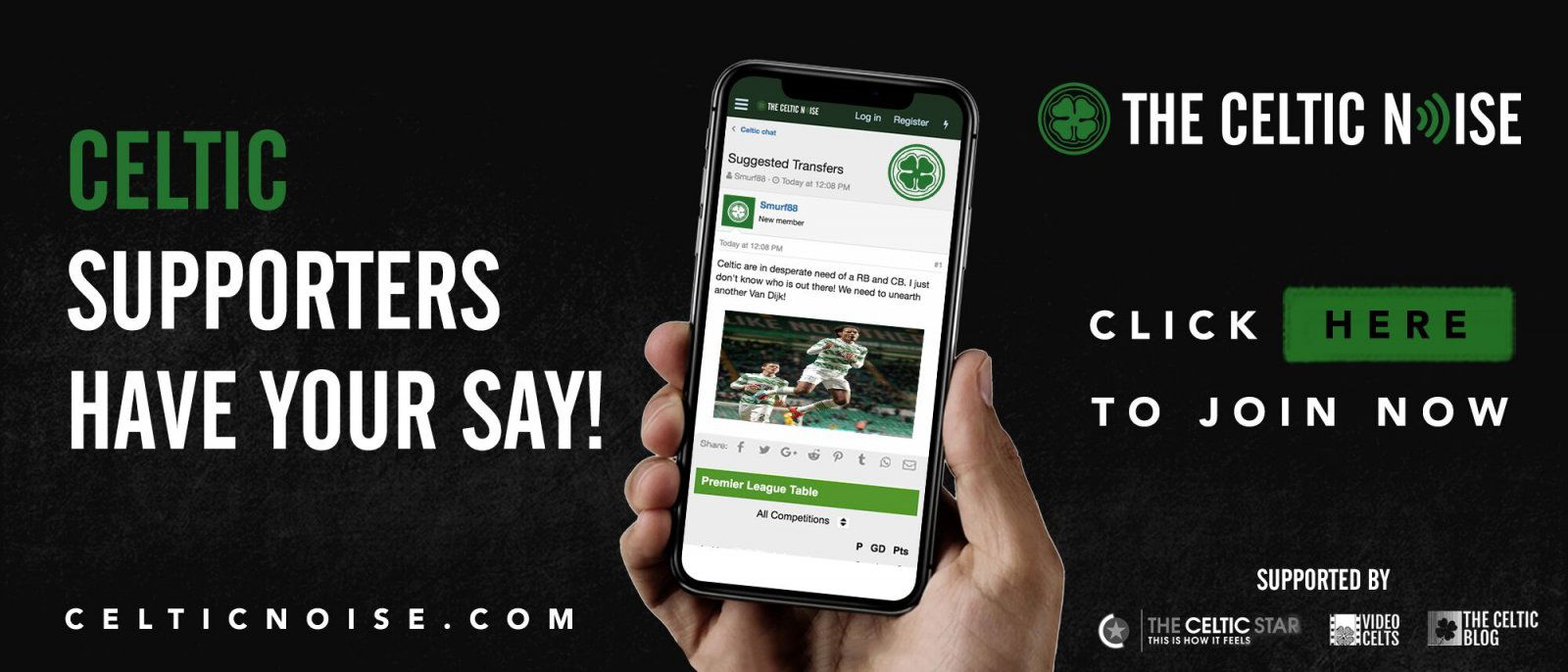 Yet Gordon Strachan thinks we should be concerned.
He thinks "alarm bells will be ringing" at Celtic Park this morning.
And why? Because the Ibrox NewCo managed to beat Aberdeen last night.
Well, they were less than stellar. They played the last 25 minutes with ten men behind the ball desperately holding on to a single goal lead. They scored their dramatic, late, fourth because three quarters of the Aberdeen team was at the other end of the pitch, deep in injury time, having thrown all caution to the wind, as teams do when they have nothing to lose.
Beating Derek McInnes at the fourth time of asking does not make a good manager or a title challenging team.
Warburton, Caixinha and Murty all got results against McInnes. This does not qualify a manager to become boss at AC Milan. It was not exactly a comprehensive victory; the home team were the better side and even at 3-1 down they were still in it.
The truth is, the Ibrox club looks far more likely to throw points away than we do. They are dreadful. You can't have watched any of their games under Gerrard and doubt this is a team woefully short of the kind of talent required to catch up to us. Morelos is clearly their best player; unfortunately for them, and happily for the amusement it brings the rest of us, he more than earns the nickname Mad Dog. Last night, he self-detonated yet again.
It is his fourth red card of the season; one was scandalously rescinded. But a ban of epic proportions is surely on its way because he is out of control and based on the manager's comments last night – simultaneously telling the player he has to reign himself in whilst also saying he won't try to change him – there's no indication that Gerrard knows how to get him in line or even particularly cares to try.
In every game he plays, Morelos is a time-bomb waiting to go off.
As to Defoe, he may have scored his third goal last night but he was open in an acre of space when the ball dropped to him. Shortly before he had gone chasing a ball where he had a head start and was still outrun and outmuscled to it. There's nothing to fear there.
Celtic's signings have all come in and made a difference already. They all look vital to the team. They have won points for on their own, and again, last night, it was one of them, Burke this time – they seem to take in turns – who scored the crucial second.
All of them bar Bayo – who we will see in due course; you had to feel for him last night – have hit the ground running.
All look like playing a decisive role in what's left of the title race.
We are in a good place right now.
And within Lennoxtown nobody is looking across the city or anywhere else except forward to the next game. Our manager and our players are focussed on the job at hand; we're the ones with the six point lead. The pressure is on the chasing pack to keep up and since the turn of the year Kilmarnock and now Aberdeen have shown they don't have the stomach for it.
The cold hard facts are simple enough; we are six points clear with a far superior goal difference, and there are only thirteen league games left to go.
We have four away games left before the split; it's the next two that are critical. Win those – at Kilmarnock and Hearts – and I don't think we can be stopped, and we're going into them with confidence high and a belief that we can keep on winning.
And if we can, then why should anyone care what happens somewhere else?
Gordon Strachan needs to unplug his head from his backside; it isn't healthy.
And especially when you're starting to sound a lot like Andy Walker.
When you loaded this piece you might have seen an option to get notifications; please subscribe to make sure that you never miss an important article again.
You can discuss this and and all the other stories by signing up at the Celtic Noise forum at the above link. This site is one of the three that has pushed for the forum and we urge all this blog's readers to join it. Show your support for real change in Scottish football, by adding your voice to the debate.