If you ever needed any proof of the "Back of the Bus" campaign that is alive and well against Celtic, I direct you to the fallout from us all but securing 8IAR last weekend.
It has been perpetrated, as always, from a number of people. on a number of fronts, with one aim; keep the results themselves, and what they mean, off the top of the news.
Keep Celtic at the back of the bus.
Unless the story is a negative one. Then, all bets are off.
As it is so fully shown in relation to the weekend at Rugby Park and the aftermath that I will take each of the points, one by one.
First, the referee.
On the whole he had a decent game. Scott Brown's tackle was a yellow and Broadfoot 100% deserved to go. The two major calls were easily dealt with. But at the end of the game, when he realised that Celtic had all but done it, Brown goes.
People will talk about how the ref had "no choice." This has always been at the discretion of the ref though,
Scott Brown clearly stopped before the advertising board, the momentum of his team mates take him forward, he goes over so as not to injure himself and others, fans get on to the pitch and go to him, not him to them. What can he do? But it has to be a second yellow?
This should absolutely have been appealed.
That rule belongs in the bin.
And where were the police by the way?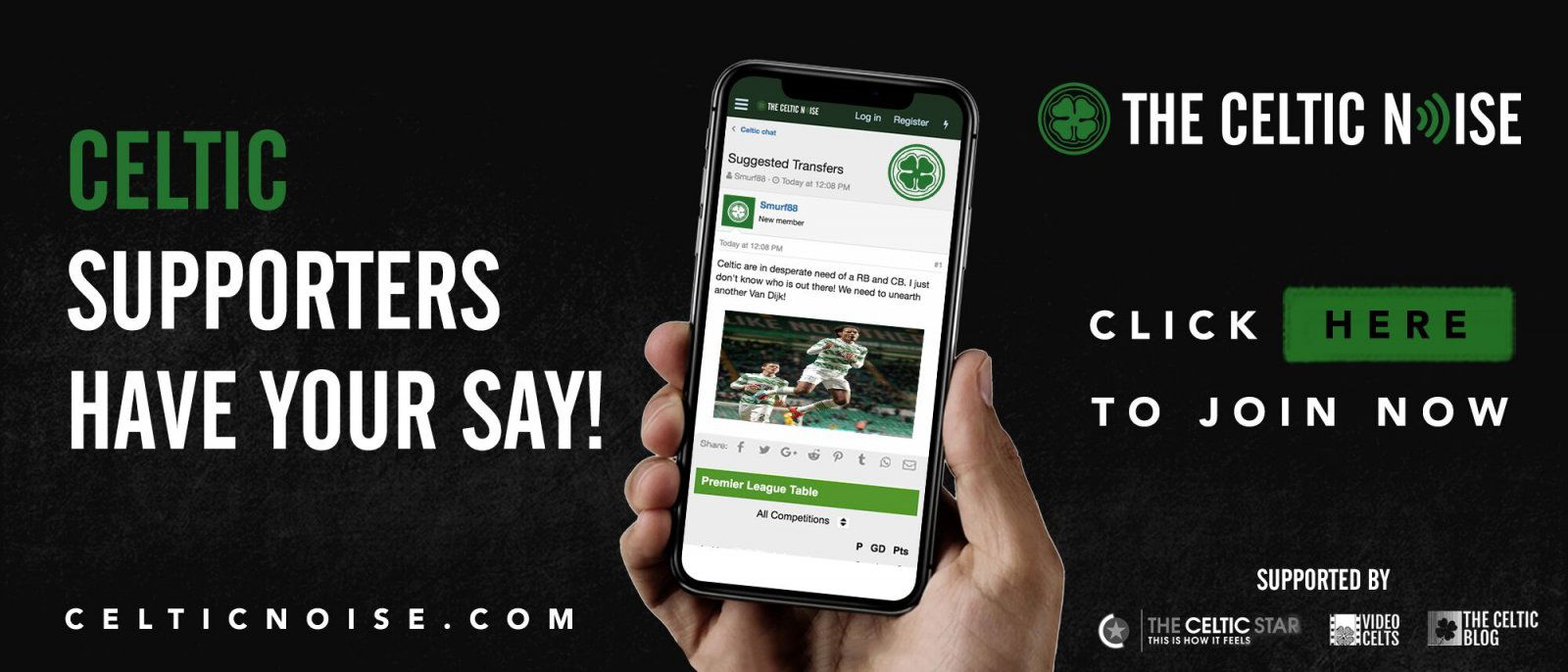 Once again "let them do it and we will criminalise later …" seems to be the attitude.
The Kilmarnock players behaved pretty poorly towards Timo Weah and then acted like big kids when he responded.
It happens so it was ludicrous that he was booked. Don't let them kid it was all about losing the game; for a handful of them it was about Celtic and using all they can to get at us. Amazingly it was Timo himself who apologised, showing them off the pitch the class he showed them in his brief time when he was on it.
In terms of Kris Boyd, and the treatment he got, well James and John Hartson are spot on, this is the biggest child of them all, he might as well have wailed and stamped his feet. Now he should not have had a coin thrown at him, and whichever moron done this is an eejit; as James has said, they are not football fans and I do not want to be associated with them and neither do Celtic.
But the name calling? Get a grip Kris, and grow up. Those who dish it out – and nobody dishes it out quite like he does – should be big enough to take it.
And then there's the mainstream media … and there are two things here.
First, Steve Clark did not "hit out" at or "slam" Celtic players for their celebration; he said it was "a bit over the top" but he actually took it as a compliment to his team. This is not "hitting out".
On top of that, there have been picture of broken seats, but there is absolutely no evidence these seats were "vandalised" as has been reported.
Given the bedlam at the goal they could easily have been broken accidentally.
There is even some suggestion that a lot of seats were broken before fans arrived.
All of this has been used to take away from the importance of that result, a massive result where we have all but secured 8IAR.
Can anyone see us being beaten in the Scottish Cup?
All of this assured that we've spent the last week mired in negative headlines and it all came at a time when we were pushing the SFA towards refereeing reform.
Our club has a history of calling out the behaviour of its own fans.
On top of that, we do something more than talk.
We even closed the standing section earlier in the season.
Let no-one say Celtic does not take this seriously.
The media which has finally called out sectarian singing wants to focus on our fans as well as those who do it every single week, yet it has taken a Steve Clarke press conference – crucially covered by the English media before our local hacks did – to spark a real debate.
But that does not excuse eejits in a Celtic strip. Which includes the flares. What part of this behaviour being dangerous confuses those of you who do it? Are you just thick? Or are you a sociopath?
You people keep the door open for our enemies.
All of this and other issues are being used against us, it is purely to keep us "at the back of the bus". You are enabling that. Yet even with you, it's not working, we see what they are doing and we are still winning, in spite of it all.
We are the only game in town. We are up front and driving the damn bus.
Dave Campbell is a Celtic fan and blogger, who is heartily sick of the constant drip drip drip of negativity in our media.
When you loaded this piece you might have seen an option to get notifications; please subscribe to make sure that you never miss an important article again.
You can discuss this and and all the other stories by signing up at the Celtic Noise forum at the above link. This site is one of the three that has pushed for the forum and we urge all this blog's readers to join it. Show your support for real change in Scottish football, by adding your voice to the debate.