Leagues are not won on those days when you sweep past the opposition and leave them in the dust. They are won on days like today. They are won in those moments like we saw here, with a ball smashed in the direction of the goal and a deflection into the net late in the game. They are won by players like Brown, who grafted all day and didn't stop running.
Eight points clear. It's all over bar the shouting.
And the squealing.
And the wailing.
And the gnashing of the teeth, of which I am sure there is plenty amongst the Peepul.
The long odyssey that has been the 2018-19 season is approaching its end.
It will finish with an eighth successive title. There is almost no chance of any other outcome.
That was a poor performance from us today. We huffed and puffed. We seem incapable of breaking their team down at that ground, and it has nothing to do with plastic pitches and everything to do with the high pressing game and deep defending they do. By the way, let's be honest, neither goalkeeper was exactly busy. They defended like their lives depended on it and were content with a point. I like Steve Clarke but his side is dreadful to watch at times.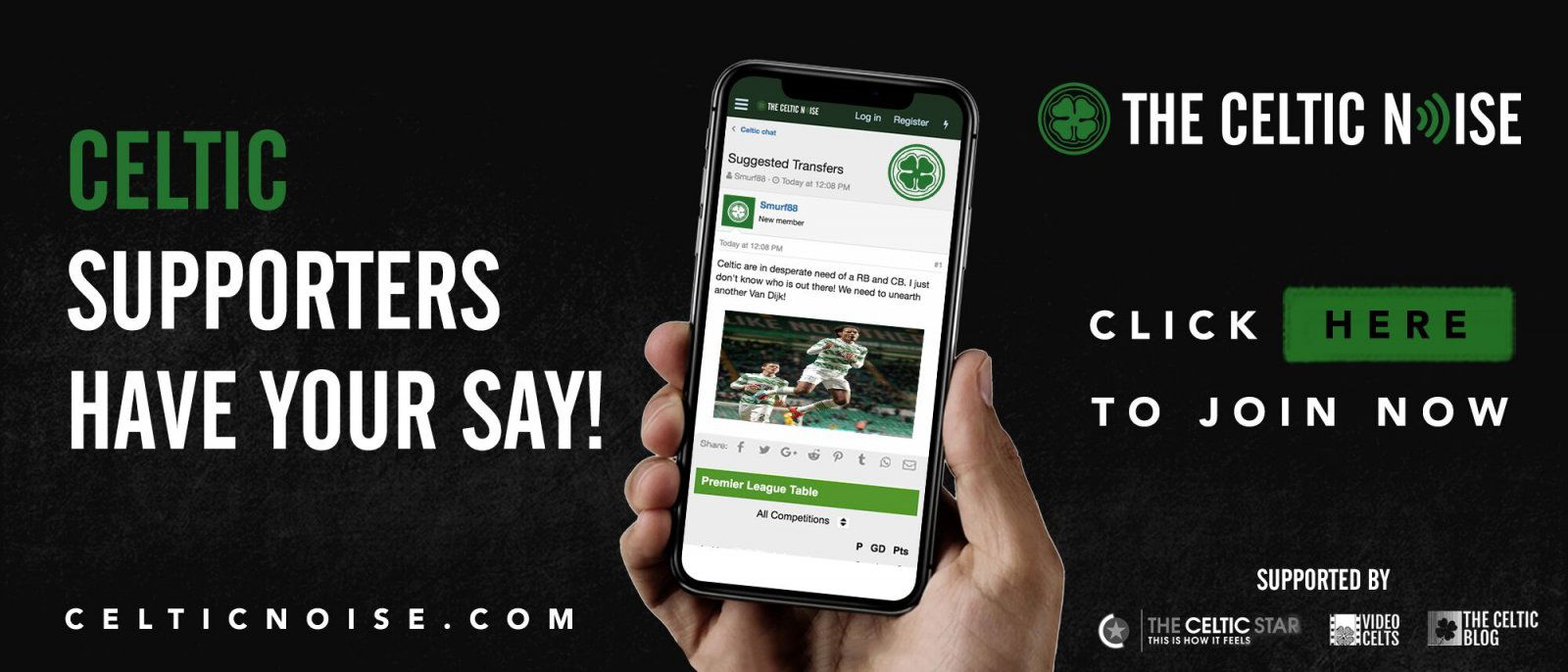 But it is also effective, and we have not yet found a proper way through them away from home. That should concern us, but it's a problem for another day.
People who are saying they feel sorry for Kilmarnock for getting nothing can keep that kind of chat for those who are interested. Teams who don't try to attack except on the break get what they deserve if they lose late goals. And equally they can stow the nonsense about the red card to Broadfoot changing the game. It was a deserved decision and as they weren't offering much up front, and sacrificed a striker for another defender, it didn't affect their chances.
I'm going to talk briefly about our supporters; almost every one of them was immense today except for a handful of complete goons, one of whom hit Boyd with a coin, some of whom threw smoke bombs and some of whom left the stand at the goal.
Celtic has to find these people and deal with them appropriately.
The coin thrower should be charged and banned for life. The smoke bomb throwers should be told they are no longer welcome at our games. Idiots who want to go onto the pitch should be put on notice that next time they'll be denied away match tickets and warned once and only once. Our fan base has no room in it for these kind of eejits and in particular those who chuck objects … get them identified and get them the Hell out of our stands.
We do not want their kind of "support."
That is the only negative, because the job is just about done. When we lost at Ibrox there was a lot of ridiculous chatter about our morale being shattered and them having the momentum. When the Ibrox club went out and signed their two has-beens we were told they'd "laid down a marker" and that those signings were "game changing."
(Yes, Sutton, I'm thinking of you.)
But our January signings were better. Our team went off to Dubai and regrouped. Since coming back we've won eight domestic games in a row, including six straight wins in the league, and all of it without conceding a goal. As I said last week, that is Invincible season form.
This team had to find something today after Thursday. They dug in. They dug deep. The performance was not great but this was always going to be a day about true grit. True grit – as much as anything – is what wins titles, and today we showed that quality.
This is how it feels to be Celtic. It's that punch-the-air feeling of securing three points with a late goal. It's the feeling of contentment that comes with an eight point lead. I read with amusement yesterday that Gerrard has already conceded.
Not that he had much choice.
Fear and loathing are running rampant over there now.
Our smash-and-grab finish only rubs it in.
That's the only thing better than winning in style.
When you loaded this piece you might have seen an option to get notifications; please subscribe to make sure that you never miss an important article again.
You can discuss this and and all the other stories by signing up at the Celtic Noise forum at the above link. This site is one of the three that has pushed for the forum and we urge all this blog's readers to join it. Show your support for real change in Scottish football, by adding your voice to the debate.