The Daily Record and a few other outlets just don't want to quit on this Simunovic thing, even though the SFA has ruled on the matter and said "no case to answer." In fact, the whining has reached a new pitch with Scott Brown being dragged into it.
One report last night said Hibs were "privately fuming." If they were, they've kept it private except for whoever decided to leak it to the press. Hibs stand-in boss didn't make anything of it when he spoke to the media today. He possesses more class than all the hacks put together.
Whatever the feelings are inside Easter Road about the three Celtic players – Brown, Simunovic and Burke – who allegedly behaved badly, there is no doubt that in certain press rooms people are not-so-privately fuming.
The Record actually did a piece today on why Burke couldn't be disciplined, as though there was even the remotest possibility that he would be.
I watched the incident for which the paper and others wanted Burke cited; it was a joke.
He falls over his own feet with no opposition player within yards. Explain to me how a player can sell a dive when he is running and falls with nobody near him? If they want to see a sterling example of a dive, I trust they will highlight with the same fervour the one Defoe made today.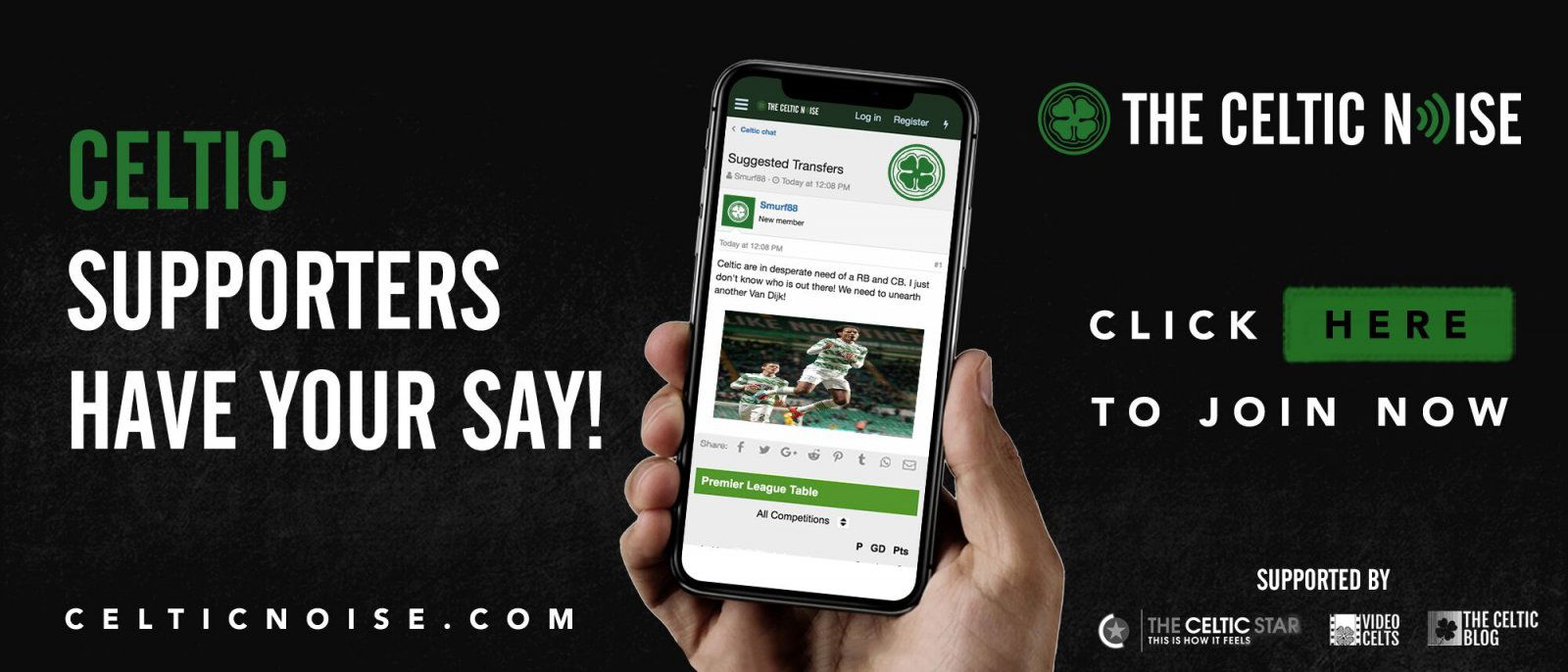 Of course Defoe cannot be done for it because in fact the moment conferred no advantage on him; frankly I would not have been surprised to see a penalty given for it anyway. No other club in Europe can boast getting six spot kicks in a week, after all. It's a stat that boggles the mind, even taking the SFA's natural predilections into account.
That someone in the press corps – for it was definitely a media person who did it – tried to have Burke done in the first place is a travesty. Not content with attempting to have Simunovic disciplined they wanted one of our January signings out for a game.
And when those attempts failed the efforts to drag Brown into it were launched with aplomb.
Today Scott Arfield was allowed to get away with a tackle laden display against Kilmarnock without drawing a card. Indeed, not one player in the Ibrox ranks was given a yellow today, despite their players committing over a dozen fouls.
The home side, on the other hand, had three yellows shown and conceded a penalty kick.
The press will not subject Arfield's performance to any kind of negative light and nor should they; it was a consistently niggly display without once stepping over the threshold which might have drawn a red. But nothing Brown or Simunovic did would have merited that either.
The fact Defoe clearly dived in an attempt to win their seventh penalty of the week will be airbrushed away as if it was nothing; it might at least shut up those who want to focus on the non-event involving Burke though. Yet this clear attempt to cheat didn't even merit a card.
I wonder whether The Daily Record will even care.
Their behaviour this way has been appalling, as I have highlighted several times.
Three Celtic players were "cleared" of offences which, frankly, only the media even saw. That two players from Ibrox were brought up on richly deserved charges must stick in the throats of some of those who spent the week fighting to clear one of them, and discipline our boys at the same time.
A measure of justice was done this week.
A measure of it, after a season of abysmal decisions and baffling judgements.
You'd think that would be celebrated by those who's responsibility it is to cover our game impartially.
There was no chance of that, and I feel foolish to have imagined there might be.
When you loaded this piece you might have seen an option to get notifications; please subscribe to make sure that you never miss an important article again.
You can discuss this and and all the other stories by signing up at the Celtic Noise forum at the above link. This site is one of the three that has pushed for the forum and we urge all this blog's readers to join it. Show your support for real change in Scottish football, by adding your voice to the debate.