There's an assumption in the media, and amongst many Celtic fans, that Neil Lennon will be appointed manager on a permanent basis when this season ends. I do not believe that should be taken for granted. Nor would a lot of fans support it.
This assumption seems to be based on a fundamental miscalculation of the board, and their overall goals for the club. The media seems to want us to forget that they had Lennon as the favourite when Deila resigned, and have not shifted from that view.
It is not only lazy journalism but it is based on faulty thinking.
Allow me to explain.
First, they believe Celtic will be looking for a "yes man."
This ignores everything we know about Neil Lennon.
He is nobody's poodle and would not come to a club where he was limited in his control over first team affairs, including the signings. Having worked at Celtic before and having in part quit over what he percieved to be interference; why would he agree to such a thing all over again?
The Celtic board knows all this too.
They know Neil chaffed at his restrictions last time, and they know too that he was "bored" by the job before long. The media would rather ignore that this is not exactly a match made in Heaven.
When I heard Lennon was in the running on an interim basis I was shocked because I'm well aware of the circumstances under which he departed last time, and the tensions on both sides. I changed my view on it when I realised what an act of sacrifice – for the good of the club – his temporary return represents. It is simply amazing that Celtic was able to come together so quickly, and it speaks volumes about the commitment of everyone here.
The second reason the media believes it will be Lennon is that the media – and a lot of our fans – don't believe we possess the requisite ambition to go for another big name.
Are they just ignoring the fact that last time we went out and got the man who, without argument, was the absolute best possible candidate? Why wouldn't we do it again?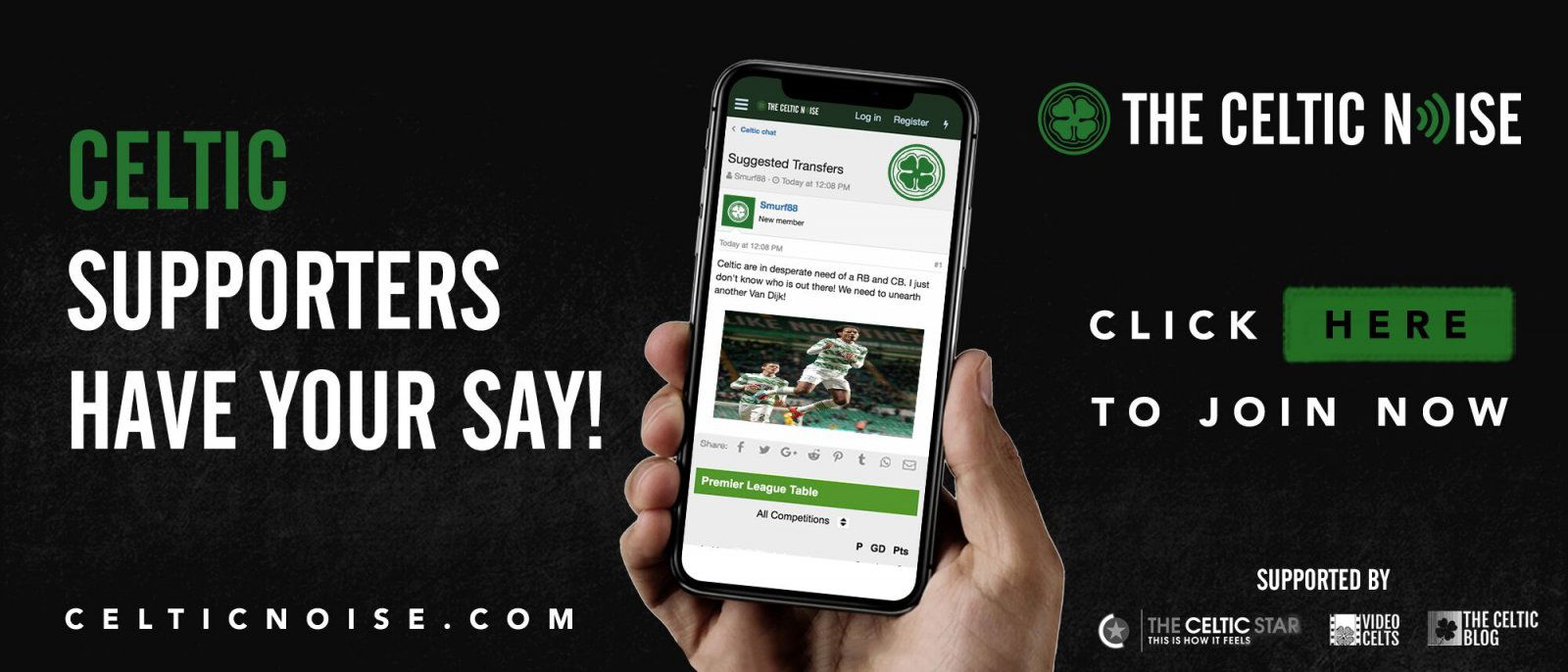 The more I learn about the latter days of the Rodgers regime, the less I feel that the board was in any way responsible for his departure. Indeed, a lot of things that appeared to make no sense have suddenly become much clearer since he left.
People have no idea the amount that was done for Brendan behind the scenes; his every whim was catered to by the Celtic board, his every desire was indulged. Having allowed him to break the club's transfer record, the board was entitled to believe they had his support when the offer for Boyata landed on the table … instead he threatened to resign.
Celtic indulged him again knowing we'd pay by losing out on a massive fee.
I could go on.
If he wasn't "backed" in the transfer market after that it may perhaps be because Celtic's directors knew he wasn't planning to stick around. In those circumstances it makes zero sense to let him spend millions of pounds of the club's money. This guy wasn't building. He was holding us to ransom and planning a departure as soon as he could get out.
Celtic had ambition enough to go for him in the first place and to offer him such support as we were able, and not just in the transfer market.
We invested in the new pitch he wanted.
We allowed him to change the backroom team – which he then took with him.
He got rid of John Park, which a lot of us supported at the time but in hindsight was a calamitous move. He brought in his mate Congerton instead, and that has been a total disaster.
Yesterday reports suggested that we're not only looking at a new management team but at a director of football too. It is long overdue; it removes Peter Lawwell from any further role in those matters and allows the next manager to build a relationship with a DoF which keeps the football department from working at cross purposes.
Expect the appointment of the Director of Football first; it makes sense to do it that way. He, then, can help with the hunt for the new boss. Rodgers departure clears the decks and lets us start from scratch, and we have plenty of money with which to do it. We have the money to offer a big salary to the next guy, which broadens the candidate list significantly.
Who would be on my list of options?
There are some outstanding candidates out there; I personally would not stop ringing Roberto Martinez until he was sitting at the unveiling. Failing him, I can see the case for Marco Rose at Salzburg, one of the most promising coaches in Europe who has built an outstanding football team for less money than Rodgers had, and which beat us twice with relative ease.
For the record, Steve Clarke has never been on my A list; he's a good man, but hasn't achieved anything in the game which makes him a better bet than Lennon himself.
Third and last, there seems to be a view that Lennon would not have taken the job on a temporary basis without some kind of guarantee.
It's absolutely ridiculous to suggest that.
Lennon has a clear cut commitment to Celtic which over-rides anything. He has returned because was needed, because the moment demanded that someone who understood the club steady the ship.
This is the reason I u-turned on Lennon in the first place, from where I didn't believe it was a good call to where I've wholeheartedly embraced it on a temporary basis.
It is an act of sacrifice, for the good of the club.
When I try to think of an historical analogy, the one I come back to over and over again, and one I think Lennon himself would be pleased with, is Lucius Quinctius Cincinnatus.
Cincinnatus was a Roman general, patrician and consul of the Republic who lived about 500 years before the birth of Christ. He had severed as Consul for the year 460 BC and on his retirement went to his farm and settled down to a quiet life.
But two crises, one in 458 BC and another in 439 BC, had the Senate beg Cincinnatus to return, assume power, and put down the threats. Which he did, on both occasions. Then, with absolute authority, and with the Senate ready to bend to his every whim – he could easily have established more lasting dictatorships – he did something incredible; he resigned all his offices and returned to his farm. Twice he had supreme power in his hands and twice he returned authority to the elected body the moment the situation that called for it was past.
He is regarded as one of the true statesman of the Roman Republic.
And that's Neil Francis Lennon, who was called and who came.
Do I think he'll go quietly when the current season ended, if that's what the board decided? Of course I do. Unlike the charlatan who recently wormed his way out the door, Lennon does love Celtic and that's why he came back. That's why he stepped in. Whatever happens next with the succession is not his primary concern; he wants to get us through the storm.
And for that, yes, he has the unqualified support of every single one of us and deservedly so.
When you loaded this piece you might have seen an option to get notifications; please subscribe to make sure that you never miss an important article again.
You can discuss this and and all the other stories by signing up at the Celtic Noise forum at the above link. This site is one of the three that has pushed for the forum and we urge all this blog's readers to join it. Show your support for real change in Scottish football, by adding your voice to the debate.