Celtic's last minute winner might have slapped some whitewash on what was an otherwise dreadful and unconvincing performance, but it has had the predictable effects on some of the people who you'd expect to be fuming after such a late display.
Two of the most notorious can be found at BBC Scotland, and they were at their whinging worst on Sunday following the match. I refer, of course, to Chick Young and to Tom English, both of whom found separate reasons to complain, neither of which masked their obvious hurt.
First off was English himself, with a Twitter rant about Lennon's celebrations at full time. He tried, in vain, to make a case that it was not dissimilar to the kind of touchline jubilation we have mocked from the Ibrox club at certain points this season and last.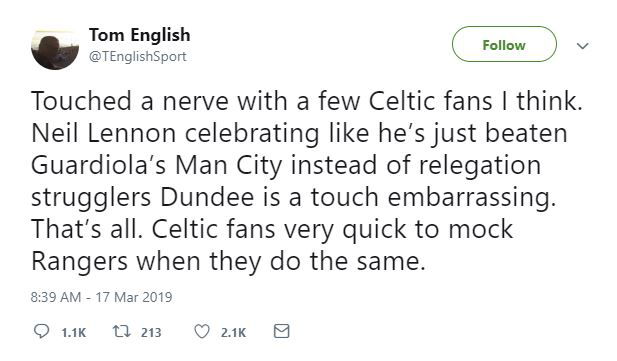 Of course, this is purely idiotic. For openers, Lennon and his backroom team celebrated on their own; there was no impromptu pitch invasion from our supporters to greet the goal, and it was that as much as anything which Celtic fans wanted to highlight about the NewCo scenes.
With everything going on at the present time, you'd have thought encroachment onto the playing field was something the media would take seriously, instead of ignoring its implications and instead trying to use it as a smokescreen.
For another thing, this was a victory that virtually wrapped up the SPL title by giving Celtic a solid 10-point lead going into the game at Parkhead next weekend. We sniggered at the Ibrox lot for getting overexcited at results which in the grand scheme of things mean the sum total of nil. Yes, they may have kept a flicker of hope burning but that hope only existed in their febrile imaginations anyway. Three points is not an achievement. Eight in a row is.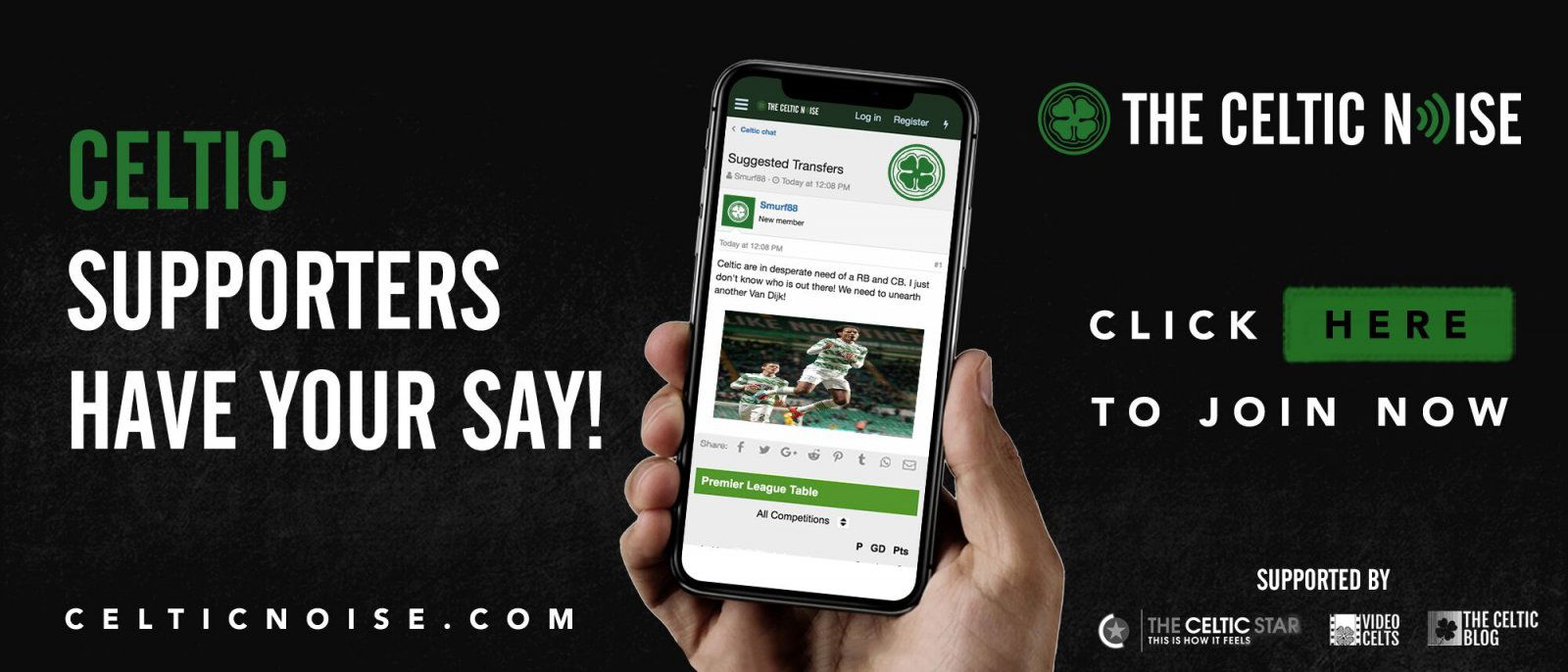 Finally, as English knows full well, as he is completely aware, Lennon was celebrating the chance at keeping the Celtic job full time. That goal is one in the win column, and he needs to put almost every point in that column if he's going to convince a lot of the fans never mind the Celtic board.
I may not believe he should get it, but I wholly understand his reasons for dancing on the touchline in such delirium. His passion for our club is readily apparent, and in the eyes of many people he took a step closer to being confirmed as the next manager.
I'm awfully sorry the sight of someone who might be on the brink of a major leap forward in his career so offends Tom English, who's own career has plateaued and who, as a consequence, is forced to cover a sport he doesn't even like, and who's comments demonstrate over and over again is one that he really doesn't understand terribly well either.
Which brings me to Chick Young, and his ranting and raving and foaming at the mouth over the six minutes of injury time the officials added, in which we won the game.
Now, really, I don't know what Chick's particular problem with that was.
Isn't he a St Mirren fan?
Cause that goal did his team one almighty big favour. You'd have thought he'd have been grateful for it, with just one point separating his team from Dundee. If his club wins their game in hand they are out of the automatic relegation spot.
A little more love was expected, Chick, it really was.
Instead what we got was the bitter ranting of a man who had seen defeat snatched from the jaws of a modest victory.
Since only one other club – aside from St Mirren, who he clearly wasn't terribly concerned with – was impacted here, you have to wonder if his anguish wasn't for the Ibrox side … which is kind of silly, isn't it, as we all know that Chick doesn't have any affection for them, right?
Honestly, you don't have to be a genius to figure out what really galls these people. The number of folk who bought into the Going For 55 hype; whatever planet they were living on, it just ran out of oxygen and the realisation of that is clearly hurting.
You know what makes this all the more bizarre?
We weren't the ones standing outside in the pouring rain this weekend complaining about "biased coverage."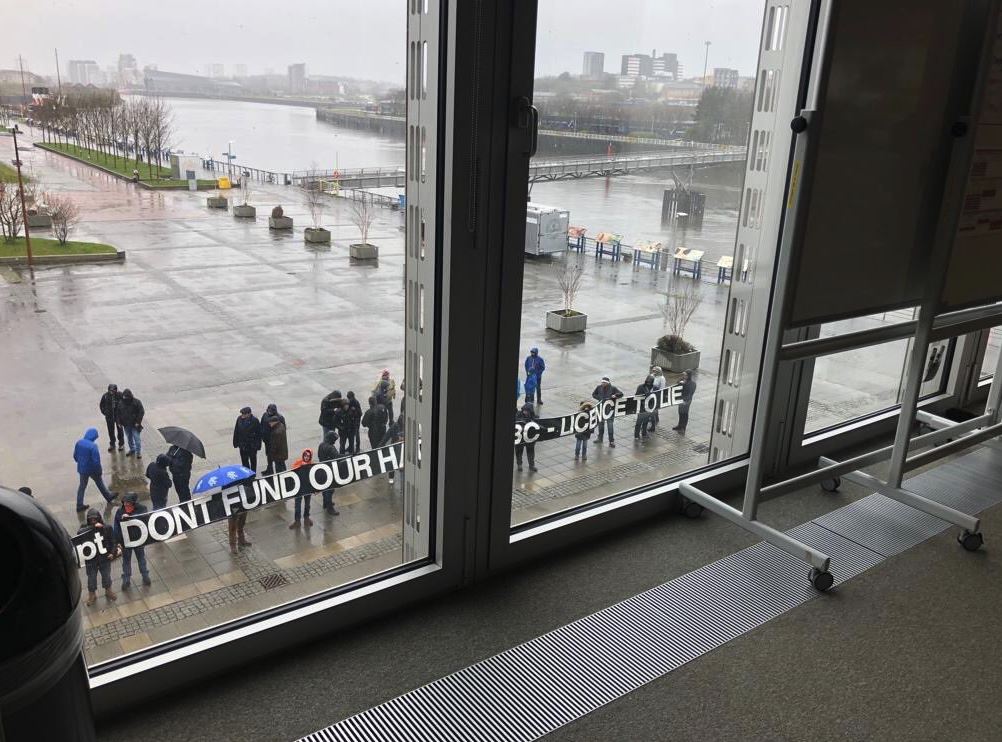 We don't get any love from Auntie either it seems to me.
It's a tough old world, isn't it?
If you've not already done so guys, please join us over on our Facebook group.
When you loaded this piece you might have seen an option to get notifications; please subscribe to make sure that you never miss an important article again.
You can discuss this and and all the other stories by signing up at the Celtic Noise forum at the above link. This site is one of the three that has pushed for the forum and we urge all this blog's readers to join it. Show your support for real change in Scottish football, by adding your voice to the debate.