This is another Rodgers article, and I make no apology for it.
His departure was two weeks ago today and anyone who has "Brendan fatigue", well I understand that but the issues that remain from the manner in which he left and which impact on the steps the club takes next are so big that it would be remiss of me or any of the bloggers to ignore them.
In other words, this is still an ongoing situation and it will remain so because it asks questions about our club and, indeed, our support which require answering.
On top of that, there's an allegation or two out there that I want to puncture like a balloon; it's the idea that somehow the bloggers have been "given their lines by Lawwell" and we're now trotting out blatant propaganda on behalf of the club.
It is absolute nonsense, and people should know better than to promote it.
Ever since Rodgers did his midnight flit, there have been roughly two camps amongst the Celtic support. Those who think it was a colossal act of betrayal and those who think it was the fault of people at the club itself.
Even those who think there was wrong on both sides aren't shy about putting the boot into a preferred party.
I can't solve that conundrum, but I can explain the reasons why I've turned around on this issue, and that's what I want to set out to do here.
As everyone is aware, I spent the summer blaming the board for the Rodgers rift, and I may have continued doing so had the manager not left as he did, like a thief in the night, a man who didn't even have the decency to break it to the players himself and who left John Kennedy high and dry holding the bag without even a coaching staff to lean on.
Had it not been for Lennon's availability we'd have been, and would still be, in a world of trouble.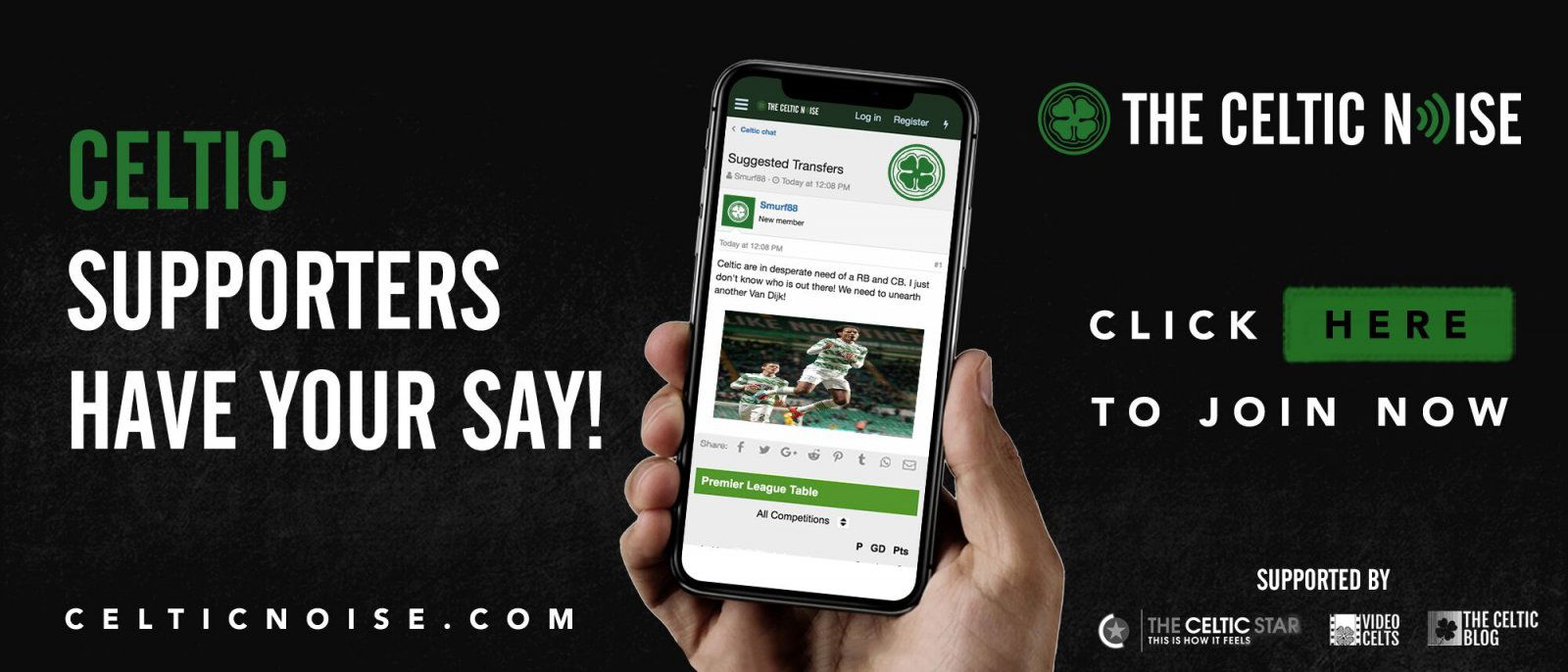 Rodgers didn't care about any of that and because it's so obvious that he didn't I have made quite the journey in the last 14 days to a place where I am no longer quite so prepared to lay the blame at Peter Lawwell's door, or those who serve with him as directors.
I would caution those who continue to blame the club to think long and hard about the sequence of events as we understand them now, as well as the conduct of the man who was formerly in the manager's chair. I think it paints a very clear picture.
Over the course of the season there were many indications pointing to Rodgers intentions. I personally ignored big red flashing warning signs here.
Cards on the table; aside from my own knowledge of how pissed off people inside Celtic were at Rodgers behaviour in both private and public – and which I detailed in this article – I heard dozens of rumours and snippets of information during the course of the summer and this season.
Much of it I was willing to dismiss. I was wrong to have done that.
Some of what they alleged – such as that Rodgers had allegedly received an offer from a club in China – has subsequently been confirmed in public, including by the manager himself. There is little doubt that a lot of things happened in the summer which leaked for one reason or another and which showed clearly that Rodgers was not fully committed to the cause.
It appears clear to me, on proper reflection, that Rodgers' behaviour behind the scenes was abysmal, and that he had one foot out the door from at least pre-season.
The standoff – which he was entirely responsible for – in the run-up to the AEK Athens game was an attempt to blame any failure on his part on people inside the club, and he was playing that game all the way through the season, dropping it into conversations with the media at varying intervals.
And I owe some parts of the press an apology as well.
For once, I do believe the hacks were in front of us on many fronts during this. If it seemed like he was being linked with every job going (and he was) it was because they knew he would go the first time a decent offer came along, probably because Rodgers had been briefing that but possibly because someone else at the club had.
In truth, what characterised almost all of my coverage of the campaign, and that of several other bloggers, was a wilful suspension of critical thinking. It was the equivalent of putting our fingers in our ears to block out anything we didn't want to hear.
That's not a criticism, by the way. It's perfectly obvious why we did it.
Put simply, most believed that Rodgers was "one of us" and that he understood Celtic and the place in history that was surely going to be his once nine and ten in a row were secured. I personally stopped thinking he might be around for that pretty early on in the campaign.
I thought he would leave in the summer, having got us at least to eight.
So based on two weeks digging around and going over every rumour and every story I heard, what do I think happened?
I think it was all about money, every bit of it.
He used the interest from China to negotiate himself more money from our club, in the form of a seven figure bonus plus stock options for qualifying for the Champions League Groups.
His outburst before Athens came to Celtic Park was all about his concern for his own bank balance, and preparing the exit path in the event he didn't get that cash.
From the moment we went out, the writing was on the wall and I think he was actively looking for the exit door from then on, so he could earn more.
It was this attitude that led to Dermot Desmond telling him during that meeting the troika had in London that "you are the highest paid manager in the history of this club and you need to start acting like it."
I believe that several players, including Moussa Dembele, were fully aware that the manager might not be for hanging about because they had been encouraged to leave with him when the time came. I think the Dembele detonation was so spectacular because the player genuinely believed he had been done up to look like the bad guy when the manager was every bit as guilty as he was of having one eye on the far horizon.
Who cares at this point whether Rodgers had the option to go to Leicester at the end of the season, or whether he knew it was a one-shot deal?
As Desmond reminded him, he was the highest paid manager in the history of our club.
This guy wasn't starving at Celtic Park.
Remember all that talk, all the way through the season, about how Celtic had a "moral right" not to stand in the way of anyone who wanted to leave looking for greater financial rewards? A lot of us thought that was pretty altruistic; I now think Rodgers was trying to rationalise, in advance, the decision he had already committed to for himself.
When he says he'd hit the glass ceiling and taken us as far as he could that is flatly contradicted by the fact we were still in the midst of a league campaign and on the brink of the Treble Treble.
I do believe he thought we'd gone as far as he could take us in Europe, but for all his ego that's an admission that he had run out of ideas. Our results in that arena were deplorable, but then his results in Europe always were, even when he had the might of Anfield at his back.
I believe his European record with Celtic will be bettered by the next boss.
The club he has gone to has limited prospects when it comes to challenging for honours.
He is well aware of that, as he's well aware that they have a habit of sacking managers. He talks about how he wanted back to England for the good of his career, and that's worth considering from the man who rationalised the sales of players from our club to EPL sides for the same reason.
Is it really about bettering your career to go to a Brighton or Huddersfield though? Or a Leicester?
Those clubs have exactly one thing going for them; money. And it's that which drives Rodgers, and nothing else. He won't even care if he becomes the latest manager to be sacked at the King Power Stadium because he'll have negotiated himself a mammoth pay-off.
There are those who will say that Celtic stifled his ambition.
But the last significant act of his in the transfer market before he decided to publicly slam our board was the breaking of our long-standing transfer record. I believe mistakes were made in the summer – big ones, huge ones, colossal ones – and that we ought to have gotten in better quality, but from the moment Rodgers made it clear that he had one foot out the door it would have been counter-productive to allow him greater resources.
The January window, which I praised for the quality we did bring in, was notable for the short-termism at the heart of it. It now seems pretty clear that this was a deliberate strategy from the club to allow the next manager the funds required to rebuild those areas of the pitch which Rodgers had neglected, including the centre of defence.
Look, I understand why some people dislike our current board and in particular the CEO, who has previous for getting involved in areas of the club which are precisely none of his business. But what I don't understand is how anyone can think that this blog, or indeed any of the other advertiser led sites, can be prisoners of Lawwell or the board.
The club doesn't pay my bills. The day I worry about what people inside Celtic Park think of what I write here is the day I stop doing it. It's not my job to explain their mistakes or dress them up. I'm here to write as honestly as I can about everything that happens at Celtic Park. You may have noticed that it sometimes leads to me making mistakes of my own, that and my tendency to publish when I've not properly taken the time to consider events.
The job doesn't always allow me that luxury.
But it's been two weeks now since Rodgers walked out on us, and I have had time to consider things, both in terms of the actions that we know about and in how they either support or disprove those other things about which we've only heard rumours. I think that his public behaviour makes some of those private accusations far more likely to be true, and I believe that some of those rumours are wholly supported by what is now in the public domain.
Why is all this still important 14 days later?
The answer to that is surely obvious; it is important because the club is asking us to keep the faith whilst it sorts things out behind the scenes. Those who blame the club for Rodgers' departure need to consider whether they really believe the club was at fault.
I am not suggesting that the board gets a free ride. I am suggesting that they get the benefit of the doubt as they try to put things back together.
They have major decisions to make and this site and all the other sites will be carefully monitoring the choices they make, including their efforts to secure the services of our next manager, and begins the arduous task of preparing us for the summer ahead, a summer which will be massive and game-changing one way or another.
Those who think we should be demanding answers from the board are right in a sense, but there's really only one question at this point which requires one and it's this; what is the plan going forward? The club's silence on that will certainly not avail, and it is high time that someone inside Parkhead showed his face and went on the record and told us what's going on.
The most valid current criticism of the board is that they do not do enough to inform the fans about what their medium term plans are like. This leads to speculation and rumour when it could all be put to bed with openness and transparency.
It is high time someone inside Celtic Park got in front of the cameras, submitted himself to a full and searching interview, and gave us some honest answers.
On that one, I'd think there is total agreement from within the Celtic Family.
When you loaded this piece you might have seen an option to get notifications; please subscribe to make sure that you never miss an important article again.
You can discuss this and and all the other stories by signing up at the Celtic Noise forum at the above link. This site is one of the three that has pushed for the forum and we urge all this blog's readers to join it. Show your support for real change in Scottish football, by adding your voice to the debate.