The camera never lies. That's what they say anyway.
But what it shows is clearly open to all sorts of interpretation.
Because a video, which The Scotsman's resident clown Joel Sked thinks shows the reasons Brown has been cited, very clearly shows why the charge against him is simply farcical.
You can judge it for yourself, but what it shows to me is Brown celebrating in front of his own fans.
— Ahcumfaegovan (@bobmcphail) April 1, 2019
Let's talk for a minute about Sked; it's no wonder he reckons this shows something else.
He has an article up today which is absolute clickbait garbage of the worst sort, a "50 most highly valued SPL players" piece, with the figures taken from Transfermarkt.com which puts Ryan Christie down as £1.06 million player. I rest my case.
That's all you need to know about the so-called journalist who stuck this video up and then claimed the SFA case hinges on it.
If it does then there's really no case to answer.
The video shows Brown, for less than two seconds, standing with his arms aloft. Is the gesture being made to the Ibrox fans? You could argue that if you wanted to, but it could be equally argued that he did it in front of the massed ranks of his own supporters.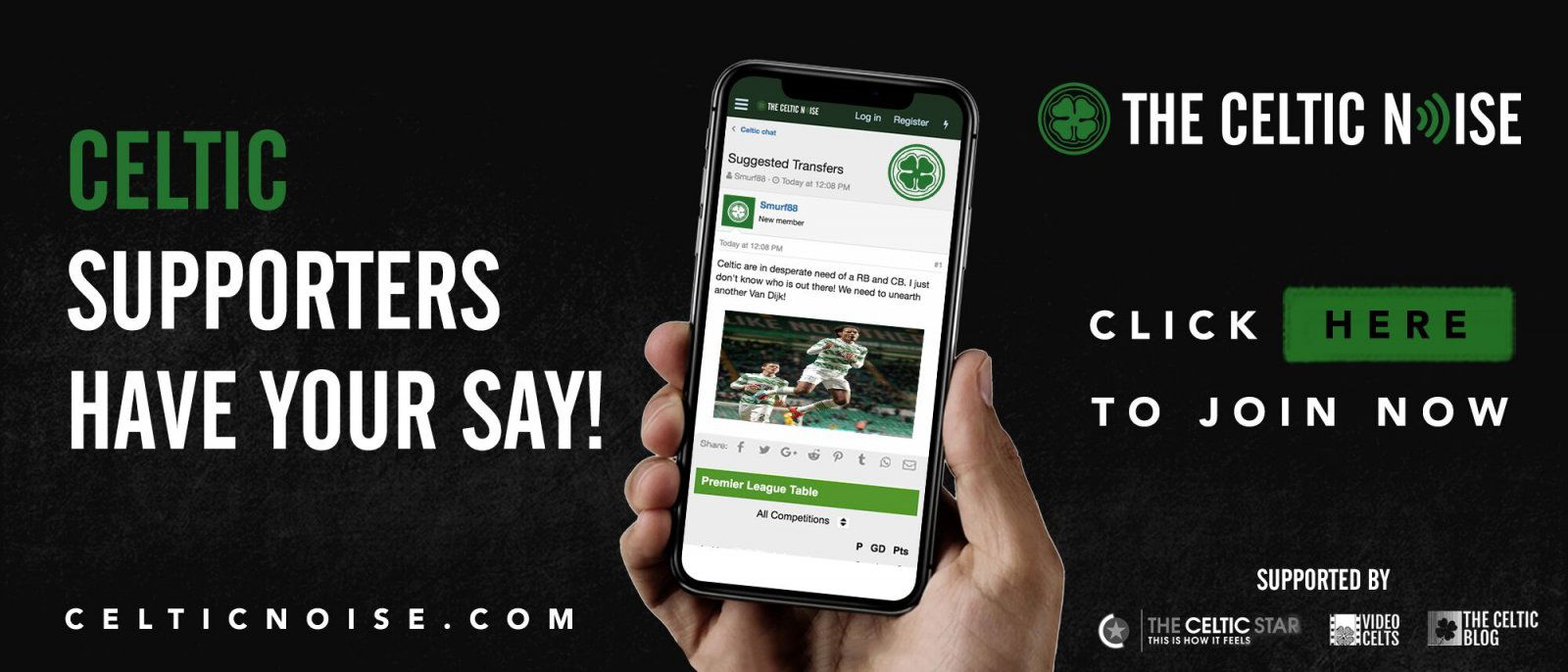 "A video shows why the SFA have brought the charges against Brown," Sked's idiotic piece reads. "The 33-year-old stood with arms aloft in front of the (away) support and appeared to cross himself before giving what can best be described as a 'get it up you' gesture as he made his way up the touchline. It has been argued that he was doing so in celebration to Celtic fans but the video shows him looking at the away support."
The video shows what? Where? When? At what point?
Number one, he had his arms aloft facing the Celtic fans. He "appeared to cross himself" …. You could argue that if you were desperate, although it happens so fast I had to watch it a few times to spot it and I'm still not sure that's what it was.
But even so, so what?
He doesn't do that gesture openly in their faces.
And even if he did, so what?
It's a gesture football players make every day of the week; only one set of fans in the whole of world football (and some journalists) have a problem with it.
And the "get it up you" gesture, looked a lot to me like punch the air triumph.
Honestly this is the most desperate interpretation of a piece of footage I've ever read in my life.
It is wholly disreputable for a member of the press to conduct his own trial by TV in such a shameful manner.
The SFA's case is outrageous.
If it's based on this – and it has to be – then it is a scandal. I have watched it ten times now; Brown does nothing wrong.
You really have to biased – hopelessly, scandalously biased – to suggest otherwise.
That video clears Brown completely.
There can be no other verdict in this case.
When you loaded this piece you might have seen an option to get notifications; please subscribe to make sure that you never miss an important article again.
You can discuss this and and all the other stories by signing up at the Celtic Noise forum at the above link. This site is one of the three that has pushed for the forum and we urge all this blog's readers to join it. Show your support for real change in Scottish football, by adding your voice to the debate.