Well, it's the morning after the Glasgow derby.
Before the game, all the talk was, of course, about how the Ibrox side "could" win and what it would mean if this happened and they did this and that, and capitalised on any mistakes we made.
Fools.
They were so in their heads that they ignored how the Ibrox game had affected us and how we had taken the pain and hurt of that day to refocus.
They ignored that we have the form, and players returning, and that these things, along with our ten-point lead, all but clinched eight-in-a-row.
I knew we would win. End of.
What I wish to discuss here is the summer and the need for investment in the team.
Now we, as fans, have rightly questioned the lack of financial outlay on players these last three seasons, whilst recognising what we can afford. But the very fact that the club is sitting on a huge cash surplus demonstrates an ability to spend which we are yet to make good on.
Putting aside the personality and conflict issues between the boardroom and the football department, which we all know played at least some role in Brendan's early departure; all major companies (and Celtic is a company – like it or not) have conflict at these senior levels. But there is little doubt that Celtic has not spent appropriately on the team to grow in the way we could. We have all asked why.
One of my degrees is in business, financial planning included of course, and while I do not claim to be, or even think, I am on an equal footing with men like Lawwell and Desmond. I do think I see a strategy.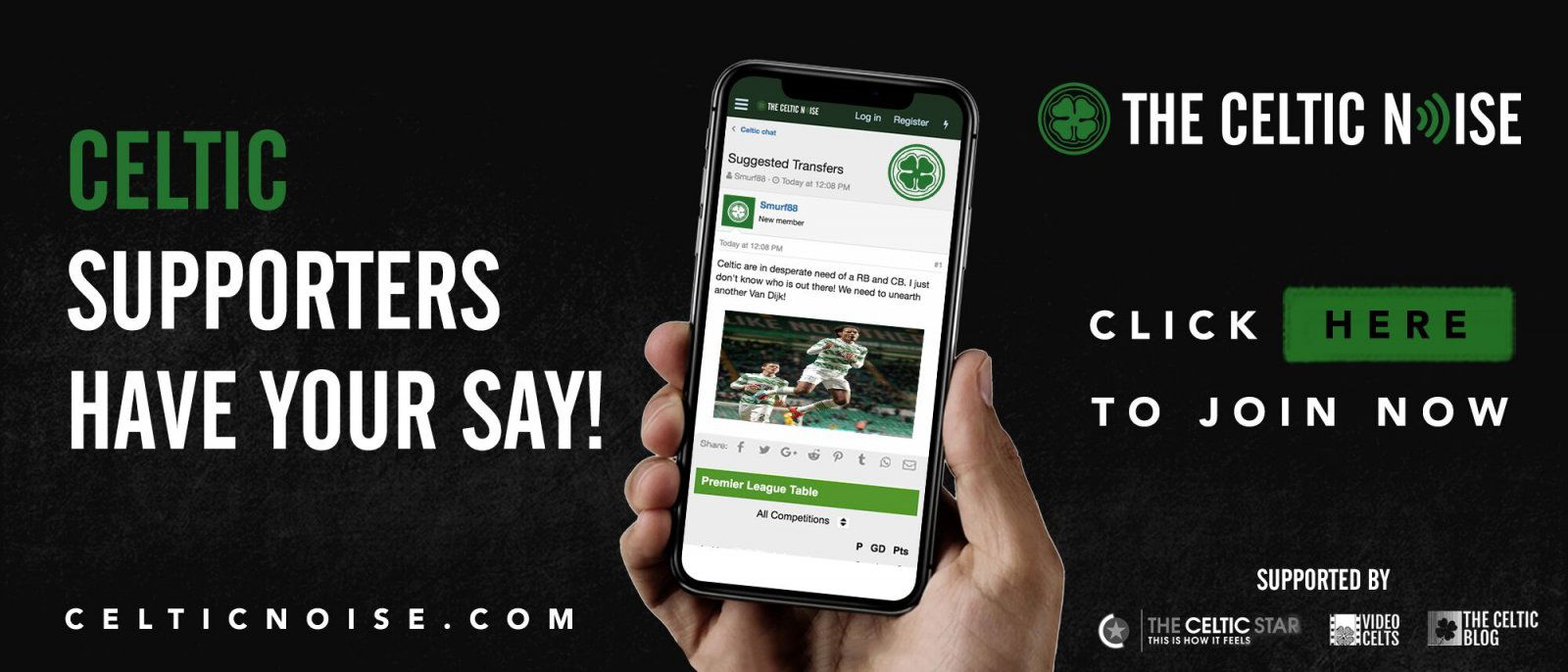 And – I may be crazy – it is this; why spend heavy to win six, seven or even eight in a row when we don't really need to – and all custodians must consider this next point – where if we fail and have all these high paid players on the wage bill?
We plan properly.
But now that eight is done, we're on course for the big two titles with plenty to spend to spend to bring nine and of course the Holy Grail of ten in a row. Spend on players that won't be running down contracts at 9/10 and who can't hold us to ransom to complete it.
Now I do not believe – I don't think any Celtic fan believes – that we should throw money at players; no, I wouldn't want that.
The strategy we have, of developing young talent, guys with a sell on value, but players of decent quality … well it works.
Now we are at this point, this is the time to spend for the showpiece player or players, and not your 33-35 plus guys who are past it. No more of these has-been, overpaid journeymen who think they are special because some mug of an EPL chairman thought it was a good idea to pay them £100k a week. I mean emerging quality; they are out there, and I think this where we could really step it up.
Clearly, the return of John Park would form a huge part of any strategy along those lines.
Lee Congerton was highly rated, but it seems to me by the previous manager only. I have heard that one of the early conflicts between Lawwell and Rodgers was about John Park leaving and Congerton coming in; the manager insisted though.
In my opinion, John Park was always likely, if not certain, to return.
Now I do not have any specific information about this – it is my own humble opinion, based on what I see and understand. But I do think this could be part of the strategy being run by Peter Lawwell and the board.
Say whatever you will of Lawwell, but James has confirmed that he is a dyed in the wool fan who wants to beat the lot across the city. He has turned down more money in more fashionable leagues to stay with us.
Unlike some, who say they are "fans".
He wants ten in a row, and I genuinely believe that. It would be his legacy.
The media attention, worldwide, on nine and then ten in a row is going to be intense and constant; the club's image will grow as a result, and especially if we continue to act in a professional manner and the other lot continues to melt down.
I think that this is where we invest properly in the team, where we push the boat out and really go for it. If we manage to get a European run in one or other of the tournaments we are set. Think of how the brand could grow.
The investment on the stadium, on those fancy lights etc, well these things were clearly done with some big events in mind, and putting the pieces in place for all that takes time and then time to settle and be run properly; spending on players can be done a lot quicker.
The thing is, it all seems to be aligning at the right time, doesn't it?
Could this be why there are bigger names interested in the manager's post?
The stories about Rafa Benitez and Marco Rose both have substance. It's known in the game that Celtic are ready to step up. Remember Roberto Mancini saying he would love to manage Celtic if they had a bigger European foothold?
Celtic knew the previous manager was on way no later than this summer; did they expect how and the way he did it, like sneaking out on a one-night stand? No.
But they were planning for it, that's why there has been no major panic.
Neil Lennon would have been on the list anyway; his availability as interim has. likely, increased his chances, depending on how we finish the season, but it is by no means a given that he will be the next manager whatever he achieves.
The other element to this – which makes it even more of a possibility for me – is the current push to reform European football.
Celtic have a seat at the table, and a voice already, but a push in our global profile over the next couple of years would, undoubtedly, make our voice louder and make our club more central to events, rather than on the fringes where we are just now.
Our relationships with similarly positioned clubs like Ajax and Anderlecht are part of that.
Again, regardless what you think of him, Peter Lawwell is a shrewd, clever businessman and he knows the politics of football. He is a formidable business strategist and that's why Dermot Desmond – no fool himself, of course – trusts him implicitly.
Now, to make it clear, I have no inside information, I am doing what all writers of pieces like this do; stating my opinion. I am drawing conclusions from what I see and what I know; but it all makes sense and adds up.
I may be way off, and Celtic won't dip into those cash reserves. It might well be that with the prize literally within our grasp that we will rest on our laurel and give that mess in Govan further belief that they can overhaul us.
Do you really believe that though?
Nah me neither.
Dave Campbell is a Celtic fan and blogger from Glasgow. He is delighted with yesterday's win and optimistic for the next two campaigns.
When you loaded this piece you might have seen an option to get notifications; please subscribe to make sure that you never miss an important article again.
You can discuss this and and all the other stories by signing up at the Celtic Noise forum at the above link. This site is one of the three that has pushed for the forum and we urge all this blog's readers to join it. Show your support for real change in Scottish football, by adding your voice to the debate.