Social media never fails to amaze me.
Well, sometimes maybe.
Before the weekend's game I read so-called Celtic fans tweeting that they'd sacrifice the Scottish Cup so that Neil Lennon doesn't get the Celtic job on a permanent basis.
And one loon-ball piped up with "aye, could maybe lose the league just to make sure".
That's either extreme trolling or extreme lunacy.
Celtic could be playing tiddlywinks against Alloa Athletic and I'd still want them to win. That's the passion that fans feel.
Any Celtic fan that tweets that nonsense should go to the nearest mirror and have a long, hard look.
Then head-butt some sense into themselves.
These types are for the watching. They are likely to be ones who will queue at midnight with sleeping bags and flasks just to buy the latest Assassin's Creed. You know, the ones who will be out cleaning the car on a Sunday Morning whistling Ronan Keating songs at 9am.
This site has published several articles saying Lennon shouldn't get the job.
It has published an excellent piece by Kevin McKenna on why he's perfect for it.
Debate is good. Debate is necessary. But there is criticism that goes beyond debate, and that's what some of it has been.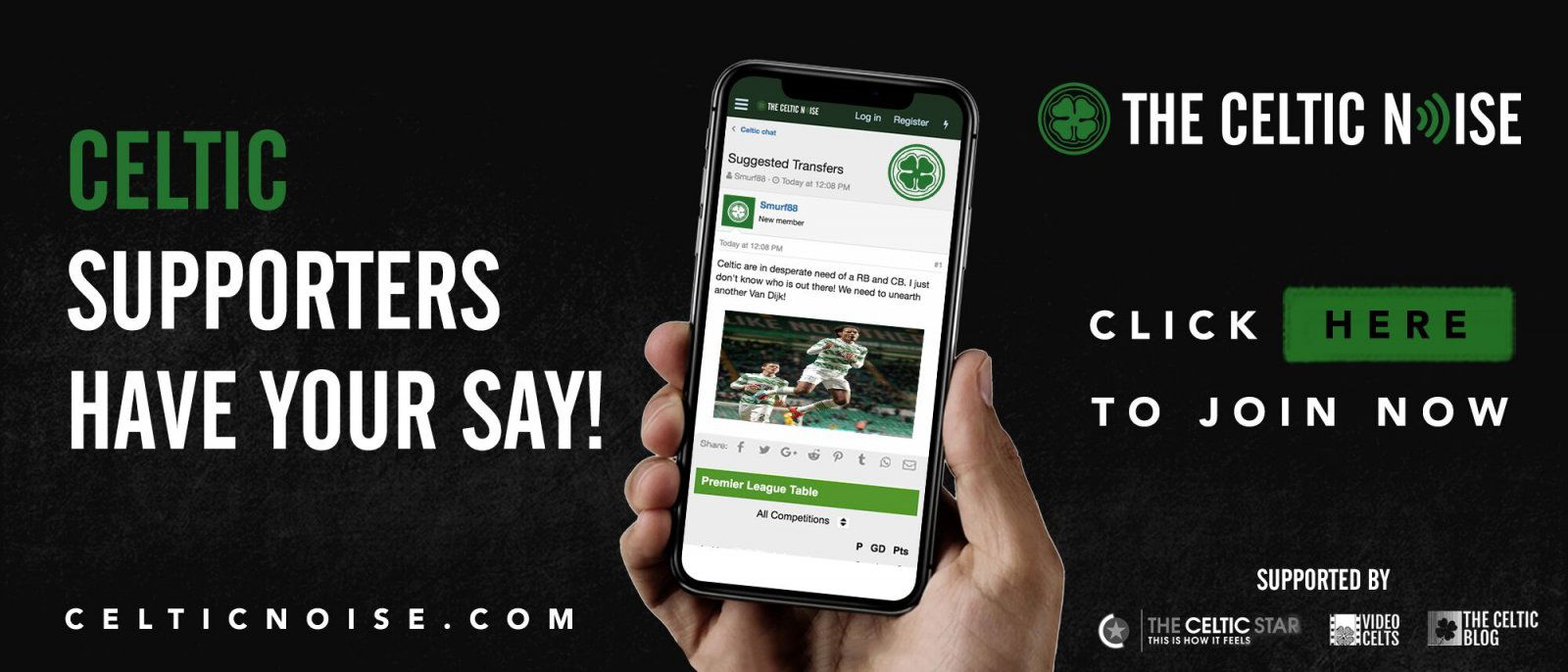 The 0-0 draw at home to Livingston likely dented fan's confidence and I get that, but the semi-final should have restored it a little, no?
Our favourite Uncle Tom, the BBC's Tom English was quick to release a poll on Twitter last week, asking Celtic fans on whether Neil Lennon should get the Celtic job.
You can have your own views on this – James has very strong ones and doesn't hide them – without giving someone like English an easy headline.
Why people feed the media here in Scotland is beyond me.
They talk the game down more than they talk it up and English is doing nothing more that stirring the soup.
I'd imagine a large percentage of the 8,111 votes were from Hoops fans; I wonder about the rest.
I, of course, chose neither to vote nor comment.
I previously wrote on this site that when Neil was appointed that he knew from day one that he wasn't getting it. I still don't think he expects to, just based on his demeanour and the way he continues to word his responses when asked.
Right now, I'm sure he's delighted to be back at Celtic and if he secures the Treble Treble and doesn't get the job he'll know full well he's put himself firmly in the shop window for another go with the managerial reigns elsewhere.
James was right earlier when he wrote that the debt has been paid in full; everyone will have gotten something good from this transaction come what may.
I am also of the opinion that Neil is a great stop gap, but we'd need to fill Brendan Rodgers shoes with someone of equal or better calibre.
That wasn't and isn't a slur on Lennon.
It's a stark realisation that we need a manager higher up the scale. If you strip it to the bare bones, despite Rodgers domestic dominance his European record wasn't better than Lennon's yet we're being told by fans that Celtic would have beaten Livingston if Rodgers had been in the dug-out.
Funny that.
You never think Rodgers had some poor results at Celtic Park too. In Season 2017/18 Celtic drew 6 games at Paradise with two of them being 0-0. We even managed to lose 1-0 to Aberdeen.
Since Neil took over on 26 February he's been in charge of eight games chalking up six victories and two 0-0 draws.
The football hasn't been great. That I accept, but that's been the story this season with exception to one or two games under Rodgers stewardship.
I share Lennon's opinion that this team is dead on its feet. We as fans need to be there supporting the manager and his players. We're five points away from winning eight-in-a-row and 90 minutes from an historic Treble Treble for God's sake.
Can you imagine the physical and mental toll this will take on players?
It's as clear as day that Kieran Tierney needs a period of rest. It was interesting to hear him express doubts on turning out for Scotland; this is definitely a sign that that he'd rather save what's in the tank for getting the treble won.
Celtic has 33 in its first team squad, but if you take out the likes of Gamboa, Allan, Commper, De Vries out it leaves around 29.
Amazingly, 21 players of that 29 have been injured within this season alone and a few we know have been long term.
I'm hoping we're crowned champions sooner rather than later to because it will allow us to bleed the likes of Karamoko Dembele and Armstrong Oko-Flex.
To be going for a Treble Treble on the back of that is amazing, yet we still have those who are keen to detract from it all.
I'm absolutely revelling in Celtic's dominance. It won't last forever so we should really savour what the success bestow upon us instead of taking cheap shots at a guy who's stood up to the plate to help when Rodgers left.
Rodgers has burnt his bridges. Neil didn't.
I would love to see the likes of Martinez or Benitez standing in the dug-out next season. It will, again see Celtic's profile upped. Again, I need to point out that it's no slur on Neil but those two would likely attract better players as part of our rebuild.
But collectively, as a fan-base, we need to sit tight for now and trust those in charge to deliver (that's another piece for another day). A lot of the chat on forums and social media is doing nothing but undermining a man who bleeds Celtic. You can think he is not the long term answer, and even say it, without resorting to the kind of criticism I've seen on Twitter and elsewhere. It just isn't right.
If Celtic fails to beat Hearts or get the title over the line quickly the fall-out will be immense. The wagons are circling and the arrows will be firmly aimed at Lennon. But speaking personally, I won't be pulling the bow.
Gavin McCann is a Celtic fan and blogger from Glasgow.
When you loaded this piece you might have seen an option to get notifications; please subscribe to make sure that you never miss an important article again.
You can discuss this and and all the other stories by signing up at the Celtic Noise forum at the above link. This site is one of the three that has pushed for the forum and we urge all this blog's readers to join it. Show your support for real change in Scottish football, by adding your voice to the debate.