The news that Celtic is considering withdrawing from the Reserve League from next season is as disappointing as it is inevitable. Scottish football's leaders have failed the clubs on youth development time and time again, chopping and changing, cutting and slicing.
Key elements of the McLeish Report, which was published nine years ago, have been ignored and its plans watered down.
McLeish himself is scathing about the so-called Project Brave idea calling it "a classic example," of what's wrong in the game. "It's changed dramatically over the last 12 months because of the influence of the big clubs. I don't believe (it) now serves the best interests of Scottish football as it moves forward."
The moment the SPFL allowed the Ibrox NewCo to withdraw from youth competition a few years back was the moment they simply stopped offering any leadership at all, and the crazy thing is that the Ibrox club might have been right to do it.
But it fatally undermined the entire development structure as a national cause and Celtic following them was always on the cards.
I am just surprised it hasn't happened sooner.
Scottish football has no discernible leadership left.
That our club – with its historic commitment to youth development – feels it has to take this measure is a sign that the so-called leaders of the game have lost the plot entirely. The petty resistance lower league teams have towards the idea of colt sides playing lower league football is equally barmy and has been a contributing factor here.
Celtic has tried to get around it by farming out our youth players to other teams, but robbed of the advanced coaching and development these same players would get if they stayed at Celtic Park and played in a competitive reserve system, it's no wonder that many of them stagnate.
Our youth coaches have voiced this concern in the last few days.
Take young Jack Aitchison for example; he cracked the Celtic first team squad whilst he was too young to buy a celebratory beer. He scored his first goal on his debut.
That kid should have come on leaps and bounds, but he was still a little short of being a first team regular. The return to playing Development football could have helped him, but the loaning him out to Alloa has not worked well at all.
He's 19 now; Odsonne Edouard became our record signing at the same age, and there is where the gulf is readily apparent. It's not that Aitchison is a bad player – far from it – it's that he's not being given any chance to progress.
Celtic's decision – if it is coming – to pull out of the Scottish Reserve setup will be a depressing one, but one that the club is taking for the right reasons.
The whole system has been upended in recent years. The lower league clubs have wholeheartedly rejected the colt's idea, which might have been our best bet for keeping development in-house even as players got competitive games.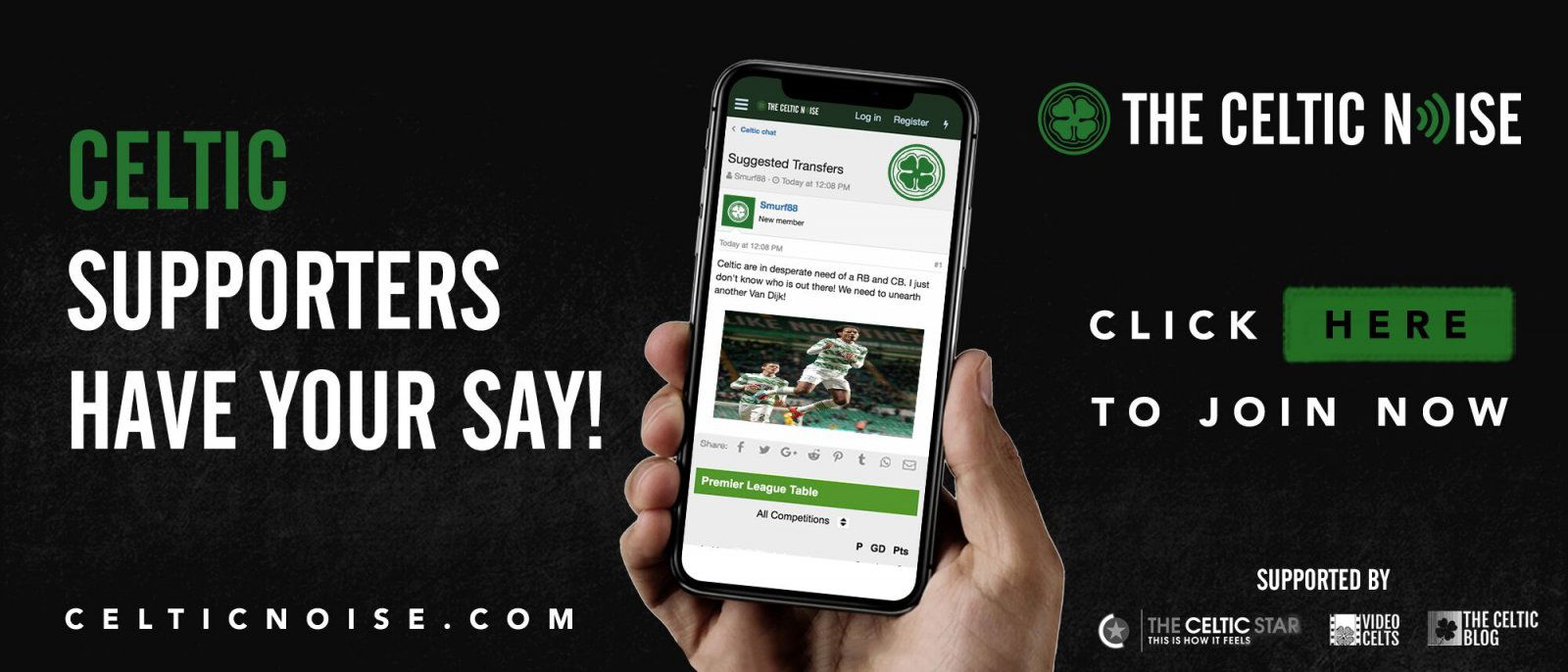 A return to the Reserve League system will – as our coaches have pointed out – lead to the bizarre scenario where one week we'll be way too strong for the opposition and the next week we'll be throwing kids into games against grown men who'll kick them off the park.
Our youth development wing has to change, and it has to change in a way that matters. Core skills have to be developed in an environment without pressure. The colt's proposal would have let our players experience Scottish football at the sharp end whilst removing from them any need to do more than hone the craft; the colt teams would not be eligible to win titles, so the onus would be on the skills and nothing more. It works abroad.
Ultimately, the best way to blood young players is in our own first team, once they reach the right level of quality. It is a proven strategy from the last four years.
And this is another area where I have concerns about Lennon.
Back when McLeish published his report in 2010, Lennon was, as he is now, the caretaker manager at Celtic and he used the moment to scorn the idea of youth development through the academy system.
Lennon was dead wrong on every note, although, incredibly, he was convinced that the rest of football that was mistaken. Lamenting that the academy at Lennoxtown hadn't produced a conveyer belt of talent, he seemed set against the idea that it would.
I wonder if he told the Celtic board that when they appointed him Reserve manager.
"The academies are not working," he said. "We haven't produced a regular first-team player since Aiden McGeady, probably, although we have a good crop of players coming through. I'd like to go back to the system when I was growing up. There were no academies in those days and Scotland, England and Ireland were still producing top-quality players.
"My argument is someone like Wayne Rooney. Would he have needed an academy to come though in the game? Would Steven Gerrard or McGeady? I'm not so sure.
"Some people think that academies are the way forward and a lot of them work on the blueprint from Clairefontaine in France but I've been on courses where I've argued about it and studies have come back to say academies aren't working.
"They are not as successful as people thought they were going to be, so maybe I'm right and everyone else is wrong, I don't know. It's just an opinion. Maybe that's something that needs to be addressed and the money maybe put somewhere else."
He repeated some of this in 2013, and as recently as 2017 he said he didn't believe kids should be getting coached at clubs as early as they are. 
His 2010 comments are clear-cut backward facing nonsense, and not even accurate.
Because both Rooney and Gerrard did in fact benefit enormously from the academy systems in England, where both were developed through top class youth programs at the Merseyside clubs.
Gerrard emerged as part of a natural talent conveyer belt that had already produced McManaman, Fowler, Owen and at that time was rearing Jordan Henderson and others into today's top footballers. Everton's youth system has, in recent years, produced the likes of Jack Rodwell, Ross Barkley, Titus Browning. Shane Duffy and Tom Davies.
Lennon's disdain for and distrust of the youth system is worrying.
Under Lennon we might never have given a chance to the likes of Tierney, McGregor, Forrest, Ralston, Johnston and Henderson.
But it is the so-called governing bodies who seem to have done everything possible to stymie the development of young players.
One of the McLeish recommendations was that Scotland appoint a Performance Director.
It took them a year; they appointed Mark Wotte. He lasted three years, having accomplished virtually nothing.
The SFA took the ambitious step of appointing Brian McClair as his replacement; he had been excellent as one of the heads of Manchester United's youth setup and it seemed a perfect move. But he quit after little more than a year, exasperated at the resistance to his ideas at the clubs and within the SFA itself.
His replacement, of course, is Malky MacKay, creator of the very scheme Henry McLeish has swiftly moved to condemn as having already been watered down.
And according to McCart, it's the implementation of that scheme which has Celtic and "other clubs" running for the hills.
So what a success that looks like being.
The SFA has left too much of the youth development agenda to individual clubs and for some of those clubs that has suited them right down to the ground. For others it's not mattered a damn because most of the clubs don't have the money to properly invest in that part of the game, and so leaving it to them has not made things even a bit better.
And I have a certain amount of sympathy for the SFA here too, because the McLeish report called for more backing from Holyrood for football projects and the Scottish Government decided there were better uses for the money, and to be honest it's hard to imagine that the electorate as a whole would have disagreed with them on that.
What a mess all of this is. Reading McCart this morning, you get the impression Celtic is taking this action with a good deal of regret. What else are we supposed to do? He's under no illusions that youth development as run by the SFA is a non-starter.
That old aphorism about us getting the leaders we deserve has never seemed more appropriate. Scottish football has allowed itself to be run by people you wouldn't put in charge of a coffee morning and the result is a shambles of epic proportions at every level.
But at the most basic level, the one where clubs like ours are trying to develop talent, it's been especially disastrous.
With no leadership coming from there, and short-sighted clubs ready to implement another ridiculous and stupid change to the current system, we've decided to go it alone. And there is nothing to prevent us from doing so after the governing bodies allowed the Ibrox club to do it some years back. There never will be a centralised development plan for Scottish football now. It's another failure of governance that's going to have consequences for years.