I've read some hyperbolic nonsense since the Ibrox club defeated us at the weekend just past, but I think Graeme McGarry's article today in The Times and The Herald is the one that beats the lot of them. So filled with clear-cut garbage is this piece that I feel the need to go over line by line in a proper rebuttal.
In my opinion, it is nothing but Ibrox fan-boy nonsense.
For the benefit of time, I will let the word Rangers stand in McGarry's article, whereas I would normally just replace it.
We know what I really mean.
Let's start with the headline; "Rangers fans are desperate for Neil Lennon to be appointed Celtic boss."
I don't disagree with the sentiment. I know it's true.
But it's based on a wholescale misunderstanding of many things, including basic reality. I do not want Lennon to get it.
But the fundamental truth of Celtic will remain the same.
The only way the board can successfully sell Neil Lennon as manager is to give him a pot of money that dwarfs anything we've seen the club spend in a while and this will add to a squad which is already by far the best in the country, making us even stronger on the park.
It is almost inconceivable that we will lose nine in a row.
Ibrox fans are kidding themselves if they believe that there's any scenario where we appoint someone who can't win the title.
Ibrox fans would do better to stop focussing on Celtic and start looking at what's going on inside their own walls, and this is where McGarry's article really tanks.
Here's his opening.
"Describing any Old Firm match as meaningless is rather like describing it as a 'Glasgow Derby'. You can say it, sure, but deep down you know you're at it."
This is an article about the manager, right?
So what is that opening if not a piece of sabre-rattling and banging on the Old Firm drum just to do it?
Straight away I knew this article would honk, because I don't know a single Celtic fan who doesn't refer to it as the "Glasgow Derby" now – and some of them refer to it as the Lesser Glasgow Derby. I refer to it that way myself and not a one of us is "at it."
McGarry is clearly too stupid to get this, so let me explain; we don't need to convince ourselves that the Survival Lie is exactly that. It's a lie.
There is no "Old Firm"; Rangers died, but we had laid the term to rest even before that club was interred in its shallow grave.
We want no part of a rivalry built on hate.
Only two groups of people do; hacks with an interest in promoting hate and Ibrox fans because the perception that they are part of a larger whole – and all they have for that is us – is the only thing that makes their club relevant to the rest of the world.
And so onward we go to the main point.
"And so, to Neil Lennon. His biggest obstacle to landing the Celtic job on a permanent basis when he took temporary charge back in February wasn't getting over the line to clinch the Premiership title, or overcoming Hibs and Aberdeen to reach the Scottish Cup final. It was the fact he wasn't Brendan Rodgers."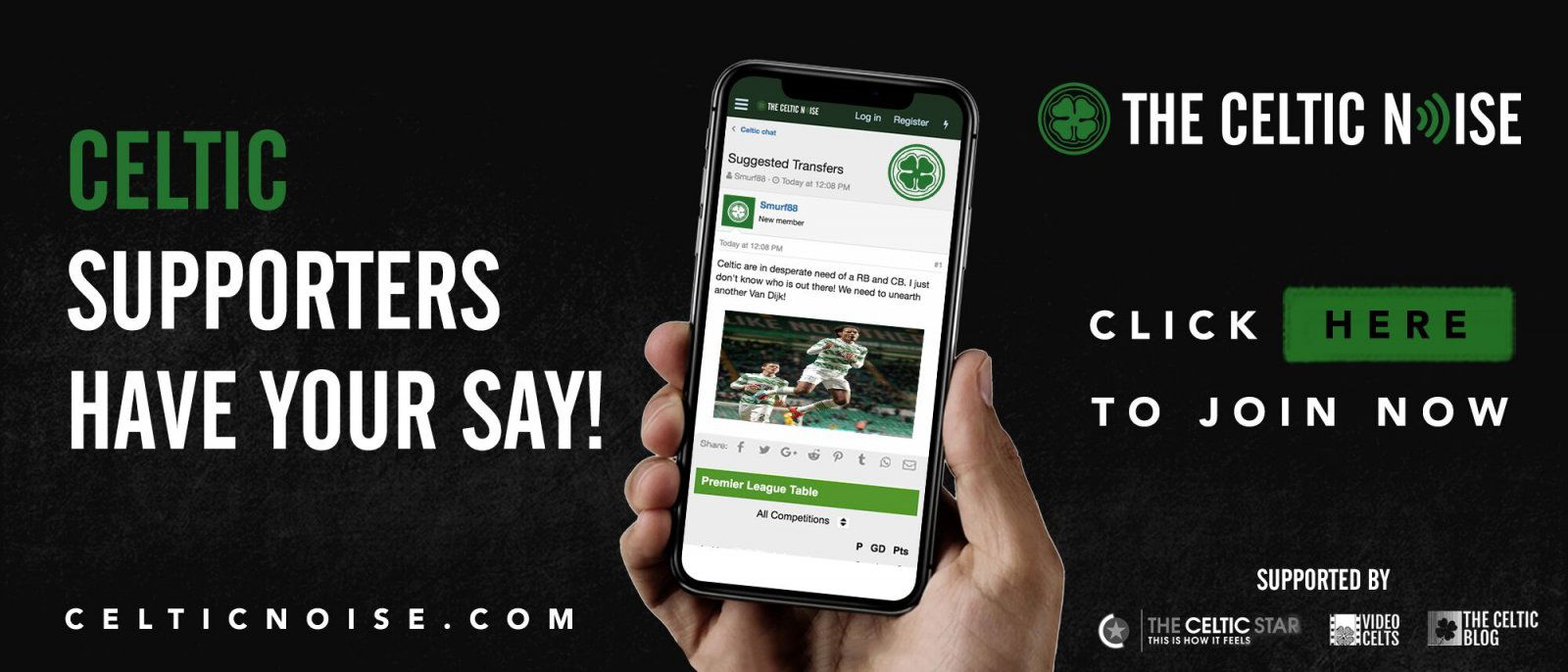 No, it was the fact he is Neil Lennon.
Sacked from Bolton, mutually consented from Hibs, a guy who left Parkhead last time after getting bored with the job.
Celtic fans didn't compare him to Brendan and we're not comparing him to Brendan now; guys like me are comparing him to every other manager out there save for one.
We'll get to that in a minute.
"Lennon can't help that. And neither can he help that one of the reasons he may not now get the post permanently is that he is not Steven Gerrard."
Oh here we go.
Off to Cloud Cuckoo Land.
Because let me tell you right now, that's the name I was looking for, because Gerrard is the one guy I am not comparing with Neil Lennon right now.
He is an utter irrelevance to me and every other Celtic fan.
"When Lennon passionately defended his record as Celtic manager yesterday, it would have been a jolting reminder to some of just how much he has achieved while prowling that Celtic Park dugout. He has brought three league titles and two Scottish Cups to the club as a boss to back up his worthy case to be considered a legend as a Celtic player."
Every Celtic fan I know is fully aware of what Neil Lennon managed on the pitch and in the dugout.
We need no education from the likes of McGarry.
"Gerrard, as it stands, can only dream about achieving a scintilla of the success that Lennon did during his first spell as Celtic boss. And yet, his position as Rangers manager is unquestioned, the scrutiny over his suitability to lead his side into next season conspicuous by its absence against the debate surrounding Lennon's prospects."
Gerrard can only dream of success of any sort.
And imagine a press man boasting, openly, that the guy who finished second, who's club didn't do better than a League Cup semi and a Scottish Cup quarter final in spite of the biggest budget in the country out-with Celtic Park, and who hovered for most of the season on a derisive 50%-win ratio, is not under scrutiny for his performance?
That's absolutely incredible to me.
"Why? Well, star quality can only explain so much, but it certainly plays a part. Gerrard is a bona-fide legend of world football, a big name that carries that stature into the Rangers dugout and gives the club clout. The fans love having such a name associated with their club."
The fans do love it, more fool them, but the media loves it even more.
They clearly have never got over that fan-boy feeling when he walks into a room, expressed so well by Neil Cameron that I cannot read his article on Gerrard's unveiling without being sick.
"Brendan Rodgers, having managed Liverpool and taken them so close to a Premier League title, also had that touch of stardust about him, and given the constant state of one-upmanship that seems to exist between these warring factions, there will be Celtic fans who will insist they need a manager of similar standing in their dugout to the one of their rivals. Had Pedro Caixinha or Graeme Murty still been the Rangers manager, Lennon might well be a popular choice, and may well already have landed the job."
Brendan Rodgers was not a "manager of similar standing" to Steven Gerrard; the point is stupid beyond compare.
Rodgers' experience is such that the best year of Gerrard's entire career came whilst he was in the dugout. It's comparing apples with acorns, frankly, and is a joke.
The truth is, Lennon is far above Gerrard in terms of management.
Lennon has been at three different clubs including ours, he's won titles and trophies.
Gerrard had no managerial record to speak of.
He is Lennon when we first appointed Lennon, a complete novice, not a third rate appointment but a fourth rate one, the kind of punt a lower league team would have taken, like when Gascoigne went to Kettering Town.
"But for all that Gerrard is a big name, you can't ignore the fact that he also now has this Rangers side playing with a verve, a physicality and a will to win that has been painfully lacking around Ibrox for years."
I agree with the physicality part; the red card count proves that beyond dispute.
Will to win is over-rated.
I've seen fat guys try to run marathons; I'm sure they want to beat the guy who finishes first, but wanting it and being able to do it are two different things.
"Perceptions of the level of progress Rangers have made may have to be tempered by the fact they have fallen short in both domestic cups having been papped out by Aberdeen twice, and that Celtic wrapped up the league title with three games to spare. These are indisputable facts, and in any case, the closing of the gap between the teams can also partly be explained away by a significant and unmistakable regression on Celtic's part."
Yeah but an article which examined the extent to which the "gap has closed" not because of Gerrard or some miracle he worked but because we've suffered self-inflicted wounds would not be as pleasing to read for the Ibrox horde as one that makes out that everything over there is rosy; in the interests of "balance" those truths get this paragraph … but the article will not explore them further.
"But that is rather the point. You can argue how responsible Lennon is for that regression, but you can't ignore the fall in standard of Celtic's play under his watch if you are going to also give him credit for the wins these tiring players have ground out to limp to the brink of a historic treble Treble."
We stumbled over the line in the league. That's partly down to Lennon as a manager. He is not solely responsible for it, but the fact is we came back after the winter break energised and went on the run which won the title. We have definitely gone backwards since Rodgers left.
"While Lennon does deserve due credit for coming in and putting his hand on the tiller after Brendan Rodgers jumped ship, if the Celtic board feel he is the man to reverse that regression next season given their lethargic showings of late under his guidance, then they may be heading for choppy waters."
Agreed. And it freaks me out that I agree with any part of this piece, so let's move on swiftly.
"The stats that should concern Celtic most about the rise of Rangers are the scores from the Old Firm matches this season."
Absolute garbage. Not even in the vicinity of being true.
"Whereas in the previous campaign, Celtic mullered their old rivals by 14 goals to two over the five matches they played, Rangers scored four to Celtic's three goals in the four matches this term. Celtic still ended up with the title due to their consistency against the other sides, but if Rangers can remedy that, the head-to-head could feasibly fall either way next season, and subsequently, so could the title."
Wishful thinking to a fare-thee-well.
The Ibrox club's record against teams in the top six was stinking this year, albeit against Hearts and ourselves and ours was a 50/50. The league will not be won or lost on games between the two clubs in the next campaign, and I'll wager that we get the best of those games when they come around anyway, whoever's in the dugout.
"In the build-up to the Old Firm game, the pre-cursor excuse was already being laid. The match was not of any great importance with the league already over."
The excuse was being laid by who? Aside from some fans who wanted us to field a B team at Ibrox – and this site disagreed with them – the players and the manager certainly didn't believe that, and they couldn't have made that clearer if they tried.
"Then after the game, that was being held up as the reason in some quarters for how easily Celtic were blown away by a hungry and motivated Rangers side. Quite apart from the fact that all Old Firm games clearly have significant meaning to all sides, it would be a dangerous game for the Celtic board to fall into that trap."
It would be equally dangerous for the board to fall into the trap of deciding a manager's future on the basis of one game, but McGarry seems to think that's exactly what they – and the supporters who don't believe Lennon is the man – have done.
And that, too, is detached from reality in the worst possible way.
"Instead, the victory that Rangers achieved on Sunday, and the utterly convincing manner of it, should be viewed as a clarion call for investment in both the playing squad over the summer, and in a manager who can excite the Celtic support."
It will not even be a factor. We do not make plans on the basis of a single result. And although the squad needs investing it that was pretty clear to everyone in the support way before we got to Ibrox, way before Brendan rolled out of town in the night.
"In much the same way, it should be said, as their board recognised after the penalty shootout defeat to Rangers in the Scottish Cup semi-final of 2016. The latest Old Firm encounter, like that one three years ago, seems like a watershed moment for Celtic."
No, actually it doesn't. I said that in a piece earlier in the week; it doesn't at all.
That day we had seen us surrender a trophy.
Today we're on the brink of completing a clean sweep. The third one in a row, by the way.
In a season plagued by uncertainty.
The media is terrified of this simple truth; if we get the manager's decision right – a bigger decision by far than simply who can get us to ten, and not even remotely concerned by anything that happens at Ibrox – everything else will fall into place.
"So, just ask Neil Lennon if the Old Firm game was meaningless. As it stands, it looks to have blown away the last vestiges of support he had from the Celtic fans as the man to see off the challenge of Rangers next season."
In his defence, he knew exactly what was at stake, which makes his tactical decisions on the day all the more baffling and all the more damning.
"While Rangers fans, as mean-spirited as it may be to say it, are now perhaps the only ones who are desperate for him to be appointed."
As well as much of the mainstream media, which I suppose amounts to the same thing, and it's just as stupid.
No matter who the manager is next season, he'll clean Gerrard's clock.