It is time for Lawwell to consider his position at Celtic.
Today the full scale of his plan for our club is now clear, and it's decidedly underwhelming.
Remember the guy who once boasted about wanting to see Celtic as a top European club?
Today he's nowhere, nowhere at all, and what we're left with is a third rate hack who's offered the job to a third manager in a fourth rate manner.
Everything about this screams amateur hour.
There's nothing about it that doesn't stink to high heaven.
The timing is dreadful, but actually the manner of it is far worse than I at first thought and when you consider that it's pretty much torpedoed my entire weekend and the spectacular high I was on at full time, that's a pretty big statement to make.
First, the appointment itself is a stonewall disgrace. Neil Lennon failed at Bolton and left Hibs in highly charged circumstances, the details of which we don't currently know but you better believe we will be reading about in the papers soon enough.
When the full facts about it are in the public domain I reckon this decision is going to look a thousand percent worse.
This is his second shot at a job he never earned the first time and didn't deserve.
It must be nice to have pals who look out for you, even if it's at the expense of our whole club.
It must be nice to be Friends With The Man, the man who this article is about.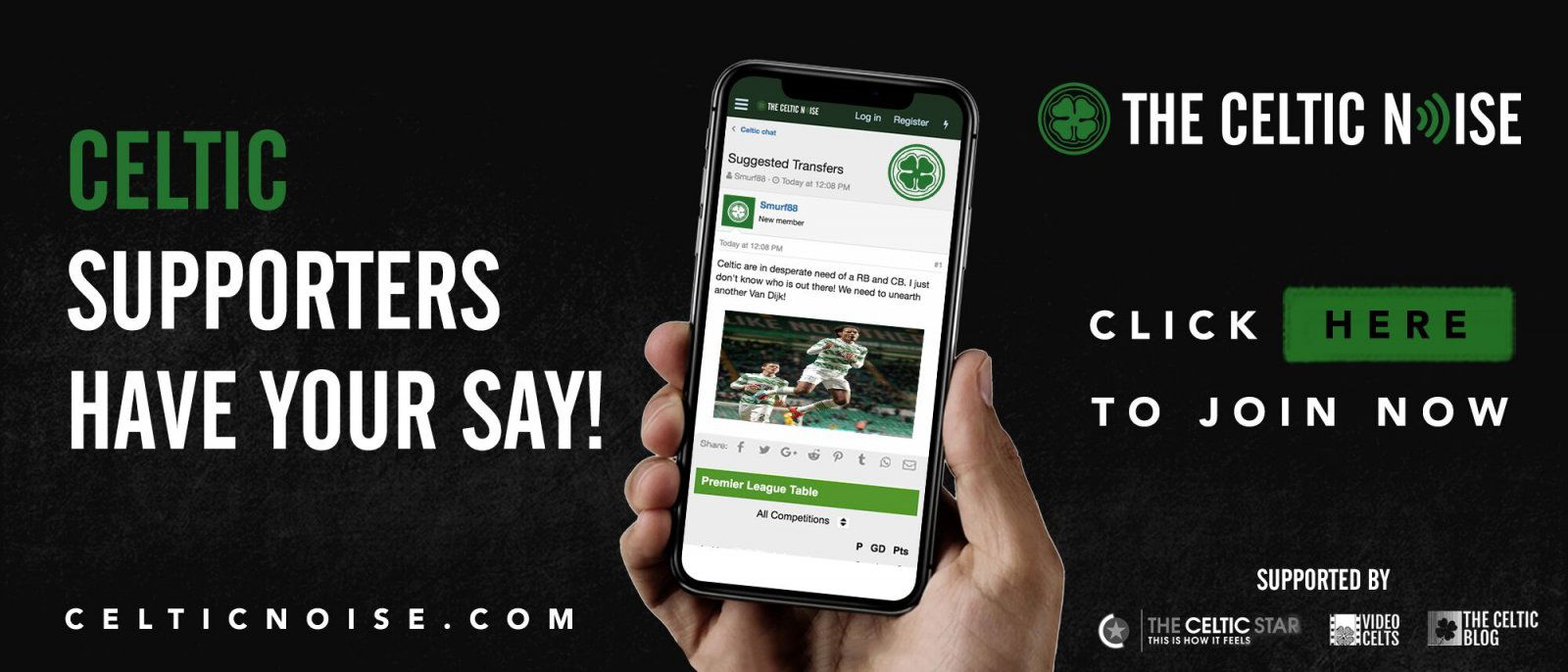 Lawwell's brutal, insipid defence of this indefensible decision is on the official site, and it is so wretched that I'm going to do a paragraph by paragraph critique of it.
I'm used to doing this with the hacks, this will be my first time for an official club communique.
What a dreadful way to be spending 3Treble day this is.
Let's start with the segment of the announcement before we even get to Lawwell's statement; we need to consider exactly what has happened here. Lennon has been very publicly offered the job. Which I don't know … this is probably not a good negotiating strategy from the board.
It gives Lennon the power to dictate the terms of the contract.
Now, between all of us that's probably not a disaster because Lennon will, without a doubt, want to be properly funded.
And as I said the other day, those who think this is a cheap option are dead wrong because in fact this is the most expensive of all the available managerial choices. Lennon has no history of developing players, so we've got ourselves a chequebook manager here and I don't like those and I didn't think Celtic liked those either.
But today – because we've done this in public – we've given him all the latitude he wants to squeeze as good a deal out of this for himself as he can get, and if I were him I'd make the contract fireproof and I'd make sacking me a very expensive proposition.
So even based on that, the CEO has completely shot it.
No company in the world would be happy with a chief executive who behaved so recklessly as Lawwell has in simply the manner in which this has been done. It is a breathtakingly bad move. Imagine Lennon, for whatever reasons, decides against this?
If you were him, wouldn't you play this for all its worth?
Beyond that, Lawwell's statement is utter nonsense from start to finish, and it's insulting to the intelligence of the support that he thinks we'll see it as anything less.
"Neil, in our moment of need, stood up to the plate. He's done a fantastic job in difficult circumstances, and when you look at his credentials – he's a Celtic man, he's made for Celtic, he knows what's required and he's a winner."
Right away you can tell Lawwell wrote this himself, and isn't that strange?
"Stood up to the plate"? No PR guy or member of the media team would have written that.
You step up to a plate, you don't stand up to it.
He repeats the phrase later in the statement, but on that occasion he gets it right.
This was thrown together at the last minute, as if we'd literally run out of time to do anything else.
He says Lennon has done a "fantastic job in difficult circumstances"; well first things first, Lawwell himself is partly the architect of those "difficult circumstances."
He is one of the reasons Rodgers didn't hang about.
His ego made sure that our best manager in a generation was always going to be gone at the end of this campaign, and I have not heard a single word from him apologising for that.
Lawwell simply doesn't believe he did anything wrong.
What are Lennon's "credentials" as Lawwell has laid them out?
They are what they were the first time Lawwell gave him the job, with no managerial experience, a decision which cost us one league title and but for a second half performance at Kilmarnock would have cost us the one in the Craig Whyte season as well.
Lennon had no credentials to speak of back then, and his only credentials now are the trophies he won whilst Rangers was coming apart and after they were gone.
Lennon's other managerial experience was a disastrous tenure at Bolton followed by Hibs.
Lennon's other qualifications are that he is a "Celtic man" and that means that our board of directors really does see this as a job that can only be done by a handful of people in the game. We better pray Lennon doesn't detonate this club early because I fear who we might end up with running the team for us.
(John Kennedy is a certainty in that scenario.)
"At this point, in terms of looking at the squad, there's nobody better that I've worked with who has an eye for a player, so we're delighted to announce that he's been offered the job, and over the next few days, we will work out the details."
Take a good long look at that paragraph. Read it carefully.
Apart from it being an undisguised dig at Brendan Rodgers, the part about an eye for a player is purely and simply garbage.
Because Lawwell himself thinks he can do the lead scout's job as well as anyone, and at least two of the signings from last season – Arzani and Shved – were made without any input from the manager at all, which led to his most famous public outburst.
Lawwell values players only for what we can sell them on for; he's thrilled at the prospect of Lennon finding the next Van Dijk or Wanyama, although Lennon personally didn't find those guys, our head of scouting did. Lennon did agree to the board flogging them though, and so I can see why this has such appeal for the CEO.
Having an eye for a player is one thing, improving a player is another thing entirely and Lennon's history of that ain't half as good.
But here's the really worrying part; "over the next few days we'll work out the details."
Yeah because Lennon isn't even hanging about, he's off to Spain for half a week and has already made it clear that if the board wants him for anything they can do it by phone. Lawwell is perfectly content to let the manager go off and sun himself and ponder what he wants from a contract that the club now can't not offer him.
Can you believe how amateurish this whole thing is?
They've made the offer public, setting themselves up for utter humiliation should Lennon not sign the deal … and they're not even going to get his signature on it for another week.
This is a complete fiasco from start to finish.
"There's no better candidate, and Neil has earned the right to be the permanent manager of Celtic, based on our recent performances and also who he is as a manager."
Absolute undiluted bullshit in every single way.
Lennon is a third tier appointment who's managerial career in no way justifies the enormous job he's just been given, for the second time by the same guy.
The notion that he was the best candidate is risible, offensive in how insulting it is to every single person who knows anything about football, and to defend it on the basis of recent performances … I am absolutely shocked that anyone would believe that.
"Winning the Treble Treble is historic and Brendan clearly takes a lot of credit for it. We probably wouldn't be here today if it wasn't for him, in terms of the magnificent period as manager, and we will be forever grateful to him."
And we certainly wouldn't be here right now if Lawwell himself hadn't made it impossible for Rodgers to stay at the club beyond this campaign.
His "gratitude" is as fake as those Taiwanese Blu-Rays you can buy on EBay.
"But, as I said, Neil stepped up to the plate, he's done a fantastic job and we're delighted to have him here. It was really tough. He came it at a difficult time – it wasn't his squad and he had big shoes to fill, and a Treble to win – and he came in and did fantastically well."
The manager did the bare minimum that was asked of him.
We played our Get Out Jail Free card today and at the right moment; in truth we rode our luck all the way through the dozen games in which he's been interim manager. The performances were abysmal, with many of the matches won in the closing stages.
Luck is a nice thing to have on your side, until it runs out.
"We need to pay tribute to John Kennedy, too, who has brought that continuity in terms of the discipline and structure, and Damien Duff has come in and done exceptionally well."
For those expecting a dramatic rebuilding of the entire backroom team, which Rodgers dismantled on the way out the door, there's your answer.
Kennedy in particular has to be bulletproof; that guy will be at Parkhead until Lawwell leaves.
All our worst fears are confirmed then.
Lawwell and the board made the decision the moment Rodgers was out the door.
They never looked for another manager, they never considered going for anyone of that stature, they might even – as Lennon himself claims – have overlooked a full-on meltdown of the squad and the club which cost us the title or the treble.
Peter Lawwell has been hiding in his office since the summer.
That man is entirely answerable for the fact that this season was chaotic from start to finish; it was his monumental failures to close the deals for Brendan Rodgers that so pissed that man off that he didn't hestitate to hit the road the second a mid-table EPL job became available, and he's ended it by offering the job to someone who does not command the unqualified support of the fans, many of whom see this as a retrograde step which will have long-term negative consequences for the club.
That man has lost any right to pretend that we are ambitious.
His assertion that Lennon is the best available person for the job is outright offensive, his brazen cynicism in how he made this announcement is absolutely indefensible and his promotion of the manager on the grounds that he is Celtic minded is self-limiting and even dangerous to our future.
It is the job of the CEO of any organisation to put that organisation in the best possible position to succeed; on those grounds alone this decision is a lamentable failure.
The way it's been done elevates it to a whole new level though.
I would never have agreed with the appointment of Neil Lennon, and I've made that plain from the start, but that we didn't even try, that we didn't even look, we appointed a guy who Hibs had just jettisoned because he was available at the time.
It is beyond belief that Lawwell still has defenders in our support.
Tonight he has told the press that Lennon will get "funds" to "strengthen" the team and that we will be "stronger" next season.
Not as strong as we were at the start of this one, before he and Rodgers grotesque dance of self-sabotage I'll bet.
I'll bet you at least one top player gets sold in order to fund that.
Yes Lennon will get funds, because he'll demand them, but net spend will be miniscule.
Tonight I don't believe a word that comes out of that man's mouth, and neither should Lennon, who Lawwell will jettison instantly if he doesn't hit the ground running.
That man most certainly does not have our best interests at heart.
I don't know which agenda he is serving tonight, but the strongest possible Celtic is not it.