This is an important month for everyone at Celtic Park, but one man in particular. It will define how he is perceived, how he is rated and how he is remembered. It is no exaggeration to say that the choices he makes will define his whole career.
And I'm not talking about Neil Lennon, of course.
With the departure of Brendan Rodgers, Peter Lawwell is once again the highest paid person at Celtic Park.
I know that a lot of people grudge him his mammoth earnings. I have always thought it was none of our business, but intellectually I know that CEO's at bigger companies than Celtic, with greater turnover and many more staff, are paid significantly less.
Could they do what he does?
Football is a specialised business, but Lawwell is not out there negotiating contracts on his own. He has an entire team working under him, split into numerous departments, and all work hand in hand. His results are a collective endeavour.
Lawwell has also tried to claim the credit for much of Brendan's success, as he has made clear to fan reps and the media. But in seeking to claim such glory, Lawwell has actually placed himself in an invidious position. If he is perfectly happy to take the plaudits when the football honours are flowing, he has no alibis for failure if they are not.
And there is great scope for failure in the choices he's going to have to make next.
First there is the choice over who sits in the manager's office.
A lot of people have tried to inject great complexity into this issue, by arguing that we need to hit the ground running and that the judgement must be as to whether Lennon gives us the best chance to do that or not. This is disingenuous nonsense.
First, Brendan came into Celtic Park and immediately we were off, which shows quite clearly that it can be done if the right person is at the helm.
You only have to look at the renaissance in Edinburgh where Hibs Paul Heckingbottom has worked a wonder in cleaning up Lennon's mess to see how a new manager can infuse a whole club with purpose and drive.
Secondly, we've seen how the team plays under Lennon's management whilst using Rodgers' tactics.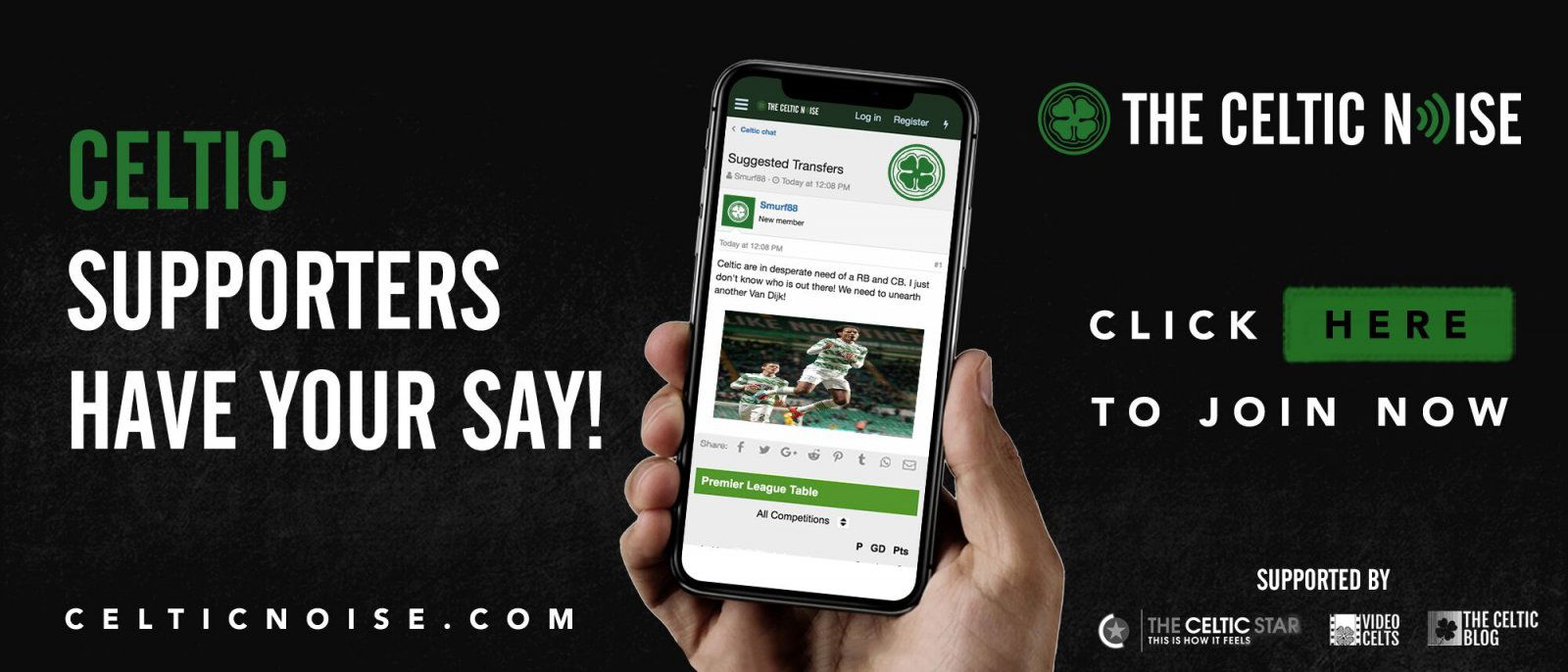 And it's awful. We will drop 20 points, easily, next season playing like that. But if the manager intends to change it then we're going to have to live with a certain amount of upheaval anyway, a fact which negates the argument about his appointment bringing stability.
Besides, whilst nine and ten in a row are the objectives, Celtic needs to appoint a manager who will work within the systems Rodgers set up and build on them for the future. To appoint an old school boss like Lennon could set the club back ten years or more whether we win those two titles or not. It is no coincidence that player development came on leaps and bounds in the past couple of years, and that has to be the focus of the club going forward.
With the size of Celtic and our stated ambitions, this whole issue boils down to one very simple question and it's this; is Neil Lennon the best we can get? And the answer to that, as everyone is well aware, is a resounding no. If the aim for Lawwell and the board is not only to put us in the best position for ten in a row, but the best overall position going forward, then Lennon will not be in charge when the next campaign gets underway.
And if he is Lawwell has serious questions to answer.
A huge number of fans will simply not accept any argument based on the notion that Lennon is the best we could do. The question which will be put to Lawwell – if he has the brass neck to show his face – is why then was Lennon appointed? What special abilities and skills above and beyond what we know about did he bring to the table?
An "understanding of the club" is simply not good enough.
We all understand Celtic.
None of us is remotely qualified to be the manager of Celtic.
The next manager does not have to be out of the top tier – although those who argue that we can't land a top manager weren't paying attention when Brendan rolled up – but it has to show imagination, flair and ambition.
The likes of Lennon, Moyes or Keane would not cut it.
None has the skill-set and background a club like ours should be looking for.
The first "modern" Celtic managerial appointment which was focussed on European methods and current thinking was Ronny Deila. Hiring him moved the club decisively towards a place where players think of themselves as athletes first and foremost, and where data analysts, nutritionists, sports psychologists and tactical study are at the forefront. It means we've been moving in a certain direction for five years and they have been hugely successful years.
We cannot – we must not – move in a different direction just to accommodate a manager who is not suited to working within those sort of systems.
Beyond the decision over the manager, Lawwell has to make sure that everything is in place to support him and this includes money. The risk-averse strategy has worked up to a point, but we have cash sitting there right now and if we spend it properly we can maximise our chances of reaching the Group Stages for a third year out of four and look forward to another £100 million plus turnover. That is the kind of cash that could fund the next phase of development.
But it won't be attained by sitting hoping for it. We have to move towards it, we have to show we're serious and ambitious enough to grab it from the hands of the other clubs. We'll be seeded in every round for the draw; that gives us a big advantage and a big opportunity and we must not let it slip by us. Last summer was a disgrace on the part of those whose job was to give Brendan the tools to move this club forward. They failed on every level.
They cannot make the same mistakes for a second successive year.
Lawwell was very lucky to survive that without being subjected to the proper scrutiny and criticism; a mere handful of Celtic sites were willing to call him out over it. To fail this summer should unite the entire support in anger, especially considering the money we have in the bank.
On top of that, we have to be ready for whatever pressures Ibrox brings to bear on the SFA in the coming campaign, and that has to start now, and in the run up to the cup final. If Lawwell gave a major series of media interviews about refereeing it would be a huge help.
Already this season we've seen the Ibrox club complain at every decision that didn't go their way. They will be aided and abetted by a media that simply will not stop digging up negatives, stirring up trouble, trying to unsettle our squad.
This year they focussed a lot of their attention on Scott Brown. We saw several attempts to have him in front of the beaks, and this is another reason why Lennon would be such a dangerous appointment. He already has a target on his back.
A couple of bad decisions on the pitch might well push Lennon into the kind of outburst that gets him a multi-game ban at the worst possible moment. Our club needs to be aware that every effort will be made to prevent our march to the title.
Operation Stop The Ten will be pushed into a much higher gear. Lawwell needs to be ready for that, and not in a passive sense. He must be ready to speak out about bad decisions and put the burden back on refs to raise their standards. He must make sure that every match is being officiated under the harshest possible spotlight that we can shine, and yes people might well accuse him of pressurising officials and the governing body … but they will be right and he should say so.
Remember, it was John Reid who said "We don't seek special treatment. But we won't be treated as less than anyone else. Those days are gone."
Another area where Lawwell needs to turn the pressure up is over Resolution 12 and the SFA discipline case which came out of it.
Frankly, Lawwell and Celtic have been in hiding over this and other similar issues for too long. I have long said that our media strategy has to be better than this, and it is long overdue that he got in front of the cameras and the microphones and said that Celtic is still seeking answers over a number of questions we've been asking behind the scenes.
And those questions have been asked; we've been far too tolerant of the SFA's reluctance – if that's the word – to answer them. With the Resolution 12 guys now having gone public and posted all their material online, it is high time the club pushed the SFA towards a public mea culpa or concerted action on this, and it should happen before the end of the season.
The matter has festered for too long and inasmuch as it has hardened suspicion of the SFA amongst Celtic fans, it has created suspicion against our own club too. That is something that Lawwell can no longer afford to ignore.
Finally, Lawwell has to keep on trying to forge ahead, alongside the top brass at Ajax and other clubs, in his quest to transform the debate over the future of European football. If we're aiming to be a top tier team, playing in the Champions League every year, we have to be at the forefront of the battle to keep the access path open for clubs in this country and others.
Those who say they will never let the game in Europe become a "closed shop" are blatantly ignoring the reality that stares us in the face; half of the teams who "qualify" for the Groups do so by virtue of the country they play in.
Any changes to the top competition need to increase the number of sides playing in the Groups rather than merely shuffling the Groups themselves. This will be a big month for that, with Ajax on the brink of the Champions League Final, having had to play six qualifying games just to get to the groups in the first place. That is nonsense, and is now untenable.
Peter Lawwell has a lot of work in front of him, and he has to get it right.
The choices he makes and the action he takes will define how this club moves forward and how he is remembered by history.
If he fails he's done, and he'll be a hate-figure along with the White's and the Kelly's.
If he acts resolutely he will be one of the great leaders of our history.
The choice is very much up to him.