In defeat there is sometimes a silver lining, and so it may prove here today.
When we lost in December I think most people still expected us to win the league because Rodgers and this team had proved they could get over the line. I didn't panic, although the lead had been virtually extinguished. There was a January window looming, and the team was heading off for a break.
I also knew that our so-called rivals weren't good enough to put together a run.
Their form was all over the place for much of the campaign. All we had to do was not blow it.
To determine what we are today and what needs to be done you have to go further back than December; indeed, you need to go back to 2016.
In the aftermath of the penalty kicks loss to the Ibrox club at Hampden, our club acted in a manner it hasn't in decades. It roused itself up. It gave itself a shake. It moved forward in a decisive way that showed us at our very, very finest.
Whenever things had gone awry at Celtic Park in years past, I have argued that it's not because we are weak as a club, but because bad decisions have cost us. It is because of a series of choices that we made within our own walls.
Celtic is the strongest club in Scotland and the only thing that is capable of changing that is if we act complacently or don't act at all.
In 2016, we flexed our considerable muscles and transformed the landscape.
We behaved like a major club should. We went out and brought in the best man we could find to run the show. He inherited a team that many thought was past its best. In fact, its finest years may lie in front of it yet. Do not believe anyone who says this team needs a massive overhaul.
But it needs to make changes, and perversely, and again because of decisions taken inside the walls, those changes are much larger than they need to be.
The first one, of course, is to confirm the inevitable; that it will not be – that it cannot be – Neil Lennon who takes us forward as a club.
Today was a searing lesson in his limitations as a manager, all of which have been apparent for weeks but which took this game to ruthlessly expose in a manner which should leave not the slightest doubt in anyone's mind.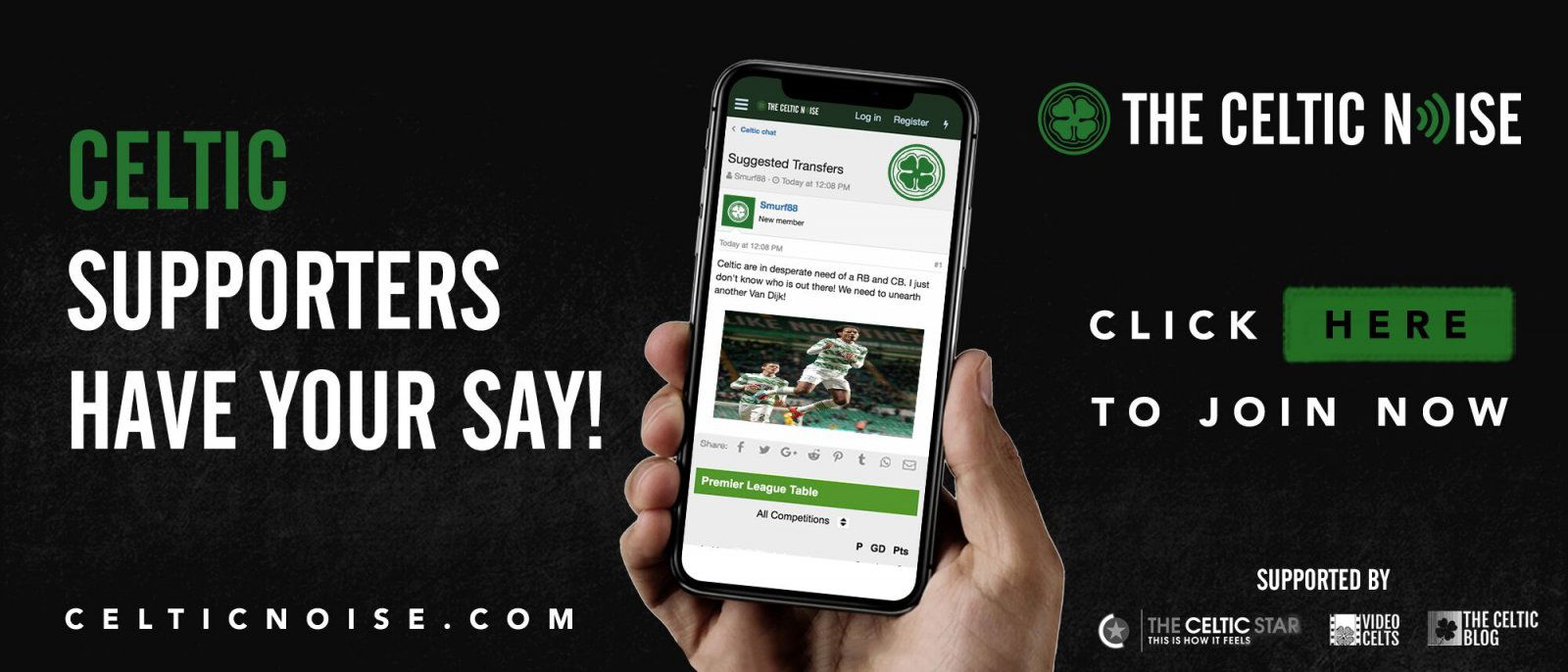 A tactical analysis will have to wait until tomorrow; I'll say this much right now and leave it until then.
When your opponents have four central midfielders on the pitch and you are playing with a holding midfielder/playmaker who has at least two men on him every time he gets the ball, and thus can't make a forward pass without high risk, because the two attacking midfielders in front of him are actually behind the opposition's pressing midfield and aren't tracking back you are courting disaster.
Yet Lennon played that way for the whole game.
Added to that, the failed, failed and failed again tactic he never seems to tire of, and which this site constantly laments, of trying to cross a ball into a packed penalty area, and today without our first choice winger wide right and with a raw kid wide left … well, the second they took the lead the writing was on the wall and yet the manager didn't change that either.
We persevered with one holding midfielder and two attacking midfielders against a four-man block when any top class coach would have sacrificed the width that was getting us exactly nowhere to put another body in the middle of the park.
It is scandalous that what we got instead were three like for like changes. That is indefensible. It is damning. In the aftermath of the game there was not one shred of self-analysis from him either. He blamed the players, which is what bad managers always do.
"Knowing the club" is not a qualification for the job.
"Getting it" is not a qualification for the job.
Being "one of our own" is not a qualification for the job.
Neil Lennon is a third rate manager and must not be trusted with nine in a row.
If the board appoints him then is an outrageous, gross dereliction of their duty to put us in the best position we can be. But it will not be the first time that they've failed to take the opportunities in front of them, and so even now I will not be surprised if they do it.
There are key areas of the team which need drastically overhauled. The back line needs a minimum of three players; a right back, decent cover at left back and a minimum of one central defender, although I'd rather we signed two.
Rodgers says he might let Benkovic stay another year, and whilst I welcome that idea nobody should think it either lets him off – especially in light of his attention seeking garbage this morning, in a rag we all despise – nor gives the board an alibi to do nothing in that area of the pitch.
One permanent addition will do for a year if Benkovic is going to stay, but that one added player ought to be non-negotiable.
That we need so many footballers for the backline is the sole responsibility of those whose job it is to sign the players the manager wants. Rodgers was clear that we needed a right back and left back cover, as well as at least one centre half. That he got loanees and a guy brought in on a free (a guy the club had released some years before) is their fault because the manager identified players who he wanted and who they failed to sign.
If they balk at the idea of spending real money in this window too bad, but it's necessary because it'll be the first they have in a long while.
This is the end result of so many transfer windows of sheer neglect, of doing things cheap.
You can put these decisions off for a while but sooner or later they have to be confronted.
On top of that, as today made clear, we need another central midfielder, one who can help Brown in a defensive role when the captain plays and replace him when he doesn't. Callum can do that job very well, by the way, but that negates his effectiveness elsewhere.
With Forrest and Shved we are well covered wide right.
I would like to see someone brought in wide left, but a loanee would do just fine there.
And we definitely need another striker, although depending on Bayo and Griffiths that might not be the crucial area which some believe it is.
I said at the start of this piece that in defeat there is sometimes a silver lining; this is it for me. There is no longer the slightest doubt that we are a club stuck in the mud. The last time it felt like this was in 2016 on cup semi final day, and on that afternoon I wrote an article called The Storm Before The Calm. Today, writing this, we're on the verge of 3Treble.
It doesn't even feel like a particularly stormy moment, but it could be.
And it will be if we don't respond as we did after Hampden.
I said in that article and I say again here, Celtic is structurally sound.
What looks like weakness is a consequence of poor decisions made inside the walls, but that aside we are better than any of our rivals in every way that matters.
Get the decision making right, and everything else falls into place.
Today – in a game that mattered, in a game that our manager said mattered – he proved absolutely and beyond doubt that he does not have what we require going forward.
The glaring deficiencies in the squad, which we all knew about, have again been made clear.
There is no doubt at all about what the road ahead must be; it should be visible now to anyone who's looking right at it.
All that remains is for our club to act like a big club again.
Do that, and this time next year it'll be nine in a row and today will be nothing but a memory.