The big transfer story of the day involving an incoming target is, of course, the one linking us to Aberdeen's Scott McKenna.
He was the player I highlighted as the best domestic born talent in the league at the start of the window.
A lot of folk disagree with that; some of those who did suggested Turnbull was a better bet.
With the Motherwell player on the brink of signing up, I am glad that the club has turned its attention to the Dons defender. He has been on the radar, and on the target list, for quite some time and I had it on fairly good authority that the discussions over him were at a very advanced stage last season.
The deal wasn't closed. The problem was one I could easily understand.
Aberdeen do not want to sell him to another Scottish club.
The idea of Celtic signing him in January and loaning him back for six months was discussed and rejected. We are on what I believe to be our third offer for him now.
None has met Aberdeen's valuation. To be frank, I doubt that anyone will.
Aberdeen's valuation is plainly ridiculous. We're not talking about a player here with the profile of Tierney or McGregor. We're talking about a guy who has blown hot and cold, who can be undisciplined on the pitch at times and who is still prone to making rookie mistakes.
He's a young footballer with a lot still to learn. Like Turnbull.
I reckon Aberdeen know they will not get a £10 million offer from anywhere.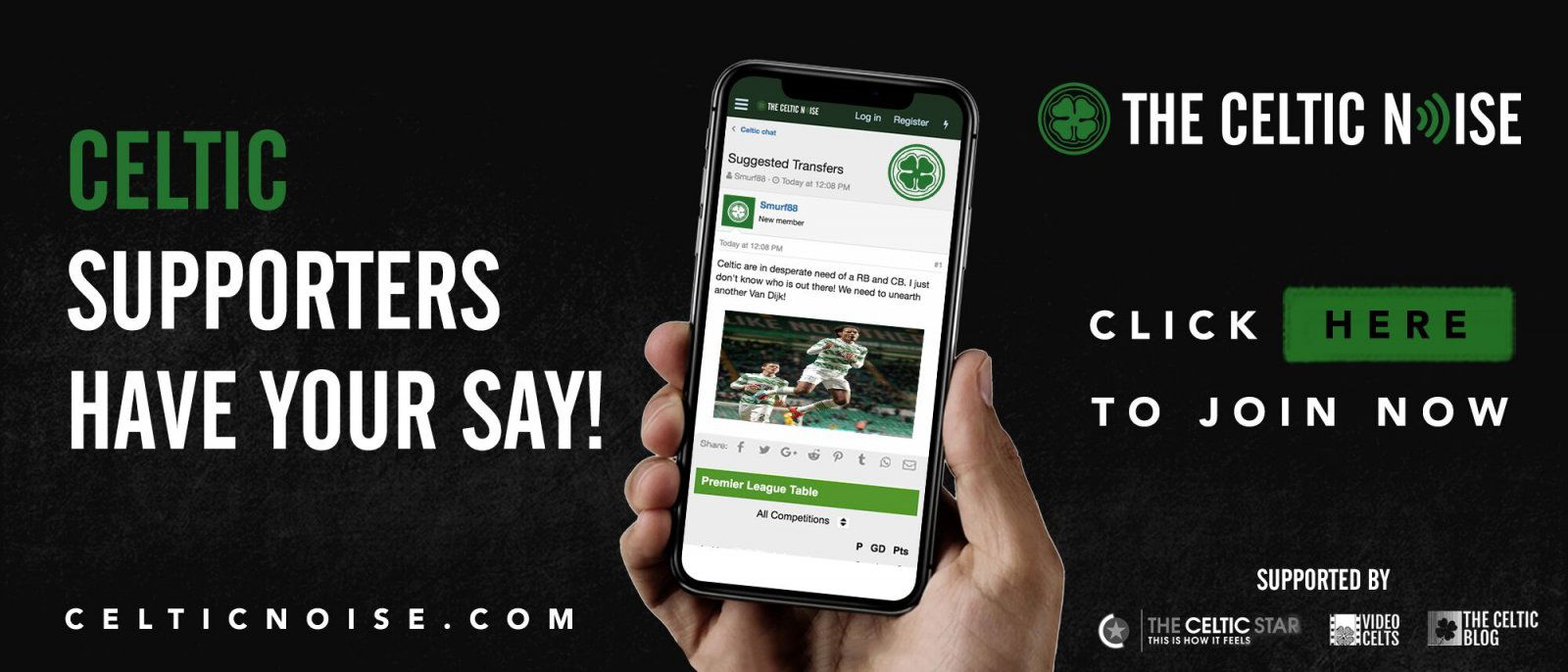 The sum is supposed to discourage only one club and that's ours. But there is a middle ground between what we've offered and what Aberdeen claim they want, and in that middle ground is surely something they can accept and come out of it looking good to their supporters.
Celtic is not the only interested party, and if even low level EPL clubs are sniffing around it's entirely possible one of them will outbid us on the transfer fee. There is no prospect of us going much higher than we already allegedly have; a million or so more will be the upper limit of our efforts and then, with reluctance, we will move on to the next target.
Aberdeen's board needs to have some sense of realism about this.
Many of them will look at the Tierney scenario and draw the same nutty conclusion from that which some at Ibrox draw when they see Celtic selling top players for massive fees, but they miss the point which is that Celtic's reputation for developing good footballers is now so trusted that Norwich bet £3 million just last week on us knowing what we're doing chasing Turnbull. Clubs might make a similar bet on McKenna, but not the size of one the Pittodrie club is hoping for.
I just don't believe anyone will pay an eight figure sum for an SPL player unless he's already done his stint on the Parkhead conveyer belt.
Turnbull was worth £3 million because Motherwell made a good case for us paying more than we did when we signed Phil O'Donnell. In point of fact, as I stated when we made the opening bid for him, which the Fir Park club turned down, their £3 million asking price was actually less than what we paid for O'Donnell when adjusted for inflation.
The record between two Scottish clubs right now is the £4.5 million we paid for Scott Brown back in 2007.
Adjusted for inflation, that's just over £6 million today, and I feel that Celtic might go for that at a push and thus set a brand new record.
Beyond that, though, I have my doubts.
As much as I like McKenna I cannot see how paying more than that would represent good business when there are surely options in Holland, Belgium and in France who would provide more bang for bucks over the next few years.
Even £8 million – a sum Aberdeen do think they could get based on an alleged offer from Villa last season of £6.5 million – would put Celtic off, and so it should. With the right scouting we could procure two decent centre backs for the same money.
We're not an EPL club loaded down with TV riches and we need to get value … and as good a player as he is and could potentially be, £8 million does not represent value either for us or for any other club which was thinking of making a bid.
I know exactly why Aberdeen turned down Villa's offer last season; it was made on the final day of the window and left them no time to bring in a replacement. I don't believe Aberdeen would have turned such an offer down had it arrived earlier.
It is pretty plain, in fact, that news of our bid was leaked by Aberdeen in order to see if Villa could be tempted back to the table, and they might well be. They have a chronic shortage of central defenders at their club as we do ourselves, having had to take a few on loan last season to get through the campaign. Villa's interest was real and it may still be.
If it comes to a bidding war, Celtic will step out and I would not argue with that decision for even a second. McKenna is not worth the money Aberdeen want. Some don't even think he's worth the offer Celtic has allegedly made. I do like him, and I think it's a reasonable value for a footballer with his potential.
I would go a little higher to see if it closes the deal.
If it doesn't I'd expect us to walk away.
For that kind of money, there are better players out there.
That's what our scouting network is for.