In my life as a Celtic fan – which has been my whole life, for better or worse, as far back as I can remember it – I have seen badge kissers of every shade and stripe. I have suffered disappointments beyond count. This is part of being a football fan; it happens at every club.
But because we are more than a club we forget sometimes it can happen here.
It does though. It has before, and it will happen again. I have learned that the one constant with Celtic is us. The fans. We are the only ones who understand what true loyalty means, and we get it in a way that directors, managers and mercenary players never will.
There are handful of players who bucked the trend and gave us everything. One of them just left the club; Mikael Lustig, who spent eight years here and every one of them a title winning campaign. The King of Kings gave us seven, even as the biggest clubs in Europe made eyes at him.
He maintained his professionalism right up to the final day.
The first player of my generation to give the club his life was Paul McStay. There is no question that he would have made more money elsewhere and that he would have been a huge star wherever he wound up. Monaco wanted him before they'd even heard of John Collins.
At one point there was even talk of Inter Milan. He stayed, and the tragedy of it is that the club was never worthy of that decision, floundering as it did throughout the years he should have been in his prime. That he never wavered is a measure of the man.
Scott Brown is the latest player to give us the full measure of devotion.
He could easily have leaped aboard the EPL gravy train and made millions more than he has. Brown stayed, taking the captains role seriously, being an ambassador, being a leader. He will go down in history as a Celtic icon. You don't get to be that if you skip out a side door for the money.
I am a socialist, and I find it awfully hard to muster "sympathy" for a footballer whose heart breaks at the hardship at having to remain at a club where his weekly wages would change the life of virtually every person who sits in the stands watching him.
The game has been overtaken by rampant greed.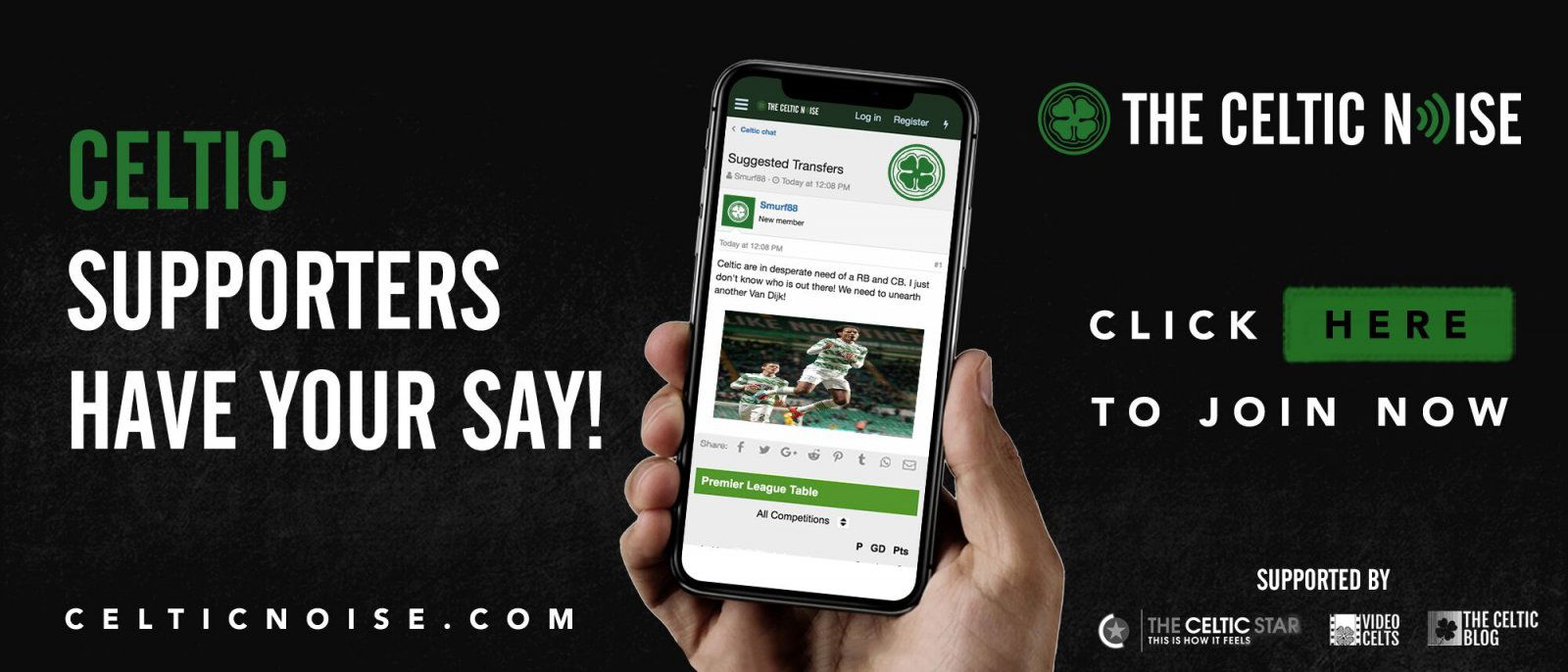 All this talk of players wanting to "test themselves at a higher level" is just pure bunk, I'm afraid.
European football makes up such a large part of the season now, and provides that test and there are more international games than ever.
What it comes down to, what it's always come down to, is cold hard cash. Players care more about the money than they do about the clubs. Football is their job. If they are getting paid more somewhere else, they'll follow the cash as most others would.
Look at Rodgers, a man who still thinks he'll be forgiven for fleeing the club like a thief in the night. He walked out with the job only half done, and he took much of the backroom team with him. Don't let anyone kid you that he did it for "football reasons"; it was a mercenary act and it showed that when the chips are down that's all he really was.
One of the great heroes of my generation was Nicholas.
I don't remember much about him in his first spell at the club, but he couldn't wait to skip out the door for the bright lights of London. He gave Celtic less than three full seasons; he was on the train south at just 21 and all his talk about being just another fan from the terraces was soon a mere memory.
Of course, in football terms his move to Arsenal was a near-total disaster, but I doubt he gave the slightest of damns. He went down there for the cash, and for the lifestyle; if he'd been in it for the glory of the game and the titles he'd have gone to Liverpool, who heavily fancied him. He was, then as he is now, a preening prat who fancied prowling the nightclubs more than he ever cared about trophies and titles; his puny career haul makes that plain enough.
He ended up at Aberdeen and then back at Celtic Park; my memories of his second (and third) spells are better than I recall his first, but we won nothing with him in the team during those periods and I can't stand even the sight of the guy now.
The example that Dare Not Speak Its Name is the player who said at a press conference that Celtic was "the only club I ever wanted to play for" – having already left once, for money – and a week later was paraded at Ibrox. He really was one of my early heroes; to say he is a hate figure is an understatement.
He stabbed us in the front as well as in the back.
And there have been others, many of them born into the faith and who couldn't wait to renounce it for the sheen on thirty pieces of silver. I have seen others arrive and profess their love for the club and who a handful of seasons later were gone, leaving bitterness in their wake.
The average shelf-life of a top signing at Celtic Park has been steadily falling for years.
We're at rock bottom now; Dembele, Van Dijk, Wanyama and soon Ntcham … two years only. None was still with us at the end of the first transfer window in their third season at the club. Scott McDonald gave us two and a half years. Gary Hooper stayed for three. Armstrong gave us three and a half before heading for the hills. Forster gave us four, but he was on loan for the first two of them.
The days when a Sutton gave you five years, or a Petrov stayed for six and a half, far less a Larsson who was there for seven, or a Lustig who gave us eight … those are gone, as football has completely lost its mind.
Players arrive on four or five year deals and we know we're not going to see them stay for even half that time. We never grow as a club anymore, we simply try to plug holes year on year, and the board pretends that this is some kind of progress.
Some will say this isn't new; Di Canio gave us one season before he started agitating for a move. We got just over that from Cadete. Mark Viduka was a flat-out disgrace, a horror of an individual, who had spat the dummy before even pulling his boots on and gave us just one full campaign before he sodded off to Leeds for no other reason than for money after playing his role in the calamity that cost John Barnes his job. He won a minor trophy in Australia, three league titles in Croatia and one League Cup with Celtic in a career of utter waste. Then there was Van Hooijdonk who gave us three years but left under one of the darkest clouds of them all.
So yes, it's been bad before but never, ever, like this where it's now club policy to develop players and sell them on before the ink on their first contracts is even dry.
It's all about the money now, and before this transfer window is over we're going to add more names to the above roll of dishonour, and it may well be that some of those names will be those of players who kiss the badge at present and claim that Celtic is in their blood.
Offers will come in, but they do not have to be accepted. Lawwell himself claims that he is the biggest Celtic fan of all; it must be nice to say that and draw a salary for doing so which is more than the average member of the first team squad gets, and all the better if your salary rises in direct proportion to the profit margin.
Yet even if Lawwell is minded to do business, no player who wants to stay can be forced to leave the club against his will.
To suggest otherwise is pure and simple nonsense.
These are grown men, not children.
It may suit Lawwell and pay nice dividends to others to see one big sale every summer, but no player can be told to walk to the exit, far less one who says the club is in his heart. Try to remember that if this summer produces a scenario where people want to paint the CEO as the only villain of the piece.
Lawwell will be judged after this window for what he does and for what he fails to do.
But others should not escape scrutiny for their part, as we head into the most pressurised and important league campaign the club has faced since stopping the Ibrox ten in a row. If this moment isn't enough to keep folk here, if the chance to make that history doesn't do it, then perhaps they don't care as much as they claim to.
I'll go you one better and give them a little benefit of the doubt; perhaps they don't care as much as they actually believe they do deep down.
Rodgers himself has ably demonstrated that particular capacity for doublethink; I don't doubt that others are just as capable of it.
Badge kissing has a short half-life. £60,000 a week can apparently cure any heartache.
Except that in the stands, where £60,000 is a life changing sum. So is £20,000, but in football that's chump change. The whole sport exists inside a wholly separate moral universe from those who pay to watch it. Inside the bubble, there is no loyalty at all.
At a certain point, it begs the question; how much is enough for some people?
Was there a moment, sitting in some London dive, with empty champagne bottles stacked on the table in front of him, when Nicholas wondered what it was all for?
Hedonism, the party life, the tens of thousands, hundreds of thousands, maybe even millions of pounds earned on the park but pissed away on a more expensive bottle of plonk?
Is it a wonder so many of these guys end up bankrupts?
They chase the money and spend the money and in the end so many are lucky if it's all they've got.
All of this, I will remember in the days and weeks to come.
I will remember those who profess their love for our club but who would sell it short or walk out on it prior to this, our most important season in decades, to chase the cash and the bright lights of the world's most overhyped football environment.
They will continue to claim to love Celtic, of course, as Rodgers does.
And I scoff at him and scorn his protestations and all his self-regarding spiel.
Because this is the time, this is the moment, this is the period where we need real devotion and real love for Celtic most of all.
And oddly, I am encouraged by the guy who this time last week I was ready to brand just another mercenary; he turned down the big money offer from England to play his role in the history to come, and that to me might well be the ultimate irony of the next few weeks and months.
That he gets it whereas others don't.
At the very moment he is checking in, some of them are checking out London real estate and wondering how many sports cars can fit in a heated driveway.
Those who won't rise to this moment already know who they are.
By the time this window closes, we all will.
Related posts