It's been eight days now since the Scottish Cup Final and Celtic's ham-fisted announcement that they had offered the job to Neil Lennon.
He took it six days later.
I think it's been an instructive week, and if we pay attention the seeds of the next ten weeks are all contained neatly within it.
From the CEO, the word has gone out; Celtic are playing in a backwater.
No-one of any consequence wants to come to manage us. Ergo, no-one of any repute is going to want to sign for us either.
This is the embrace of mediocrity that I was afraid of.
I said I would write a piece on Celtic's transfer strategy, and this is it.
Meet the new boss, same as the old boss.
Because the problem never was the man in the dugout, the problem is the man above him.
Although I know some of the fans will hold the club's feet to the fire over backing Lennon I am not optimistic in the slightest.
Once you accept mediocrity you fashion everything around it, and as Celtic made no effort whatsoever to go out and look for a top class manager I have no faith they will sign top players.
I should probably be angry about this, but I can't even muster anger, just a weary resignation, a sense that this is what the directors have chosen and that we're stuck with it.
In short, since I don't expect the club to do anything other than the bare minimum, I am not going to be seduced by hype.
Our club has just won 3Treble, but there is no sense of excitement about the summer ahead.
Reaching those standards was only possible because we went out and hired the very best manager we could get. We pushed out the boat for him. We showed guts and ambition and for once looked as if we knew where we were going as a club.
Over the course of the next few weeks, you'll see a lot of coming and going at Celtic Park. Players will depart and others will come in. The board's supporters will say that the team is stronger, and that's true of any window where you bring in players.
But will the starting eleven necessarily be better?
Will there be players signed who can go straight into the team?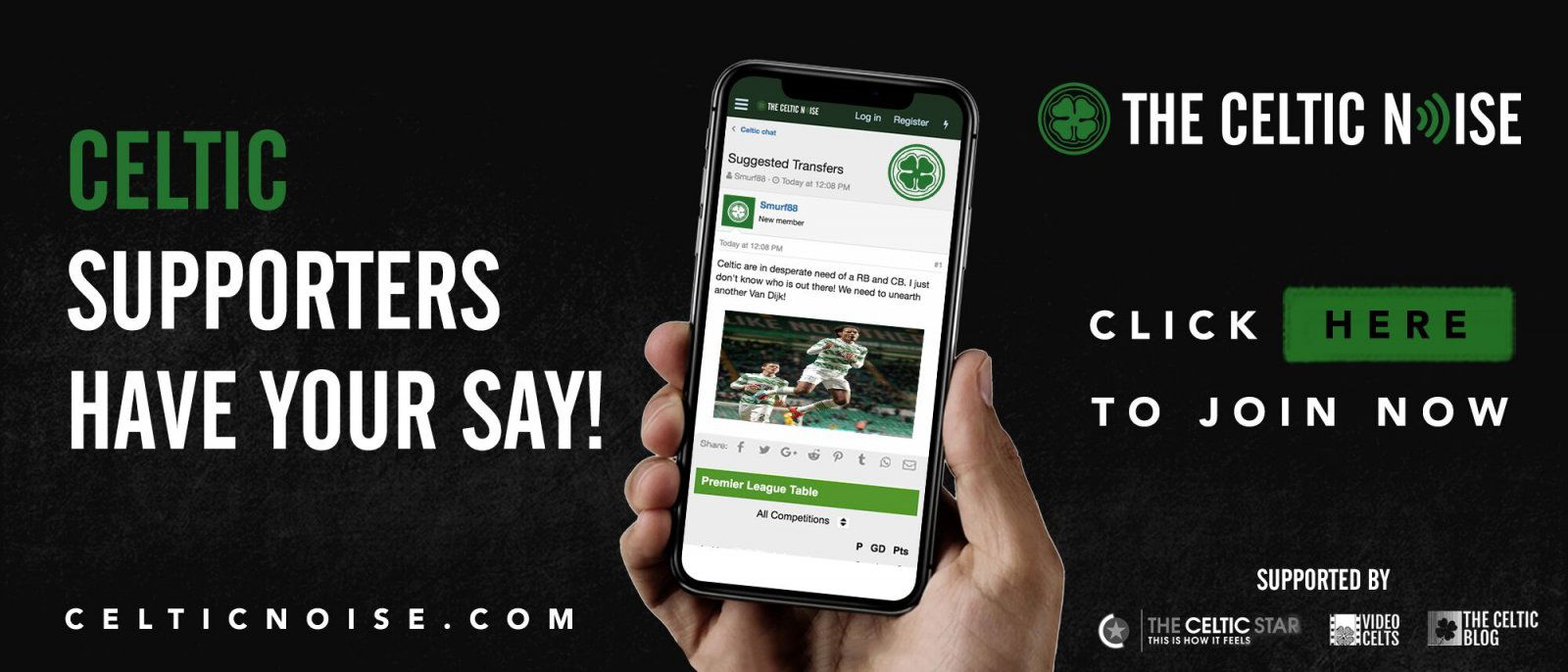 That's the real question, and already those who supported the Lennon appointment on the grounds that we could not do better are laying out the exact same argument about the transfer window; quality players won't come to us and so why bother going out there and trying to bring them in?
It is an utter surrender to second rate status.
There's a very real chance that we'll spend this entire summer signing filler, and squad players, and possibly even losing a first team star … and have more players to choose from, but be no stronger for having done it all. Indeed, it's what I expect.
Those who went to the bat for Neil Lennon, who demanded his appointment, should be the most furious if this club goes down that road.
I will be furious myself, but I will not be in the least bit surprised. The club's level of ambition has been made very clear in their managerial appointment and having listened to Lawwell it's clear that Lennon will have to work under the very same restrictions as Rodgers did. There will not be a spending splurge here.
The contract offers for Lustig and Izzaguire have already given us a hint at the extent of the business we intend to do; these are two key areas of the team, and neither is going to get the attention that it deserves or requires.
If you think we're giving Lustig a new deal for him to act as a back-up option you have more faith in the club than is good for you.
At best, we'll sign some project player at right back and hope he grows into the role before the Swede's new contract expires in 2021.
Lustig will play 30 plus games next season; I'd put money on that.
The midfield area has been crying out for defensive reinforcements for at least two years. Will that position get covered this time around?
In an attacking sense, Stuart Armstrong was never replaced, and we've been linked with a number of players in that mould, a couple of them English based freebies. But Brown needs at least one other tough tackler around him. Instead, Bitton will be staying. Don't rule out Mulumbu being retained so Lennon can check him out.
Look to the Jonny Hayes experiment if you think that's unlikely.
When it came time to replacing Dembele – who scored crucial Champions League goals and went for £20 million – we decided to replace him with a striker from Slovakia and then haggled over the fee for nearly a month. I said at the time that the idea of us replacing a top performer like Dembele with a project player from a third rate league was a joke, and it still is.
And Lennon knows it's a joke, because he's made a target man striker a priority in this window … but with Bayo still on the books, along with Griffiths and Edouard, how much to do you think we'd be willing to spend on a fourth front man?
There's already talk that he wants Gary Hooper on a free … and he doesn't tick the target man box at all.
Sign Hooper and that's four strikers. Really think we'll sign a fifth? Which of the current crop do you reckon will be leaving to trim the numbers there?
Scott Sinclair signed a contract extension. We have Mikey Johnstone who's proved he can play well wide left. And we also have Jonny Hayes. Lewis Morgan will be coming back in the summer. So seriously, do you see us going out and signing a left sided midfielder? The writing is on the wall as far as that position goes; I think we'll stick with what we have … so get used to seeing Hayes bombing down that wing for the next year at least.
I've already written on how well covered we are wide right. There will be no business done there whilst Forrest and Shved are at the club, competing for the place.
Attacking midfield? Rogic, McGregor, Christie, Henderson. Ntcham.
Nobody who Lawwell would sanction a move for is going to break into that section of the team either, although the growing suspicion that Ntcham is going to be sold to fund whatever business Lennon does do is one that is incredibly difficult to shake. I think that's a certainty.
Lawwell has already hinted at all this, with his comment that the team doesn't need the overhaul that some people think it does. When he says "some people" is he including his own manager in that? Or is he just talking about all of us?
When he spoke at Lennon's unveiling he didn't even sound particularly certain that the squad itself needed strengthening at all.
"Every transfer window we want to come out stronger. We will do all we can within our financial constraints. We realise the squad needs freshened, it probably needs strengthened."
Only probably? Three years on, this is still pretty much the team Ronny Deila left us with.
The strengthening is long overdue, and Lawwell is still sitting on the fence, still not wanting to make any promise he can get caught in later and called a liar on.
But Lawwell has consistently misled the fans, by talking about his "ambition" for the club even as he restricts the manager in every possible way.
In my view, those who tried to sell Lennon to us on the basis that he is some kind of transfer market genius – why did we bother with a scouting department? – and will spend lots and lots of money on our behalf better than others could … the dishonesty of it is remarkable, and all the more so when the CEO himself has already made it clear that this won't happen.
I fear that this summer is already shaping up to be a repeat of the last.
There are some who will scoff, but the club had three months to find a top tier manager and didn't even look. They knew Rodgers was going for pretty much the whole of the campaign, and did not work at all to find his replacement.
The team stuttered its way through the whole season, patched up in January with loanees and the spending of £2 million to replace a £20 million player.
This summer we will lose at least one first team footballer – Olivier Ntcham.
Whatever money Lennon ends up getting he'll probably be forced to recoup. I also don't expect business to be done early; it is virtually certain that we'll go into the early Champions League qualifiers with the same first team squad as we finished the campaign with.
The board's defenders will say that's just good sense. Then, when our Group Stage fate has been made clear we'll hear all the usual nonsense about how the club has run out of time to bring in anyone decent. These are the same excuses we got all the way through the last two years.
Anyone who thinks we'll give Lennon the pot of gold Brendan Rodgers – Invincible winning Brendan Rodgers – didn't get has simply not been paying attention in class.